Belarus has a phenomenal cultural accomplishment as the country has gone through several dynamic and ethnographic backgrounds for many centuries. There are impacts on the Belarusian society of many religions and sects like Catholicism, Orthodoxy, Judaism, and Islam. Clothing is the most important component of the typical Belarusian culture and the origins of Belarusian clothing tradition lie in the ancient Kiewan Rus'.
Belarus has a very cold climate in its long winters and even mild weather conditions in its limited summer. So the clothes were made out fabrics that provide closed covering and warmth. Mainly, the traditional dress of Belarus was made with flax fibers and wool, decorated with printed or embroiled ornaments, or weaved from using threads of different color. But the then rich elite of Belarus also used to import the fabrics like brocade, velvet or tuft etc having different shades of red, blue, and less often green.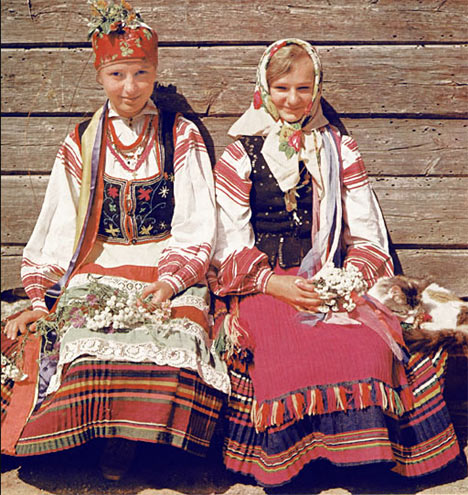 The traditional dress for the Belarusian men usually consisted of delicate fabrics, decorated with golden and silver embroidery, precious stones, colored buttons. The costume was having a long dressing gown and having a top like coat or jacket. They also used a long belt made with wolf or beaver fur.
Similarly, the traditional dress for the Belarusian women included longer shirts or skirts having blouses of various patterns and colors. Their dress was decorated on the sides with ornaments or the fur of sable, marten or fox. The same trend was followed later on in the traditional folk costumes when the dresses were prepared with the white and red colored fabrics and embellished with splendid geometrical  patterns.
There was gradual and slight variation in the clothing tendencies when the traditional dress of Belarus was progressively evolved.  This was the consequence of multiple religious heritage and the designers applied moderate designing methodologies. A tremendous categories for the clothing were introduced in Belarus as the dresses worn during weekdays or holidays, weddings or birthdays, during celebrations or mourning. Today, the modern Belarusians, no doubt follow the western clothing but on the festive occasions, they continue the tradition to wear their cultured heritage, i-e the traditional dress of Belarus.
For more interesting posts with the same subject on the Lovely Planet Website, please click the following links;
1-    
Algerian Traditional Dress
2-    
Traditional Dress Of Serbia
3-    
Traditional Dress Of Kosovo
4-    
Traditional Dress Of Libya
5-    
Traditional Dress Of Morocco
6-    
Traditional Dress Of Albania
7-    
Traditional Dress Of Tunisia
8-    
Traditional Dress Of Lebanon
9-    
Traditional Dress Of Bosnia And Herzegovina
10-  
Traditional Dress Of Azerbaijan
11-  
Traditional Dress Of Turkmenistan
12-  
Traditional Dress Of Kazakhstan
13-  
Traditional Dress Of Kyrgyzstan
14-  
Traditional Dress Of Uzbekistan
15-  
Traditional Dress Of Tajikistan
16-  
The Traditional Dress Of Laos
17-  
The Traditional Dress Of Vietnam
18-  
Traditional Dresses Of The World – 1
19-  
Traditional Dress Of Jammu & Kashmir
20-  
Ottoman Dresses From Turkey
21-  
Colors Of Cholistan
22-  
Cultural Dresses Of Balochistan
23-  
Lehenga Choli Or Ghagra Choli
24-  
Sari Or Saree : Traditional Dress Of Women In South Asia
25-  
Ajrak , The Traditional Attire From Sindh , Pakistan
26-  
The Traditional Tais Of East Timor
27-  
Shalwar Kameez: The Popular Dress Of South Asia
28-  
Churidar Pajama: The Favorite South Asian Attire
29-  
Pakistani Bridal Dress
30-  
Rilli, Sindhi Quilt Art
31-  
Fantastic, Alluring Khussa Shoes
32-  
Customs And Traditions Of Kalash Tribe
33-  
Hanfu, The Classical Chinese Dress
34-  
London Fashion Week
35-  
Fashion Week Milan: The Glamorous Event Of Italy
36-  
New York Fashion Week
37-  
Paris Fashion Week
38- 
Traditional Dress Of Jordan
39- 
Traditional Dress Of Syria
40- 
Traditional Dress Of Afghanistan
41- 
Traditional Dress Of Palestine
42- 
Traditional Dress Of Oman
43-
Traditional Dress Of Nigeria
44- 
Traditional Dress Of Hungary
45-
Traditional Dress Of Ukraine
46- 
Malaysian Traditional Dress
47- 
Traditional Dress Of Kenya
48- 
Traditional Eastern Brides
49- 
Traditional Dress Of Bulgaria
50- 
Traditional dress of Uganda
51- 
Traditional Dress of Iceland
52- 
Traditional Dress of Croatia
53- 
traditional dress of Norway
54- 
Traditional dress of Finland
55- 
Traditional Dress of Philippines
56- 
Traditional dress of Denmark