Before starting this article, I just want to fancy the beauty of the cultural diversity of the fifth largest country of the lovely planet. The country that has always inspired me a lot, its phenomenal geographical distribution, astounding flora and fauna, brilliant marine life, magnificent indigenous population and obviously the influences of the aggressive Europeans over its culture during the last millennium; and ultimately these all adjectives have transformed the country into a truly rich multiethnic and multicultural society.
You've rightly guessed, I am talking about Brazil, which is officially known as the Federative Republic of Brazil, "Land of the Holy Cross". It is certainly an endless discussion to define the whole country. Let's focus upon the subject, "the traditional dress of Brazil" which is so bright and colorful in nature. But before doing it I want to narrate its prolegomenon in few lines.
Before the European arrival on this land, the country was inhabited by different tribes who had their pure wild lifestyles. Their population was scattered in the different areas of the great Amazon, along the forests of the massive coastline of the country and in the forestry hill ranges or central plateaus. The historians have strong belief that the aboriginal Brazilians used to live with naked and topless bodies or with painted body parts usually with black or blue colors. Due to harsh and humid climate of these rainforests, they only used to wear certain ornaments and headdresses prepared with feathers and remained themselves with shaved heads and eyes with plucked eye-lashes and eye-brows.
These indigenous Brazilians, who carried on their semi-nomadic lifestyle, traditionally were dependent upon hunting, fishing and migrant agriculture and so those engagements also put marks on their clothing patterns. But still the multifariousness existed in the clothing of the divergently inhabited population of these tribes in the vast lands of the country. The Amerindians, Afro-black, Asians and other mixed races had their own distinctive civvies and the dresses were evolved during the Portuguese colonization over this country that lasted for almost three centuries.
During the sixteenth century, when the Portuguese settlers stepped into Brazil, they found the indigenous populations like stone-aged people, un-civilized and unskilled in many disciplines of lives. They tried to use them as slaves but it didn't work as they were hard to capture and soon infected by diseases brought by the Europeans against which they had no natural immunity and they began dying in great numbers. After this, they started to import African slaves in millions of numbers for manual labour. During all this period, the ethnic population was forced to adopt the clothing of European descent but there was class-discrimination clearly reflected from the clothing.
The slaves who used to serve the merchants in their houses or businesses had different garments and the laboring class had only the necessary coverings. Without going to the further details of the Brazilian history of this era, that is filled with brutality, genocide and extermination, the Indigenous population was largely killed by the Europeans, so the aborigine culture of different ethnic groups was eliminated to larger extent.
The Afro-Brazilians maintained their own clothing traditions to some extent, especially during their folk dances. The Capoiera and Bahiana performers flourished their own typical attires. Capoeria was a warrior martial art dance and the dancers used to dress up in wide and straight-leg trousers, usually having a sash or belt around. Some dancers also used to prefer wearing headbands and necklaces.
The Bahiana dress was promoted among the Brazilian women that were the combination of European and African patterns. The Bahiana dress consisted of wide, hooped cotton shirt that swayed with the hips when the women moved or danced. The shirts included the tight bodice having no sleeves or sometimes tunic skirts as well.
Traditionally these dresses were prepared with white cotton fabrics and the women also used to wear a white turban on their heads. The other accessories were several bangles, armbands and beaded necklaces etc.
The Carmen Miranda dress was also evolved afterwards that included a skirt with a long slit showing off a leg. The women also wore a turban decorated with brilliant colored feathers, artificial fruits and flowers. Today, the dress is common in Samba dancing where the performers wear high heels and big earrings and the costumes are adorned with beads, jewels, feathers and rhinestones in the carnivals.
Gaucho and Bombachas were worn by the cowboy population that dwelled in the southern interior plateau of the country. The cow-boys promoted wide riding trousers that was mainly influenced from Spanish and Portuguese people. Gaucho horse riders traditionally used large hats and "Poncho" which is a large cloak or cape cut like a blanket with a slit in the center for the head.
Today, the Brazilians are particularly known for their beauty and how they behave in their physical appearance. The Brazilians love to wear neat, clean and sophisticated clothing.
Brazilian dresses are comfortable, vividly colored, beautifully crafted and decorated with attractive accessories. The Brazilians living in the urban areas prefer the modern clothes as the men usually wear jeans and T-shirts. The women love to dress up in short skirts and jeans. The swim-suits and beach costumes are also popular as the country has colossal range of beaches.
The traditional dress of Brazil has only become the chapter of the history or can be seen in carnivals, festive occasions, dancing competitions or national events, where the Brazilians dress up in their traditional way to exhibit their glorious heritage and enormous culture.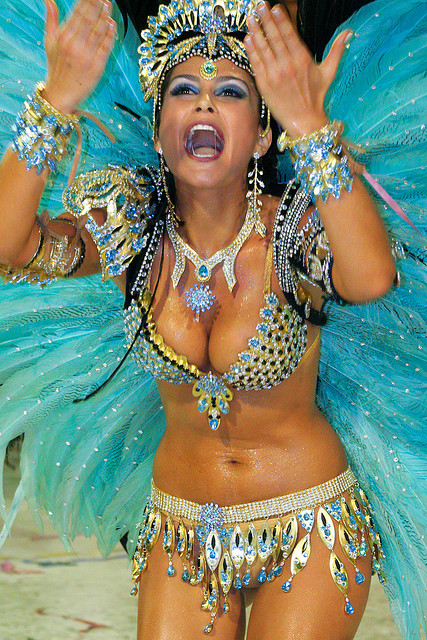 For more interesting posts with the same subject on the Lovely Planet Website, please click the following links;
1-    
Algerian Traditional Dress
2-    
Traditional Dress Of Serbia
3-    
Traditional Dress Of Kosovo
4-    
Traditional Dress Of Libya
5-    
Traditional Dress Of Morocco
6-    
Traditional Dress Of Albania
7-    
Traditional Dress Of Tunisia
8-    
Traditional Dress Of Lebanon
9-    
Traditional Dress Of Bosnia And Herzegovina
10-  
Traditional Dress Of Azerbaijan
11-  
Traditional Dress Of Turkmenistan
12-  
Traditional Dress Of Kazakhstan
13-  
Traditional Dress Of Kyrgyzstan
14-  
Traditional Dress Of Uzbekistan
15-  
Traditional Dress Of Tajikistan
16-  
The Traditional Dress Of Laos
17-  
The Traditional Dress Of Vietnam
18-  
Traditional Dresses Of The World – 1
19-  
Traditional Dress Of Jammu & Kashmir
20-  
Ottoman Dresses From Turkey
21-  
Colors Of Cholistan
22-  
Cultural Dresses Of Balochistan
23-  
Lehenga Choli Or Ghagra Choli
24-  
Sari Or Saree : Traditional Dress Of Women In South Asia
25-  
Ajrak , The Traditional Attire From Sindh , Pakistan
26-  
The Traditional Tais Of East Timor
27-  
Shalwar Kameez: The Popular Dress Of South Asia
28-  
Churidar Pajama: The Favorite South Asian Attire
29-  
Pakistani Bridal Dress
30-  
Rilli, Sindhi Quilt Art
31-  
Fantastic, Alluring Khussa Shoes
32-  
Customs And Traditions Of Kalash Tribe
33-  
Hanfu, The Classical Chinese Dress
34-  
London Fashion Week
35-  
Fashion Week Milan: The Glamorous Event Of Italy
36-  
New York Fashion Week
37-  
Paris Fashion Week
38- 
Traditional Dress Of Jordan
39- 
Traditional Dress Of Syria
40- 
Traditional Dress Of Afghanistan
41- 
Traditional Dress Of Palestine
42- 
Traditional Dress Of Oman
43-
Traditional Dress Of Nigeria
44- 
Traditional Dress Of Hungary
45-
Traditional Dress Of Ukraine
46- 
Malaysian Traditional Dress
47- 
Traditional Dress Of Kenya
48- 
Traditional Eastern Brides
49- 
Traditional Dress Of Bulgaria
50- 
Traditional dress of Uganda
51- 
Traditional Dress of Iceland
52- 
Traditional Dress of Croatia
53- 
traditional dress of Norway
54- 
Traditional dress of Finland
55- 
Traditional Dress of Philippines
56- 
Traditional dress of Denmark
57- 
Traditional dress of Belarus
58- 
Traditional Dress of Puerto Rico
59- 
Traditional Dress of Nicaragua: Marvelous and colorful
60 – 
Traditional Dress of Nepal: Whimsical but charming
61- 
Brilliant Colors of Dagestan: Really fanciful and imaginative
62- 
Kabuki: A classical and traditional Japanese theater
63- 
Boogie-woogie: A famous Swing Dance
64- 
Colors of Samba Dance from Brazil: So lively so amazing
65- 
Ho Jamalo: The favorite folk dance of Sindh
66- 
Odissi from the Eastern India: A historic ritual dance
67- 
Sattriya from Assam: A classical Indian dance
68- 
Fandango: A famous couple dance from Spain
69- 
Maypole from Europe: A fabulous circle folk dance
70- 
Cueca: The national dance of Chile
71- 
Traditional dress of Belgium: A charming European attire
72- 
Traditional dress of the Kingdom of Saudi Arabia
73- 
Colors of Kalash: 5 lovely images of beautiful Kalash girls
74- 
Traditional dress of Georgia: The fantastic Chokha
75- 
Traditional dress of Argentina: The warrior Gaucho costume
76- 
Traditional dress of Venezuela: Not complicated but decorated
77- 
Traditional dress of Latvia: Made with the Linen fabric
78- 
Traditional dress of Romania: So captivating and graceful
79- 
Traditional dress of Estonia: So classy and versatile
80- 
Traditional dress of Armenia: So colorful and diversified
81- 
Traditional dress of Angola: A symbol of the ethnic culture
82- 
Traditional dress of Austria: Dirndl, Lederhosen and Tracht
83-
Traditional dress of Namibia: Far from the modernizations
84- 
Traditional dress of Zambia: Rare but unique in nature
85- 
Traditional dress of Slovakia: Kroje , decorated and cultural
86. 
Traditional dress of Qatar: Pure Arabian endowment