People's Republic of Bangladesh is the eighth most populated country of the world with an emerging economy located in South Asia. Most of the territories are being dominated by the low-lying Ganges Delta. Commonly known as Bangladesh, has thousands of years old civilization, when the region was inhabited by the ancient Dravidian, Indo-Aryan, Tibeto-Burman and Austro-Asiatic peoples. This region was also known to the then progressive Greeks and Romans and they called it as Gangaridal (Nation of Ganges). The Bengali people rapidly started to accept Islam in the seventh century when Arab merchants and preachers stepped in the region. Bengal was once considered as the richest region of the Indian subcontinent till the16th century.
In the eighteenth century when British East India Company was founded in the Indian Sub-continent, the region also passed through the European cultural influences, particularly of the British. In 1947, when partition of India took place, the eastern part of Bengal having Muslim majority became the part of Pakistan and it was named East Pakistan. In 1971, a resistance movement against Pakistan was started and the country gained independence from Pakistan on 16 December 1971. The purpose of describing all this in a very short prolegomenon is to make you understand that Bangladesh has a rich, diverse and glorious cultural heritage having so many historic influences.
Bangladesh is a land of rivers and streams along the famous Bay of Bengal and the Bangladeshis speak the official language "Bangla", known as Bengali.  This language is the identical symbol of Bangladeshi heritage and the main social divide prevailing in the country is between Muslims and Hindus.
Most of the people have rural background and the countryside factor dominates the culture of Bangladesh. Rice and fish are the compulsory items of the daily food of Bangladeshis.
The most famous festivals of Bangladesh are Eids, Shab-e-Qadr (the night of power), Eid Milad un-Nabi (birth date of the Prophet Mohammad S.A.W) and Shab-e-Barat (the night of fortune). The Hindu community in Bangladesh also eulogizes their festivals like Durga Puja and Kali Puja (community worshipping of Goddess Durga and Kali). Other minorities also passionately observe their respective religious occasions and festivities.
Traditional dress of Bangladesh is awesome in its nature and kind and somehow it is also unique as compare to other neighboring countries. Bangladeshi men are normally seen in traditional Kurta, Fatua and Shalwar Kameez in formal wear. In the rural areas, the Bangladeshi men love to wear traditional Lungi or Dhoti (dhuti) as casual attire. Along the other side, the Bangladeshi women have trend to dress up in the traditional Sharee (Sari or Saree) or Shalwar Kamees.
Sari or Saree is the most popular dress for the Bangladeshi women. The usual length of Sari is about 4 to 9 meters and it is dressed up with a blouse or pullover which is locally known as Choli. Usually, one side of Saree has beautiful border decorated with embroidery which is draped around the shoulder. The other side is adorned around the blouse or Choli. In the ancient times Sarees were decorated with gold or silver embroideries and in the modern times Sarees are prepared with artificial and automated designs, patterns and silk threads.
Shalwar Kameez or Shalwar Qameez is a long outfit which normally goes below the knees and is equally popular in Bangladeshi women. Shalwar Kameez is generally considered as an easy and comfortable costume comparing to Sari or Saree. The Shalwar is comparatively easier to carry out so this dress is preferred and is a favorite among the younger generation. On the festive occasions, Bangladeshi women love to wear Shalwar Kameez that are often enriched with beads, threads and zari work.
Wedding in Bangladesh is an event full of rituals and festivities which sometimes may last for several days. Different types of formal dresses are prepared with zeal and enthusiast by the Bangladeshi women for the participation in the marriage ceremonies.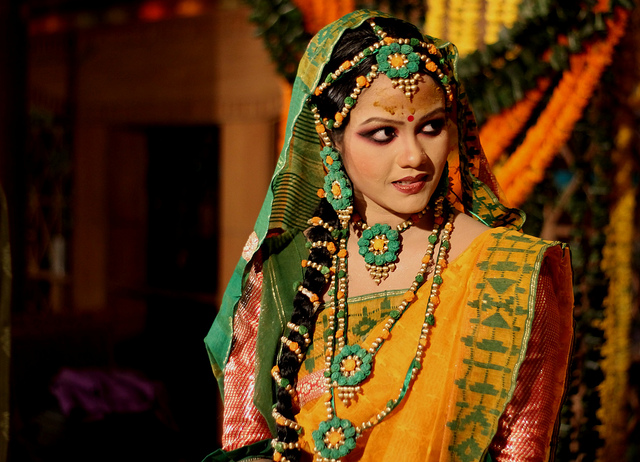 Usually on the first day of wedding "Gaye Haloud" ceremony takes place. Special yellow colored costumes are prepared for this event. On this day, the bride, her family, and the groom's family all gather together and celebrate the bride. The turmeric paste is applied to the bride's skin to soften her skin and also to colorize her in the distinctive yellow hue that gives its name to this ceremony. Some families also celebrate mehendi "a henna decoration ceremony" in which typical Mehndi outfits are worn by bride and other women.
On the wedding day, the Bangladeshi bride is dressed up in a bright, colorful and traditionally red costume along with magnificent jewelry. On the other side, the groom also wears a unique but elegant dress along with a turban-style hat. One popular trend right now is the bridal katan, which is a very traditional wedding saree. Katan sarees have a silky base with gold or silver zari work all over the saree. Brides often wear multiple heavy gold necklaces, big earrings, head jewelry, and lots of gold bangles.
Some Bangladeshi brides prefer to wear Lehenga Choli or Ghagra Choli on their wedding day which is normally available in different reddish shade. The blouse which is used with Lehenga Choli is normally having a deep "V" cut neck and another connected outfit is known as "Dubatta" which is prepared with netted embellishments. Lehenga Choli or Ghagra Choli is normally prepared with heavy embroideries and spectacular designs. This costume is not only worn by the bride but some female wedding guests are also dressed up in this formal outfit.
The bride's family then gifts the groom with the wedding attire, which includes a 'jore' (silk shawl), 'dhoti' and 'topor', a headdress made of pith and zari. The groom must wear these items for the duration of the wedding rituals.
Ful shôjja or Phul Shujja is the celebration of consummation night in which the bed is prepared with lots of flowers. The bride wears a lot of floral ornaments that add the beauty in her appearance in a pure traditional style.
As the heat and humidity are permanent features of Bangladeshi climate, a light fabric known as "Lungi" is the favorite choice of Bangladeshi men which is normally sewn into a tube shape like a skirt. As mentioned earlier, spectacular tartan cotton, batik, or silk lungis are also often presented as wedding gifts to the groom in a Bangladeshi wedding.
The combination of the traditional male lungi and kurta is also called Punjabi or Panjabi. Men also wear the Fanjabi, or 'Kabuli' which is a name that refers to the Salwar Kameez. A shorter version of Kurta is known as Fatua which is also in fashion in Bangladesh, particularly in the youth.
In some regions of Bangladesh, Dhoti or Dhuti is equally popular in men, which is usually white or cream in colour. This garment is worn at all cultural occasions and traditional ceremonies. Cotton dhotis suit the climatic conditions in the country for daily usage.
In the nutshell, traditional dress of Bangladesh which is indeed so awesome in its nature and kind is a phenomenal part of Bangladeshi culture and heritage. It overall reflexes the assimilated influences of different civilizations, religions and customs.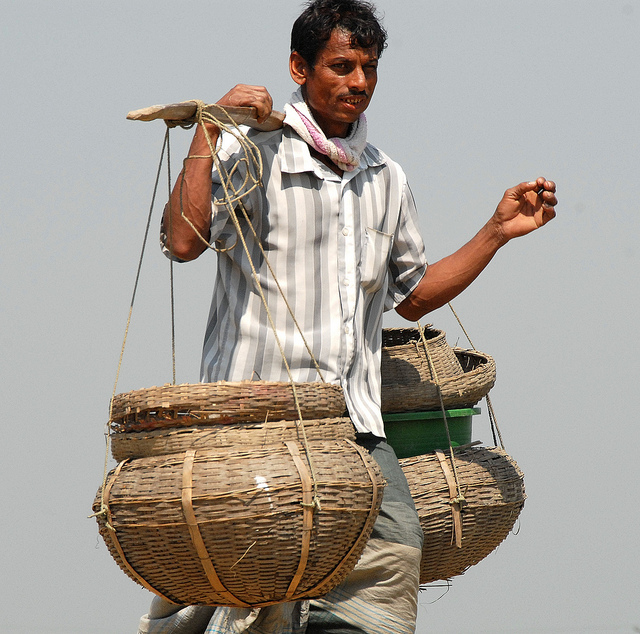 For more interesting posts with the same subject on the Lovely Planet Website, please click the following links;
1-    
Algerian Traditional Dress
2-    
Traditional Dress Of Serbia
3-    
Traditional Dress Of Kosovo
4-    
Traditional Dress Of Libya
5-    
Traditional Dress Of Morocco
6-    
Traditional Dress Of Albania
7-    
Traditional Dress Of Tunisia
8-    
Traditional Dress Of Lebanon
9-    
Traditional Dress Of Bosnia And Herzegovina
10-  
Traditional Dress Of Azerbaijan
11-  
Traditional Dress Of Turkmenistan
12-  
Traditional Dress Of Kazakhstan
13-  
Traditional Dress Of Kyrgyzstan
14-  
Traditional Dress Of Uzbekistan
15-  
Traditional Dress Of Tajikistan
16-  
The Traditional Dress Of Laos
17-  
The Traditional Dress Of Vietnam
18-  
Traditional Dresses Of The World – 1
19-  
Traditional Dress Of Jammu & Kashmir
20-  
Ottoman Dresses From Turkey
21-  
Colors Of Cholistan
22-  
Cultural Dresses Of Balochistan
23-  
Lehenga Choli Or Ghagra Choli
24-  
Sari Or Saree : Traditional Dress Of Women In South Asia
25-  
Ajrak , The Traditional Attire From Sindh , Pakistan
26-  
The Traditional Tais Of East Timor
27-  
Shalwar Kameez: The Popular Dress Of South Asia
28-  
Churidar Pajama: The Favorite South Asian Attire
29-  
Pakistani Bridal Dress
30-  
Rilli, Sindhi Quilt Art
31-  
Fantastic, Alluring Khussa Shoes
32-  
Customs And Traditions Of Kalash Tribe
33-  
Hanfu, The Classical Chinese Dress
34-  
London Fashion Week
35-  
Fashion Week Milan: The Glamorous Event Of Italy
36-  
New York Fashion Week
37-  
Paris Fashion Week
38- 
Traditional Dress Of Jordan
39- 
Traditional Dress Of Syria
40- 
Traditional Dress Of Afghanistan
41- 
Traditional Dress Of Palestine
42- 
Traditional Dress Of Oman
43-
Traditional Dress Of Nigeria
44- 
Traditional Dress Of Hungary
45-
Traditional Dress Of Ukraine
46- 
Malaysian Traditional Dress
47- 
Traditional Dress Of Kenya
48- 
Traditional Eastern Brides
49- 
Traditional Dress Of Bulgaria
50- 
Traditional dress of Uganda
51- 
Traditional Dress of Iceland
52- 
Traditional Dress of Croatia
53- 
traditional dress of Norway
54- 
Traditional dress of Finland
55- 
Traditional Dress of Philippines
56- 
Traditional dress of Denmark
57- 
Traditional dress of Belarus
58- 
Traditional Dress of Puerto Rico
59- 
Traditional Dress of Nicaragua: Marvelous and colorful
60 – 
Traditional Dress of Nepal: Whimsical but charming
61- 
Brilliant Colors of Dagestan: Really fanciful and imaginative
62- 
Kabuki: A classical and traditional Japanese theater
63- 
Boogie-woogie: A famous Swing Dance
64- 
Colors of Samba Dance from Brazil: So lively so amazing
65- 
Ho Jamalo: The favorite folk dance of Sindh
66- 
Odissi from the Eastern India: A historic ritual dance
67- 
Sattriya from Assam: A classical Indian dance
68- 
Fandango: A famous couple dance from Spain
69- 
Maypole from Europe: A fabulous circle folk dance
70- 
Cueca: The national dance of Chile
71- 
Traditional dress of Belgium: A charming European attire
72- 
Traditional dress of the Kingdom of Saudi Arabia
73- 
Colors of Kalash: 5 lovely images of beautiful Kalash girls
74- 
Traditional dress of Georgia: The fantastic Chokha
75- 
Traditional dress of Argentina: The warrior Gaucho costume
76- 
Traditional dress of Venezuela: Not complicated but decorated
77- 
Traditional dress of Latvia: Made with the Linen fabric
78- 
Traditional dress of Romania: So captivating and graceful
79- 
Traditional dress of Estonia: So classy and versatile
80- 
Traditional dress of Armenia: So colorful and diversified
81- 
Traditional dress of Angola: A symbol of the ethnic culture
82- 
Traditional dress of Austria: Dirndl, Lederhosen and Tracht
83-
Traditional dress of Namibia: Far from the modernizations
84- 
Traditional dress of Zambia: Rare but unique in nature
85- 
Traditional dress of Slovakia: Kroje , decorated and cultural
86. 
Traditional dress of Qatar: Pure Arabian endowment
87. 
Traditional dress of Brazil: So bright and colorful in nature
88. 
Traditional dress of Colombia: So iconic in Latin America
89. 
Traditional dress of Chile: So artistic and cultural
90. 
Traditional dress of Mexico: Blend of indigenous and imported cultures
91- 
Traditional dress of Panama: The exotic Mola and La Pollera
92- 
Traditional dress of Cuba: A product of multi-cultural effects
93- 
Traditional dress of Portugal: A gift of centuries old civilization