The land of Pharaohs and Cleopatra located along the river Nile is the gift of the most ancient civilization on the lovely planet which is also considered as the gem of the Arab and the North African continents. This is Egypt, the home to the old-aged pyramids and other archaic monuments. It is known in the Arab world and called by its people as Misr. The rock carvings along the Nile terraces date back to the 10th millennium BC, which is evident that human settlement in Egypt is one of the oldest on the planet earth. The land fertility resulted to the agricultural based economy of the people of this region and the richness of the land gave birth to so many cultures in this territory.
Around 6000 BC, Egypt was the center of the Neolithic culture and the people started living on agriculture, fishing and cattle farming in different parts of Egypt. After several centuries, Egypt was formulated in a pure dynastic domain around 3150 BC by King Menes, and then there is a series of many predeceasing kingdoms ruled by different monarchs in different eras of history. The Ptolemaic Kingdom in Egypt is associated with the Romans who portrayed themselves in this part of the world as the successors of the ancient Pharaohs and continued the Egyptian traditions and clothing style to remain in the hearts of the native Egyptians. Christianity was brought to Egypt by Saint Mark the Evangelist in the 1st century.
Egypt of the Middle Ages is glorified with the establishment of the Muslim empire after the defeat of the Byzantine Armies in Egypt. Muslim rulers nominated by the Islamic Caliphate remained in control of Egypt for the next six centuries. Egypt was conquered by the Ottoman Turks in 1517, after which it became a province of the Ottoman Empire.
Egypt remained under the British occupation in the late nineteenth century and that was ended in shape of a victory for the Albanians led by Muhammad Ali who actually established a dynasty that was to rule Egypt until the revolution of 1952.  After the 1952 Revolution by the Free Officers Movement, the rule of Egypt passed to military hands. On 18 June 1953, the Egyptian Republic was declared.
It was important to state the historic background of the nowadays Egypt in few lines for our readers to understand that why traditional clothing in Egypt is so labyrinthine in its nature as it is basically arrayed with the influences of so many intertwining cultures and heritages.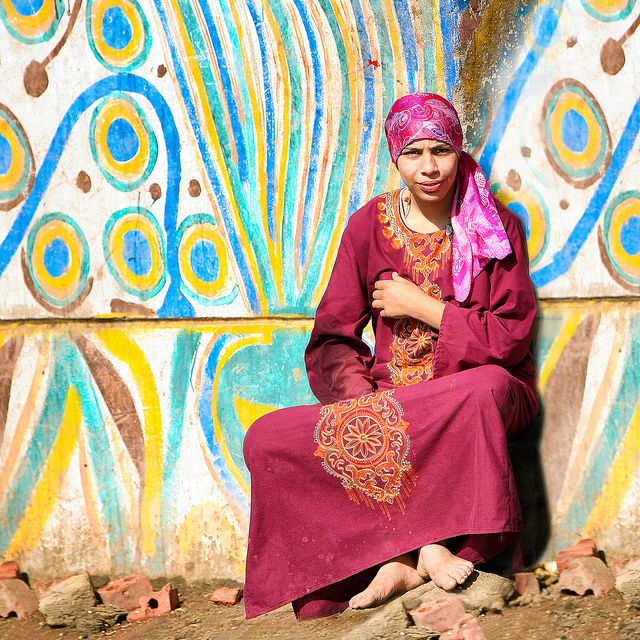 Traditional dress of Egypt is the legacy of ancient Kings and Queens as it was developed in attractive and delicate manner by them in a unique style. It became more charming in the physically fit environment of the then Egypt, as the slender physical appearances were endorsed and praised by the monarchs of the ancient times in Egypt.
Egyptian traditional clothing was so much civilized and sophisticated in its description and quality. Environmental conditions were the basic parameters as the clothes were designed and prepared with lighter fabrics to keep the body cool and comfortable in the harsh weather conditions. In ancient Egypt, linen was the most common fabric as it helped the locals to compete with the subtropical heat and almost in every part of the then Egypt, many small spinning, weaving and sewing units of linen were established.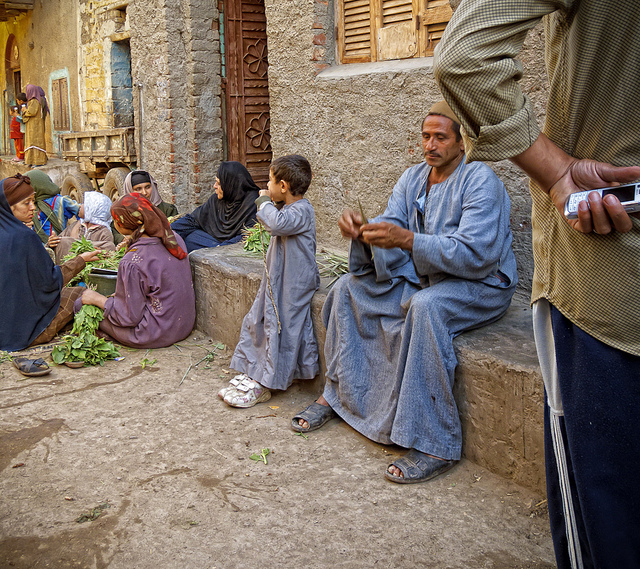 In the richer and wealthier class of Egypt, sheep-wool wigs were also worn in festivities and wedding ceremonies and the women used to dress-up in linen ankle-length dresses with straps that tied at the neck. The basic form of female clothing was a simple dress called a kalasiris. It was a tube of cloth, sewn along one side, with one or two shoulder straps also used to adorn themselves by magnificent jewelry and ornaments.
Tinted lips and cheeks with red ochre and lined eyes and brows with black kohl were the integral features in their make-up. The most common headdress was the khat or nemes, a striped cloth worn by men. In addition to wigs and varying hairstyles, Egyptians wore different types of caps and head-coverings to enhance their grace.
The pharaohs would wear leopard skins over their shoulders and added a lion's tail that would hang from their belt. Shaped like a triangle with hide strings stretching from either end of one edge, the piece was tied around the waist and the point of the triangle was pulled up between the lags and tied at the back. The Egyptian men wore wrap around skirts known as the Shendyt, which were belted at the waist, sometimes pleated or gathered in the front. It is pertinent to mention that the men of the lower and poor working class, especially slaves were mostly lived naked. In the ancient times, Egyptian men also wore a strip of cloth to hide their genitals and it was considered an important part of the costume.
Present day's Thobe or thoub in Egypt, which is a long and normally white shirt along with trousers that normally reach to the ground, is an evolved form of the traditional Schenti or Kilt. The Egyptians wore schenti of woven material that was wrapped around the body several times and tied in front or belted.
Djellaba or djellaba is a Berber traditional long, loose-fitting unisex outer robe with full sleeves worn in the North African countries including Egypt. It differs from the Arabian thawb in a sense that it has a wider cut, no collar (in some case no buttons) and longer, wider sleeves.
Traditionally djellabas are made of wool in different shapes and colors.  Jellabiya colours are often white in the summer. During winter, thicker fabric in other colours such as grey, dark green, olive, blue, tan or striped fabrics are used. The dress has become common in the Egyptian women also as they nowadays wear cotton made djellabas in different colors while some prefer them to be worn with scarves and embellished with decorative embroidery.
Over the dress, the Egyptian women sometimes also used to take shawl or ropes in form of a garment around 4 feet wide by 13 or 14 feet long. As mentioned earlier, heavy and rather voluminous body beautification was of primary importance not only in women, but also in men. Both sexes bedeck themselves with earrings, bracelets, rings, necklaces and neck collars that were brightly colored.  When it comes to the traditional footwear of Egypt, mostly the Egyptians remained barefoot. However, sandals were used by them on special occasions or to safeguard the feet from sunburn or thrones etc.
I think, it is also essential to mention about the dress-code of Bedouin community in Egypt who are living in the Eastern and Western deserts of the country for many centuries. Presently, most of Bedouin population is inhabited in Sinai and in other urban parts of the country as well. Bedouins are known in the world for their ancient living styles, habits and customs. The Bedouin clothing which is mainly dependent upon the weather; is traditionally sewn in accordance with the desert conditions.  Male dress includes layered and flowing robes along with a piece of cloth to be wrapped around the head and neck to retard moisture loss that can lead to heat stroke and to shield the face against the harsh and dry sand. Bedouin women usually wear black dresses and head covers embroidered in tiny cross-stitch designs: blue for unmarried women, red for married. They cover their faces with a veil highlighted in the same stitches and often decorated with shells and coins.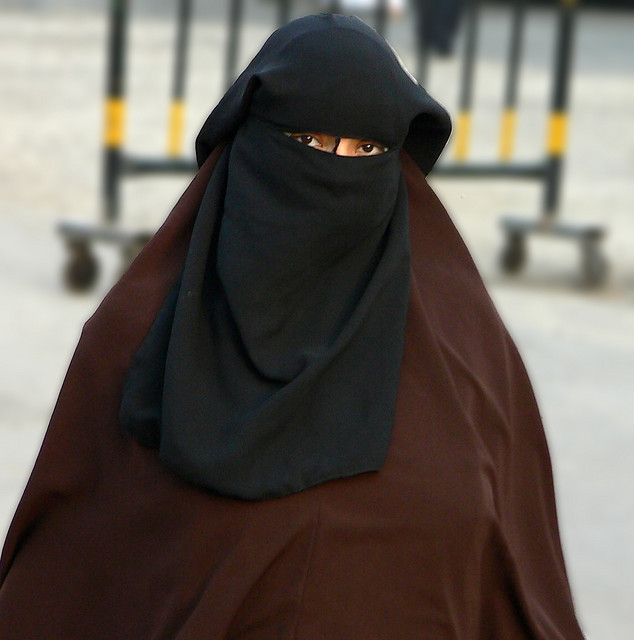 The consistency of luxurious fashion of the Egyptian women is continued till today. Although due to Islamic culture and religious bindings, Abaya or Burqa is also a prominent feature of the traditional women clothing in Egypt, yet some historians connect this characteristic with the ancient social conventions.
Today, Egypt or Misr has a population of approximately 94 million people and the vast majority of the population of Egypt consists of ethnic Egyptians. Traditional dress of Egypt, which is the legacy of ancient Kings and Queens is somehow continued by the Egyptian people with slight variations, no matter from whichever ethnicity they belong to.
Although pure and classic clothing is limited to the national events, cultural festivities and parades etc and the modern youth has adopted Jeans and T-Shirt culture, yet the traditional outfits with varied styles are still common in the aged and rural communities of Egypt.
For more interesting posts with the same subject on the Lovely Planet Website, please click the following links;
1-    
Algerian Traditional Dress
2-    
Traditional Dress Of Serbia
3-    
Traditional Dress Of Kosovo
4-    
Traditional Dress Of Libya
5-    
Traditional Dress Of Morocco
6-    
Traditional Dress Of Albania
7-    
Traditional Dress Of Tunisia
8-    
Traditional Dress Of Lebanon
9-    
Traditional Dress Of Bosnia And Herzegovina
10-  
Traditional Dress Of Azerbaijan
11-  
Traditional Dress Of Turkmenistan
12-  
Traditional Dress Of Kazakhstan
13-  
Traditional Dress Of Kyrgyzstan
14-  
Traditional Dress Of Uzbekistan
15-  
Traditional Dress Of Tajikistan
16-  
The Traditional Dress Of Laos
17-  
The Traditional Dress Of Vietnam
18-  
Traditional Dresses Of The World – 1
19-  
Traditional Dress Of Jammu & Kashmir
20-  
Ottoman Dresses From Turkey
21-  
Colors Of Cholistan
22-  
Cultural Dresses Of Balochistan
23-  
Lehenga Choli Or Ghagra Choli
24-  
Sari Or Saree : Traditional Dress Of Women In South Asia
25-  
Ajrak , The Traditional Attire From Sindh , Pakistan
26-  
The Traditional Tais Of East Timor
27-  
Shalwar Kameez: The Popular Dress Of South Asia
28-  
Churidar Pajama: The Favorite South Asian Attire
29-  
Pakistani Bridal Dress
30-  
Rilli, Sindhi Quilt Art
31-  
Fantastic, Alluring Khussa Shoes
32-  
Customs And Traditions Of Kalash Tribe
33-  
Hanfu, The Classical Chinese Dress
34-  
London Fashion Week
35-  
Fashion Week Milan: The Glamorous Event Of Italy
36-  
New York Fashion Week
37-  
Paris Fashion Week
38- 
Traditional Dress Of Jordan
39- 
Traditional Dress Of Syria
40- 
Traditional Dress Of Afghanistan
41- 
Traditional Dress Of Palestine
42- 
Traditional Dress Of Oman
43-
Traditional Dress Of Nigeria
44- 
Traditional Dress Of Hungary
45-
Traditional Dress Of Ukraine
46- 
Malaysian Traditional Dress
47- 
Traditional Dress Of Kenya
48- 
Traditional Eastern Brides
49- 
Traditional Dress Of Bulgaria
50- 
Traditional dress of Uganda
51- 
Traditional Dress of Iceland
52- 
Traditional Dress of Croatia
53- 
traditional dress of Norway
54- 
Traditional dress of Finland
55- 
Traditional Dress of Philippines
56- 
Traditional dress of Denmark
57- 
Traditional dress of Belarus
58- 
Traditional Dress of Puerto Rico
59- 
Traditional Dress of Nicaragua: Marvelous and colorful
60 – 
Traditional Dress of Nepal: Whimsical but charming
61- 
Brilliant Colors of Dagestan: Really fanciful and imaginative
62- 
Kabuki: A classical and traditional Japanese theater
63- 
Boogie-woogie: A famous Swing Dance
64- 
Colors of Samba Dance from Brazil: So lively so amazing
65- 
Ho Jamalo: The favorite folk dance of Sindh
66- 
Odissi from the Eastern India: A historic ritual dance
67- 
Sattriya from Assam: A classical Indian dance
68- 
Fandango: A famous couple dance from Spain
69- 
Maypole from Europe: A fabulous circle folk dance
70- 
Cueca: The national dance of Chile
71- 
Traditional dress of Belgium: A charming European attire
72- 
Traditional dress of the Kingdom of Saudi Arabia
73- 
Colors of Kalash: 5 lovely images of beautiful Kalash girls
74- 
Traditional dress of Georgia: The fantastic Chokha
75- 
Traditional dress of Argentina: The warrior Gaucho costume
76- 
Traditional dress of Venezuela: Not complicated but decorated
77- 
Traditional dress of Latvia: Made with the Linen fabric
78- 
Traditional dress of Romania: So captivating and graceful
79- 
Traditional dress of Estonia: So classy and versatile
80- 
Traditional dress of Armenia: So colorful and diversified
81- 
Traditional dress of Angola: A symbol of the ethnic culture
82- 
Traditional dress of Austria: Dirndl, Lederhosen and Tracht
83-
Traditional dress of Namibia: Far from the modernizations
84- 
Traditional dress of Zambia: Rare but unique in nature
85- 
Traditional dress of Slovakia: Kroje , decorated and cultural
86. 
Traditional dress of Qatar: Pure Arabian endowment
87. 
Traditional dress of Brazil: So bright and colorful in nature
88. 
Traditional dress of Colombia: So iconic in Latin America
89. 
Traditional dress of Chile: So artistic and cultural
90. 
Traditional dress of Mexico: Blend of indigenous and imported cultures
91- 
Traditional dress of Panama: The exotic Mola and La Pollera
92- 
Traditional dress of Cuba: A product of multi-cultural effects
93- 
Traditional dress of Bangladesh: So awesome in its nature and kind
94- 
Traditional dress of Indonesia: Featured with unique patterns and designs
95- 
Traditional dress of Pakistan: Legacy of ancient civilizations
96- 
Traditional dress of Russia: A symbol of ethnic diversity in the Russian Federation
97- 
Traditional dress of England: Outcome of the local and European clothing repercussions
98- 
Traditional dress of Mauritania: Fusion of Berber and African cultures