Gone are the days, when that domain was a superpower on the planet earth and she gave birth to one of the oldest and phenomenal civilizations. We're talking about the miraculous country presently known as Iran and formerly known as Persia, the land enriched with dazzling heritage and unique cultures. It was a region that gained immense freedom mostly but in the pre-historic times, Persia remained under the dominations of Greek invaders. Similarly in the Middle Ages and afterwards, it was occupied by Arabs, Turks and Mongols.
It should be better understood that the fusion and diversity of the greatest civilizations which were already started to develop in the Persian heritage reached to their climax in the Modern ages, when Safavid, Afsharid and other descending dynasties took over Persia in different periods of history. After the decline of Qajars in 1925, Reza Shah and his son ruled over Iran until 1979 and finally the monarchy was ended, when Islamic revolution took place in Iran. The country was made the Islamic republic.
Traditional dress of Iran is a product of the glorious Persian heritage. Traditional outfits for Iranian men include the Pirahan, Shalvar, and Jameh combination. According to the historian, Shalwar Kameez which is a popular traditional dress in South Asia was introduced by the Persians. Iranian men also use a wide belt known as "Kamarband" or "cummerbund". Headdresses were also worn by men known as the Sarband. Such dresses were imported by the Mughal emperors during their era to the Indian sub-continent as well.
Recent history reveals that the traditional dress for the Iranian women also included trousers, chemise or blouse which was normally in bell-shaped along with jackets and other sort of over-garments. For wealthy and urban living women, trousers were bit tight while in the other remote parts of Iran, women used to wear baggy trousers. Chemise (blouse) locally known as Pirahan was usually made with different types of fabrics. With the passage of times, many trends were introduced in the designing of Pirahan and by the end of the nineteenth century, women's pirahans became short having waist-height or slightly lower.
Traditional jackets or over-coats used by Iranian women were usually made with a variety of fabrics and those were adorned with heavy brocades and embroidery. These jackets were usually remained un-fastened. Long robes and loin cloths were also worn by the women and men in Persia. They often used gold jewelry.
Passion of using jewelry was at its peak in every era of history among the Iranian women. It included armbands, belts, bracelets, brooches, chin decorations, earrings, hair decorations, necklaces, as well as rings. Special attention was paid to the eyes by the Iranian women as kohl was painted around the eyes with a small stick. In this way the eyes were made larger and darker.
Iran geographically being a huge and demographically being a diverse country has many regions and ethnicities. Every region has its own folk-dances with-in Iran what are usually performed during the festivities and traditional celebrations. And when it comes to Iranian folk-dances, every region has its own distinctive costuming.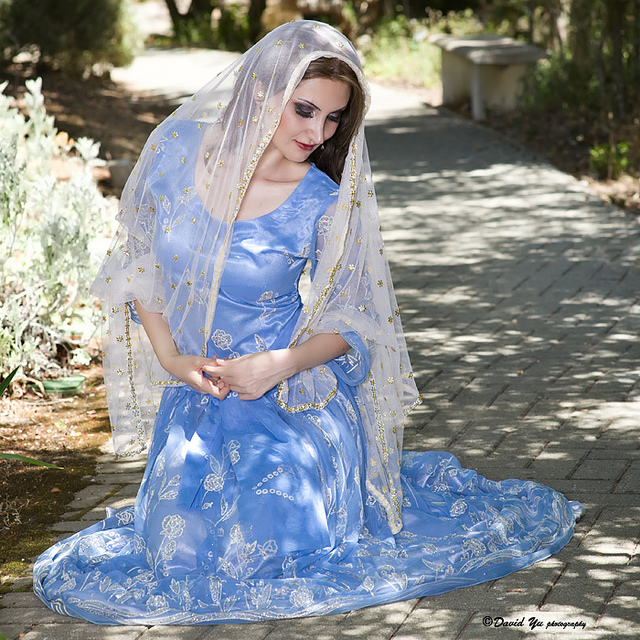 Dancing was very popular in the Persian history and the Persian classical dance is famous for its technique, style and costumes. The Persian dancers normally used to wear loosely-fitted long dress with long sleeves along with a jacket. The jacket extended over the sides of the hips and was either worn open or closed. The Qadjar dancers wore pants under the dress. A purely Persian pant was cut narrow and cuffed and loose at the bottom.
Sometimes a Turkish harem pant was worn, extremely full and gathered tight at the ankles. The fabrics were bright in color and flowered. Upon the head was worn an egret, a small paisley-shaped hat adorned with jewels, pearls and a feather. Hair was worn long and elaborate, with side locks and bangs fashioned into shapes.
After the revolution of 1979, the Iranian women are strictly bound to wear loose-fitting dresses along with a head-covering. Now scarves and veils have also become an integral part of the traditional dress form woman in Iran. But the Iranian women have not left their habits to wear the best and sophisticated clothes with magnificent designs. Even today, the Iranian women although follow the government restrictions, yet they fulfill their desires to dress up in brightly colors outfits and to make their appearances gorgeous.
Nowadays apart from the head scarf which is natively called as roo-sari, the Iranian ladies also wear a knee-length coat known as a roo-poosh along with a long dress or pair of pants.
Chador is another garment which is common among the Iranian women. Chador is a full length semi-circular fabric when worn, it naturally covers full body. It is to be remembered that Chador is normally without any type of fasteners. Obviously chador is also accompanied by a Hijab or a scarf. This is true that head covering is essential under Iranian law for women, yet extremely tight scarves are found rarely. Women are normally seen in a way that their hair fall freely.  Nowadays, chadors are usually made from a black cloth, which is normally either a cotton or synthetic material.
Another cloak type garment is normally used by the Iranian women which is known as Manteau. The purpose is the same like Chador to cover arms, neck and other body.  Manteau and Roo-posh have gained the significance as a compulsory uniform for the Iranian women nowadays.
Present dress-code for Iranian men is mostly like the western outfits. Short-sleeved shirts and t-shirts are acceptable for daily wear. Shorts and three-quarter length pants are only acceptable on the beach. They wear formal suiting in official and corporate affairs.
For more interesting posts with the same subject on the Lovely Planet Website, please click the following links;
1-    
Algerian Traditional Dress
2-    
Traditional Dress Of Serbia
3-    
Traditional Dress Of Kosovo
4-    
Traditional Dress Of Libya
5-    
Traditional Dress Of Morocco
6-    
Traditional Dress Of Albania
7-    
Traditional Dress Of Tunisia
8-    
Traditional Dress Of Lebanon
9-    
Traditional Dress Of Bosnia And Herzegovina
10-  
Traditional Dress Of Azerbaijan
11-  
Traditional Dress Of Turkmenistan
12-  
Traditional Dress Of Kazakhstan
13-  
Traditional Dress Of Kyrgyzstan
14-  
Traditional Dress Of Uzbekistan
15-  
Traditional Dress Of Tajikistan
16-  
The Traditional Dress Of Laos
17-  
The Traditional Dress Of Vietnam
18-  
Traditional Dresses Of The World – 1
19-  
Traditional Dress Of Jammu & Kashmir
20-  
Ottoman Dresses From Turkey
21-  
Colors Of Cholistan
22-  
Cultural Dresses Of Balochistan
23-  
Lehenga Choli Or Ghagra Choli
24-  
Sari Or Saree : Traditional Dress Of Women In South Asia
25-  
Ajrak , The Traditional Attire From Sindh , Pakistan
26-  
The Traditional Tais Of East Timor
27-  
Shalwar Kameez: The Popular Dress Of South Asia
28-  
Churidar Pajama: The Favorite South Asian Attire
29-  
Pakistani Bridal Dress
30-  
Rilli, Sindhi Quilt Art
31-  
Fantastic, Alluring Khussa Shoes
32-  
Customs And Traditions Of Kalash Tribe
33-  
Hanfu, The Classical Chinese Dress
34-  
London Fashion Week
35-  
Fashion Week Milan: The Glamorous Event Of Italy
36-  
New York Fashion Week
37-  
Paris Fashion Week
38- 
Traditional Dress Of Jordan
39- 
Traditional Dress Of Syria
40- 
Traditional Dress Of Afghanistan
41- 
Traditional Dress Of Palestine
42- 
Traditional Dress Of Oman
43-
Traditional Dress Of Nigeria
44- 
Traditional Dress Of Hungary
45-
Traditional Dress Of Ukraine
46- 
Malaysian Traditional Dress
47- 
Traditional Dress Of Kenya
48- 
Traditional Eastern Brides
49- 
Traditional Dress Of Bulgaria
50- 
Traditional dress of Uganda
51- 
Traditional Dress of Iceland
52- 
Traditional Dress of Croatia
53- 
traditional dress of Norway
54- 
Traditional dress of Finland
55- 
Traditional Dress of Philippines
56- 
Traditional dress of Denmark
57- 
Traditional dress of Belarus
58- 
Traditional Dress of Puerto Rico
59- 
Traditional Dress of Nicaragua: Marvelous and colorful
60 – 
Traditional Dress of Nepal: Whimsical but charming
61- 
Brilliant Colors of Dagestan: Really fanciful and imaginative
62- 
Kabuki: A classical and traditional Japanese theater
63- 
Boogie-woogie: A famous Swing Dance
64- 
Colors of Samba Dance from Brazil: So lively so amazing
65- 
Ho Jamalo: The favorite folk dance of Sindh
66- 
Odissi from the Eastern India: A historic ritual dance
67- 
Sattriya from Assam: A classical Indian dance
68- 
Fandango: A famous couple dance from Spain
69- 
Maypole from Europe: A fabulous circle folk dance
70- 
Cueca: The national dance of Chile
71- 
Traditional dress of Belgium: A charming European attire
72- 
Traditional dress of the Kingdom of Saudi Arabia
73- 
Colors of Kalash: 5 lovely images of beautiful Kalash girls
74- 
Traditional dress of Georgia: The fantastic Chokha
75- 
Traditional dress of Argentina: The warrior Gaucho costume
76- 
Traditional dress of Venezuela: Not complicated but decorated
77- 
Traditional dress of Latvia: Made with the Linen fabric
78- 
Traditional dress of Romania: So captivating and graceful
79- 
Traditional dress of Estonia: So classy and versatile
80- 
Traditional dress of Armenia: So colorful and diversified
81- 
Traditional dress of Angola: A symbol of the ethnic culture
82- 
Traditional dress of Austria: Dirndl, Lederhosen and Tracht
83-
Traditional dress of Namibia: Far from the modernizations
84- 
Traditional dress of Zambia: Rare but unique in nature
85- 
Traditional dress of Slovakia: Kroje , decorated and cultural
86. 
Traditional dress of Qatar: Pure Arabian endowment
87. 
Traditional dress of Brazil: So bright and colorful in nature
88. 
Traditional dress of Colombia: So iconic in Latin America
89. 
Traditional dress of Chile: So artistic and cultural
90. 
Traditional dress of Mexico: Blend of indigenous and imported cultures
91- 
Traditional dress of Panama: The exotic Mola and La Pollera
92- 
Traditional dress of Cuba: A product of multi-cultural effects
93- 
Traditional dress of Bangladesh: So awesome in its nature and kind
94- 
Traditional dress of Indonesia: Featured with unique patterns and designs
95- 
Traditional dress of Pakistan: Legacy of ancient civilizations
96- 
Traditional dress of Russia: A symbol of ethnic diversity in the Russian Federation
97- 
Traditional dress of England: Outcome of the local and European clothing repercussions
98- 
Traditional dress of Mauritania: Fusion of Berber and African cultures
99- 
Traditional dress of Egypt: Legacy of ancient Kings and Queens