Let's introduce to you another beauty from the Latin culture which is full of fun and enthusiast. It is actually a couple dance which is the most popular among partner dances in South America and it was evolved in Brazil in 1990's. This is known as Brazilian Zouk or Zouk-Lambada dance which was originated getting inspired by the traditional Caribbean Zouk dance. Brazilian Zouk is also somehow related to the traditional Lambada which is also danced by the couple with arched legs and with the steps being from side to side.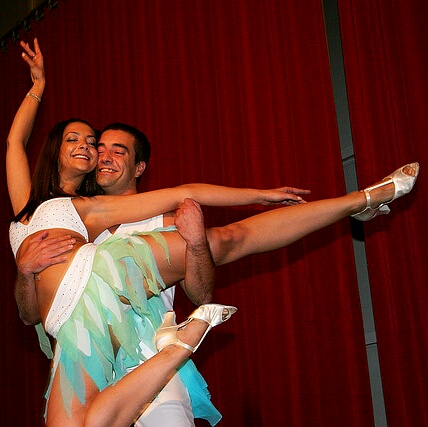 But having said that, Brazilian Zouk is altogether distinctive, if we deeply understand this rhythmic and romantic dance. With lots of new changes and steps, it was invented in Rio de Janeiro around the mid 90's by Adilio Porto and Renata Peçanha. Main steps were included; going front and back, the opening and lateral step, elastic and bonus etc. Soon, it became so popular throughout Brazil and the Brazilians started calling it as 'Zouk Love'.  Presently, the name 'Traditional Zouk' has been given to the dance.
Lots of exciting and passionate body movements adorn Brazilian Zouk. Zouk dancers start by bouncing their hips and slowly with the tuneful beats, whole body gets involved. Couple keeps peering at each other tenderly and twists around each other contacting with arms and legs. Brazil Zouk requires special skills as some head, shoulder, neck and back movements are critical if not performed accordingly, particularly by women.
Zouk dance of Brazil is mainly different from Lambada in which the partners normally shake their shoulders back and forth. In this version, the dancers try to keep their shoulders immovable while the hips are fluctuated with sizzling style. The dancers stir the heads in the reverse direction as shoulder for half measure. There are also breathtaking hair whipping movements in Zouk-Lambada that beautify it more.
To make Brazilian Zouk or Zouk-Lambada more interesting and thrilling, it is further categorized in different formats, pertinently slow and fast. In all formats, this beauty of the Latin culture is accompanied with phenomenal musical beats. Although there could be numerous variations in the techniques of Brazilian Zouk but the main arrangement exists in the same way.