The land of Punjab in the Indian sub-continent is enriched with the tantalizing cultural features and stunning Punjabi heritage. Out of which, folk dances are also one of the notable characteristics. As we have already posted about Bhangra and Kikkli; let's bring before you, another charming but female dominated dance which is called as Gidda or Giddha in the native Punjabi language. Origin is not sure, but Gidha was probably inherited from the ancient Punjabi ring dances those were performed in the ceremonial functions. Giddha carries the same zeal and enthusiast as Bhangra and as it is only associated with women, it generally adds the charm for the viewer.
Also Click to read;
Punjabi Bhangra
Giddha is performed by Punjabi women who are particularly dressed in bright colored fascinating costumes and have also adorned themselves with typical Punjabi jewelry. Festive occasions like weddings, fairs and other cheerful celebrations are rarely held without Giddha dance performances. Women normally gather in circles while one of them sits right in the center holding the traditional musical instrument, known as 'Dhol' or 'Dholki'. She starts with the dhol beats and the rest of the women start moving in circle in rhythmic and elastic passion. They also shake their shoulders and amuse the others by exotic swinging of their bodies. Their movements are based upon the beats of 'Dhol' while clapping is also done in a tremendous manner. Sometimes, folk songs which are known as 'Bolis', are also sung by them.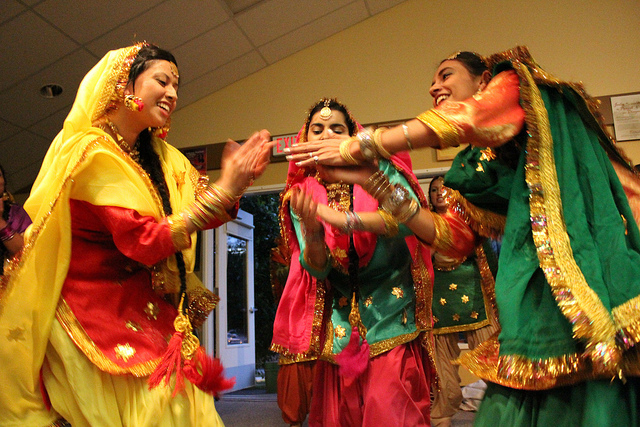 As it is mentioned above, the Giddha dancers wear magnificent traditional clothes. They are usually seen wearing Shalwar Kameez decorated with marvelous embroidery and also taking flashy 'dubatta' along with the dress. Dubatta has the matching color scheme with the main dress. Shalwar is usually in baggy form which is distinctive article of the traditional Punjabi dress. Kameez is worn on top embellished with heavy works. Some women also love to wear 'lehenga choli' to perform Giddha.  The Lehenga is actually a large piece of cloth worn around the waist as a skirt with a head covering, called Odhani or Dubatta. Similarly the other cloth is "Choli" which is actually a bodice. The fabrics used to prepare Lehenga Choli or Ghagra Choli are silk, brocade, linen or chiffon.
Also Click to read;
Shalwar Kameez
Lehenga Choli
In the wedding ceremonies, Giddha is also presented with some mimicry performances. Like women acting in a style to make gossips about love affairs, displaying themselves as bride and bridegroom or depicting the scenes of typical quarreling sister-in-law with the bride. Giddha, the traditional dance of Punjabi women, which is congenial and awesome in nature is not only popular in Pakistan and India, but also in different parts of the lovely planet where communities of these countries, especially Punjabis are existed.