Women in Pakistan are appearing in lime light in every walk of life with a rapid pace. They no doubt, possess astonishing capabilities and are playing their role with determination as real change agents in this global society. The women of Pakistan are also professionally active in the academic disciplines and are contributing tremendously in the fields of arts and designing. Let's bring you to the Corporeal Visual world of Pakistan.
Samina Zia Sheikh who is a prominent Print maker of Pakistan is actually an academician serving as an Assistant Professor in College of Art & Design, University of the Punjab.  Her regular endeavors to bring female print-makers of Pakistan together on one platform are so constructive. Idea behind these appreciable experiments is to encourage the other women from Pakistan, who are interested in this unique field of Arts. In this way, splendid contribution is made by educating the spectators through exhibiting the dynamic physical images. These images represent various issues prevailing in the Pakistani society that certainly need attention to be addressed in the current socio political scenario of Pakistan. Printmaking is such an expression that supports the creative growth of artists who are committed to visual exploration and expression using techniques like intaglio, lithography, screen print, relief and related photo-processes.
On 17th November 2014, Ms Sheikh organized a phenomenal exhibition that was titled as "Emerging Female Print makers of Pakistan" at Alhamra Art Gallery in collaboration with the Lahore Arts Council. This fabulous event was adorned with the artworks of 28 professional print makers from College of Art & Design, University of the Punjab and Fatima Jinnah Women University, Rawalpindi. Exhibition was inaugurated by Mr Momin Agha, Secretary Information and Culture, Government of the Punjab. Mr Momin Agha enthusiastically interacted with all professionals and admired the efforts of Ms Sheikh to bring institutions of Pakistan together on one platform for academic goals.
Participants of this exhibition were Erum Naz, Mehwish Khalid, Maria Waseem, Sidra Shafiq, Ayesha Qureshi, Amna Arif, Maha Anam Bhatti, Ayesha Batool, Ayesha Humayun, Mahira Shahid, Madiha Yousaf, Samar Malik Aniqa Khalid, Rabia Zubair, Faleeha Zafar, Laila tul Qadr, Fatima Muzamil, Ramsha Khalid, Rasham Ilyas, Yamna Hamid, Iqra Adeel, Kanwal Khan, Hina Abdul Rauf, Mehak Kareem, Maryam Emmad, Fatima Naeem, Nida Iftikhar and Sohaina J. Elia. About 300 artworks were displayed in galleries presenting various themes. The notables include Stories from the Lives of Prophets, Narratives of My Life, Evocation of Nostalgic Emotions, Resilience, Mystic Formations, Guise, and a number of artworks on Finding Beauty in Old Heritage of Pakistan. A number of print making techniques were involved by participants to create these visuals. Students opted various printing possibilities like monotypes, chin cole, reduction prints, reverse and transfer techniques. A large number of viewers attended this magnificent show and admired the efforts of artists.
Many themes were portrayed through prints, following various methods of image making and print making. Mahwish Khalid describes about her works titled 'Narratives from My Life' and says, Narratives are the best way to share your life with others and leave the viewer to live through experience. Visual language through narratives has always been a strong expression since primordial times for humans as social animals. She says, "I visually depict my memories related to my life and the struggle I did for my education."
Maria Waseem in her reduction prints successfully portrays her longing with the old architectural buildings of Rawalpindi. Her artworks created under title of 'Finding Beauty in Old Heritage' are richly colored and boldly printed. All images display vibrant palette which she deliberately opted to enhance the aesthetics of her visuals. She is of the view that old heritage has its value in every era. Rawalpindi has many architectural buildings; some are used by people as their homes, schools and institutions. Some old buildings are Purana Qil'aa, Bagh Sardaran, Raja Bazar, Bhabra Bazar, Sujaan Singh Haveli as well as Fatima Jinnah Women University which was once the residence of two Sikh brothers" Mohan Singh, and Sujaan Singh. All these buildings are uniquely styled and decorated with patterns and motifs. Fashions of wooden balconies, crooked and narrow streets, houses with intricate wood carvings are all element of our beautiful Heritage.
She further conveys that heritage should be preserved and government should pay attention to the conservation of our valued heritage.
Erum Naz through her Collagraph prints "Evocation of Nostalgic Emotions" investigates the fact that nostalgia makes one feel happy or sad and posses the strength to evoke feelings. Nostalgia is not attached only with the images with which one is familiar, but also includes the images that are new. Memories can also be attached to certain images that have no apparent connection to the memories but are affiliated at a very deep level that is very personal. The images are objects in the sense that they are viewed by the observers individually and they attach such nostalgic feelings to these images that are unique to each of them. In her works, one sees interpretation of such objects that are old and show their wear and tear over time. Integral to these images is their projection in such a way that appeals to an objective observer and strikes the right cord of the nostalgic emotion. There are certain objects that are associated with the decade of 90s, some to the 80s, some to 70s and even 60s. Therefore, such objects are likely to affect the observers who had the best time of their lives in a certain decade.
Sohaina J. Elia in her series of prints 'Suspense in Suspension' portrays the complexity of life. And says, 'In life one meets people and form a relation, at times we walk side by side while being apart, and sometimes there are physical distances though your hearts beat together. Memories float on the sea of time. One wants to fly to the place where one's heart is, where one feels at peace and deeply in love, the place where no one asks who you are. There are paths one wants to explore but which seem far away and there are paths one walks lazily everyday with empty heart. Those who are at peace with themselves feel serene because they have found joy and love in their life. If wishes were horses I would have flown back in time. Every cloud has a silver lining, the darker the cloud the brighter the lining. Keep looking for the lining and you'll find it. Further she concludes, "I'll fight with the life tooth & nail till the end, death will I surrender to, not life.' Be a fighter and you'll be a conqueror."
"Attachment and Loss". An artwork of Ramsha Khalid depicted; what happens if attachment doesn't exist?". The relationships resulted through emotional connection or by the production of the comfort zone. A true relationship is just like an umbrella which protects the person and such a bond helps fighting against any problem. The feeling of comfort bonding whether the "parenting attachment"or the bonding of our loved ones; if broken or ended, it will be converted in so distressful feeling that the individual ever faced in his or her life.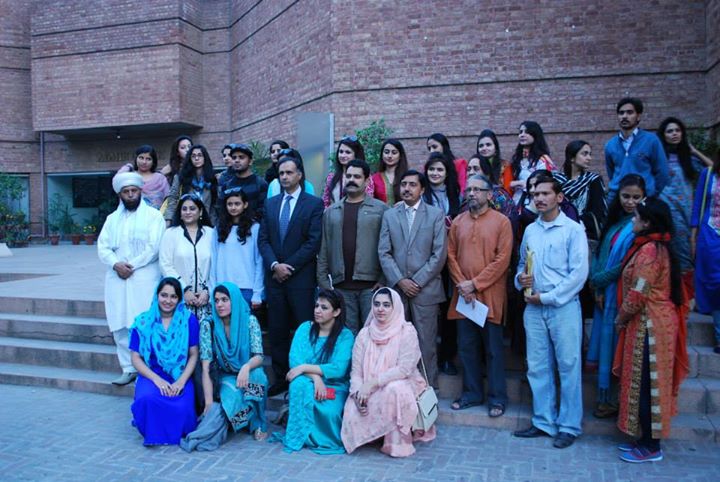 This event witnessed that women in Pakistan feel so deep about the characteristics and behaviors of their society. Their enthusiast denoted that they enjoy making such associations both on national and international levels. They communicate transversely the language obstacles with the smallest amount of words. Printmaking art is really a great way to express the feelings in visual form. If women of Pakistan get real encouragement and facilitation by their families and properly supported by the Government of Pakistan in the field of printmaking, they can prove themselves really unparalleled in the lovely planet in this wonderful field of art. Samina Zia Sheikh is a real character in the field of printmaking in Pakistan and plays a dominant role by bringing the gallant aptitude of the skillful women printmakers of Pakistan. She feels proud of all the talented participants who fearlessly demonstrated through their brilliant displays in exhibition titled "Emerging female printmakers of Pakistan."