1- Kaieteur Falls is a waterfall on the Potaro River in central Guyana. It is located in the Kaieteur National Park. It is 226 meters (741 feet) when measured from its plunge over a sandstone cliff to the first break. It then flows over a series of steep cascades that, when included in the measurements, bring the total height to 251 meters (822 feet).
An Ariel view of Kaieteur Falls of the Central Guyana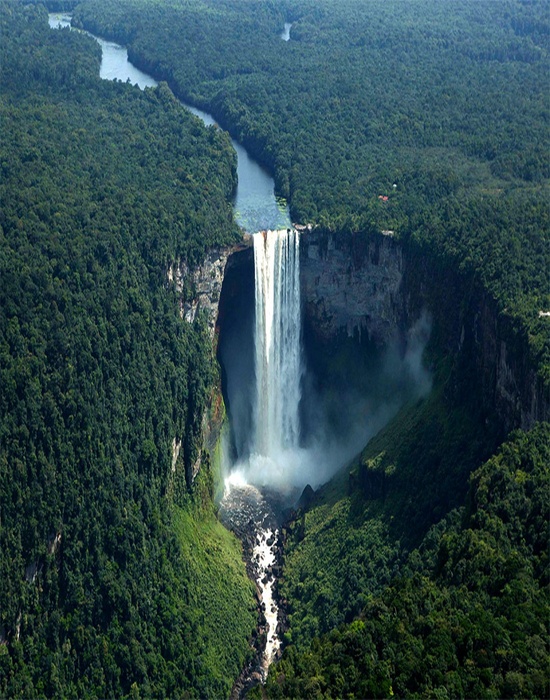 2 – Historic legend associated with Kaieteur Falls of the Central Guyana
According to Paul A. Zahl's book "To The Lost World", "Many years ago, an old and good Carib who could no longer move with the tribe was placed in a canoe far above the brink of the falls, the tribal rationalization being that if the gods disliked such proceedings, they had ample opportunity to intercede. And the did intercede! At the brink, the canoe was halted and miraculously converted into the big stone which today lies conspicuously at the edge of the escarpment where the Potaro River drops 741 feet. Thus the Indian name for the falls is "Kaieteur," meaning "Old Man Falls".
3- Kaieteur Falls is about three times higher than the more well known Niagara Falls, located on the border between Canada Falls and the US and about two times the height of the Victoria Falls located on the border of Zambia and Zimbabwe in Africa.
4- On 24 April 1870, Charles Barrington Brown, one of two British geologists appointed government surveyors to the colony of British Guyana (now known as ), became the first European to see Kaieteur Falls. The other surveyor was James Sawkins. Brown and James Sawkins arrived in Georgetown in 1867 and did some of their mapping and preparation of geological reports together, some in separate expeditions, but Sawkins had taken a break from his work when Brown came upon Kaieteur.
5- Finally, Kaieteur Falls is an amazing gift of nature and the major tourist attraction in Guyana.  The falls is located in Kaieteur National Park and is in the center of Guyana's rain forest. We hope, you like these 5 stunning facts about Kaieteur Falls of Central Guyana.