10 Amazing Facts about Dolphins
1- Dolphins are interesting creature of God. They are mammals who nurse their babies with milk. This magnificent mammals has more than 30 marine species out of which some also live in the rivers.
2- According to the biologists, the gorgeous dolphins were developed from the land animals. May be the real and first encestor of the dolphin was an animal resembling to wolf. This is the reason the dolphins belong to the family Cataceans.
3- Dolphin is a splendid marine mammal which is well known for its unique intellect and being a wonderful gymnast. Dolphins have the unexampled sense of hearing and incredible vision inside and outside the water.  With the evolution, the dolphins have specially adapted lens and cornea that enable them to see clearly in and out of the water.
4- Dolphins believe in develping familes and normally one group of dolphins is also lead by a female one. Several members of a group can even help the members of the other group in hunting and travelling.
5- Dolphins take breath from the blowhole, which is an evolved nose that has moved upward to the top of their head. Most of the species also have a dorsal fin, located on their backs which acts like a keel when they swim. Thus it gives them the directional control and stability within the water.
6- The majectic dolphins also have a sense of taste and, like humans, so they can distinguish between sweet, sour, bitter, and salty tastes. Dolphins use some sounds as some of them send out clicks that are returned from other objects in the water (just like an echo). This way a dolphin can locate food, other dolphins, predators or rocks.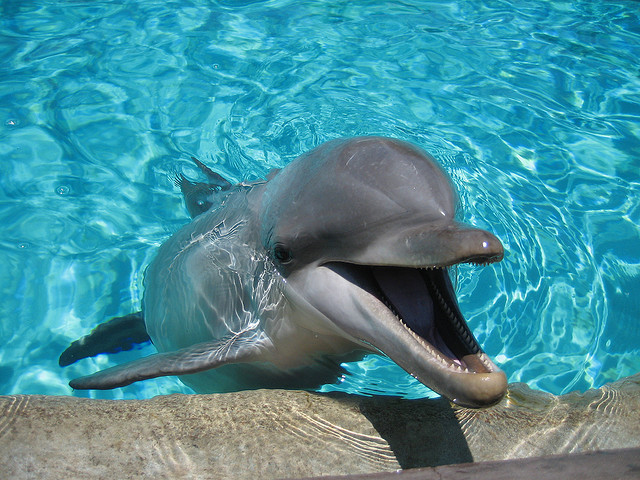 7- Magnificent dolphins are fast learners and they are sonsidered a genius in the whole mammals of the lovely planet. The diet of the Dolphins includes several kind of fish, and squid.
8- One of the amazing facts about dolphins is that the dolphins are very entertaining due to the leaps that they make out of the water. Some of them leap up to 30 feet in the air as they do so. They have to come to the surface to for water at different intervals to get air. This can be from 20 seconds to 30 minutes between when they get air.
9- It is amazing the difference in size of the various species of dolphins. The larger ones can weigh about 11 tons and be close to 30 feet long. The smaller ones are about 90 pounds and 4 feet long. Between those two spectrums you will find all weights and lengths. The species as well as their location play a huge role in their overall size.
10- The body of a dolphin is designed to help them move through the water quickly and without exerting huge amounts of energy. They rely on their pectoral fins and the fluke (tail) to help them navigate through the water.