Dog is the oldest and the most faithful companion of the humans. They have remained very important in the human lives since the modern humans have inhabited on the lovely planet. This is a very firm belief that by about 10,000 years ago, dogs were closely associated with the mankind. Dogs are the evolved and domesticated shape of wolves that were adopted as reliable pets by humans for their survival and protection. Latest research has proved that the bond between human and dog was purely based upon the mutual health improvement and well-being. This animal is so close to the human instinct that it also feels emotions driven from the human behavior.
Dog is the man's partner full of enthusiasm and devotion. He has strong sense of love and care towards his master and his property. Naturally, very humble, dog remains associated with it's master, if kept as pet for the whole life. The breeding of dogs is a continuous process, sometimes by inbreeding dogs from the same ancestral lines, sometimes by mixing dogs from very different lines. There are numerous types of dogs including companion dogs, guard dogs, hunting dogs, herding dogs and working dogs. Here is the list of 50 top, best and the most popular dog breeds of the world along with their magnificent images. We have also mentioned some significant features of these dog breeds as well for your interest.
1. The Afghan Hound is a hound that is one of the oldest dog breeds in existence. Distinguished by its thick, fine, silky coat and its tail with a ring curl at the end, the breed acquired its unique features in the cold mountains of Afghanistan. The Afghan Hound is tall, standing in height 24–29 inches and weighing 45–60 pounds. The temperament of the typical Afghan Hound can be aloof and dignified, but happy and clownish when it's playing. Because of its distinctive appearance, the Afghan hound has been represented in animated feature films and TV shows.
2. The Akita is a large breed of dog originating from the mountainous northern regions of Japan. The Akita is a powerful, independent and dominant breed, commonly aloof with strangers but affectionate with family members. Mature American type males measure typically 26–28 inches (66–71 cm) at the withers and weigh between 100–130 lb (45–59 kg).Mature females typically measure 24–26 inches (61–66 cm) and weigh between 70–100 lb (32–45 kg). The Japanese type, as stated in the breed standards, is a little smaller and lighter. There are two coat types in the Akita, the standard coat length and the long coat. It is generally territorial about its property.
3. The Australian Cattle Dog (ACD or Cattle Dog) is a breed of herding dog originally developed in Australia for droving cattle over long distances across rough terrain.  The Australian Cattle Dog is energetic and intelligent with an independent streak. It has a broad skull that flattens to a definite stop between the eyes, with muscular cheeks and a medium-length, deep, powerful muzzle. The ears are pricked, small to medium in size and set wide apart, with a covering of hair on the inside. The eyes are oval and dark. An Australian Cattle Dog in good condition weighs around 15–22 kilograms (33–49 lb). Australian Cattle Dogs had a median longevity of 11.7 years (maximum 15.9 yrs).
4. The Azawakh is a sighthound dog breed from Africa. Morphology is very similar to that of the Middle Eastern and South Indian sight hounds, all swift, high-bred coursing hounds, although there are several obvious differences. The standards call for a hound from 33 to 55 pounds (15 to 25 kg); its height is 24 to 29 inches (61 to 74 cm). The coat is very short and almost absent on the belly. In Africa, Azawakh are found in a variety of colors such as red, blue fawn (that is, with a lilac cast), grizzle, and, rarely, blue and black. Azawakhs are an incredibly sound coursing hound. Azawakh need a fairly high level of exercise and should have regular runs off lead in large enclosed areas to run off steam.
5. The Bakharwal Dog or Kashmiri Mastiff is an ancient working breed of dog found in the Pir Panjal mountain range of the Kashmir Himalayas in Pakistan, where it has been bred for many centuries by the Gujjar nomadic tribes as a livestock guardian dog and settlement protector. Deep-chested, muscular and agile, the Kashmiri Sheepdog has a straight back, broad shoulders and long legs. The body is strongly boned, with a powerful neck and large head. The most common and valued colouring is black and tan, but some tricolored and piebald examples can be found, too.  A variety of sizes can be encountered, from specimens that are 24 inches tall to those exceeding 30 inches at the withers.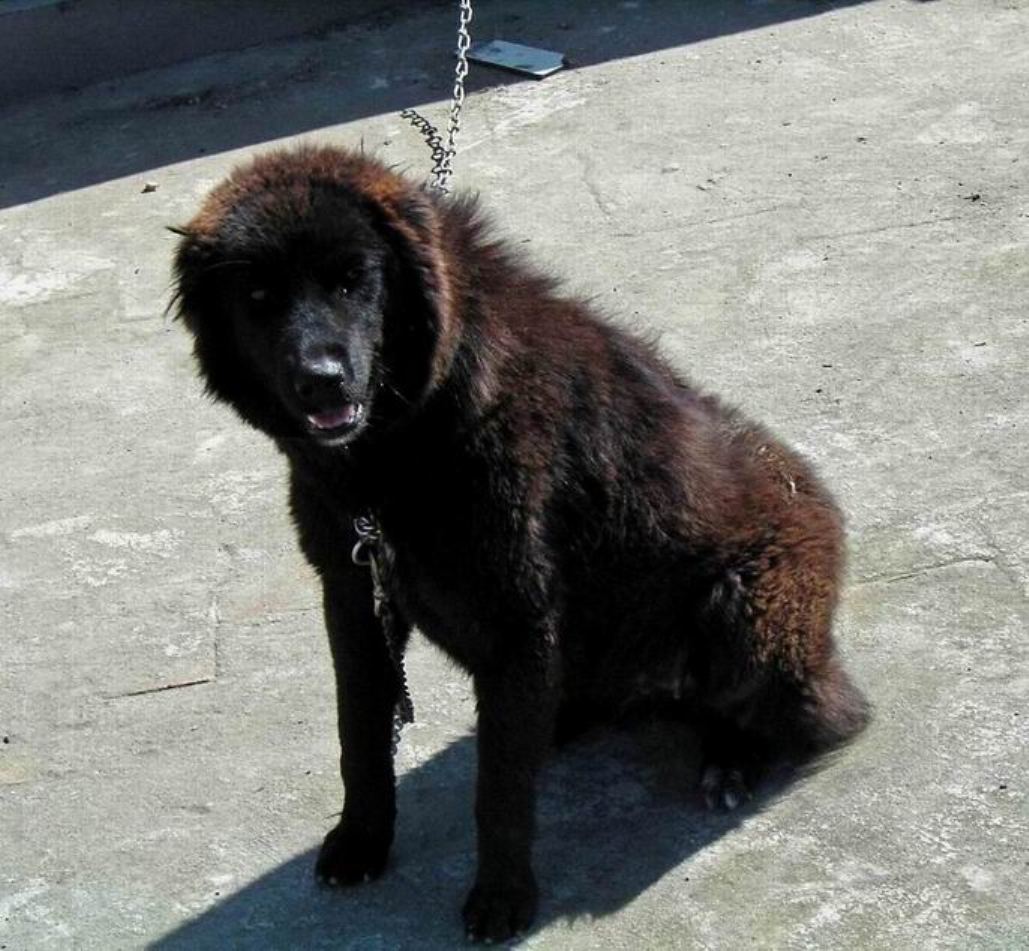 6. The Beagle

 is a breed of small to medium-sized dog. A member of the hound group, it is similar in appearance to the foxhound, but smaller with shorter legs and longer, softer ears. They are generally between 13 and 16 inches (33 and 41 cm) high at the withers and weigh between 18 and 35 lb (8.2 and 15.9 kg), with females being slightly smaller than males on average. Beagles appear in a range of colors. The Beagle has one of the best developed senses of smell of any dog. The Beagle has an even temper and gentle disposition. The typical longevity of Beagles is 12–15 years. Beagles have been featured across a wide range of media.
7. The Bernese mountain dog, the Berner Sennenhund, is a large sized breed of dog from the Swiss Alps.  The Bernese mountain dog is a large, heavy dog with a distinctive tri-colored coat, black with white chest and rust colored markings above eyes, sides of mouth, front of legs, and a small amount around the white chest. Height at the withers is 25–27.5 in (64–70 cm) for males, while it is 23–26 in (58–66 cm) for females. Weight is 85–125 lb (39–57 kg) for males, while it is 80–120 lb (36–54 kg) for females. The average life expectancy of a Bernese Mountain Dog is approximately 7 to 8 years. The Bernese's calm temperament makes them a natural for pulling small carts or wagons, a task they originally performed in Switzerland.
8. The Border Collie is a working and herding dog breed developed in the Anglo-Scottish border region for herding livestock, especially sheep. It was specifically bred for intelligence and obedience. In general, Border Collies are medium-sized dogs with a moderate amount of coat, which is often thick and frequently sheds. Border Collies require considerable daily physical exercise and mental stimulation. The natural life span of the Border Collie is between 10 and 17 years, with an average lifespan of 12 years. Border Collies are one of the most popular breeds for dog agility competitions. The use of dogs for herding sheep makes good economic sense for many farmers. Though they are a common choice for household pets, Border Collies have attributes that make them less suited for those who cannot give them the exercise they need.
9. The Boxer is a breed of medium-sized, short-haired dogs developed in Germany. Their coat is smooth and tight-fitting; colors are fawn or brindled, with or without white markings. The Boxer is a short-haired breed, with a shiny, smooth coat that lies tight to the body. This dog is renowned from olden times for his great love and faithfulness to his master and household. It is harmless in the family, but can be distrustful of strangers, bright and friendly of temperament at play, but brave and determined when aroused. A good Boxer head should not coarsen as the dog ages. The head should be "clean", and free of wrinkle. If the ears are cropped they should stand firmly erect, if uncropped they are medium sized, and high set, carried slightly lifted and tilted forward towards the side of the cheeks.
10. The Bull Terrier is a breed of dog in the terrier family. The Bull Terrier's most recognizable feature is its head, described as 'egg-shaped' when viewed from the front; the top of the skull is almost flat. Bull Terriers can be both independent and stubborn and for this reason are not considered suitable for an inexperienced dog owner. The tail is carried horizontally. They are generally white in colour, walk with a jaunty gait, and are popularly known as the 'Gladiator of the canine race'.
11. The Bulldog is a medium-sized breed of dog commonly referred to as the English Bulldog or British Bulldog. The Bulldog is a breed with characteristically wide head and shoulders along with a pronounced mandibular prognathism. Breeders have worked to reduce/remove aggression from these dogs. The coat is short, flat, and sleek, with colours of red, fawn, white, brindle and piebald. Most have a friendly, patient nature. Bulldogs are recognized as excellent family pets because of their tendency to form strong bonds with children. They can become so attached to home and family that they will not venture out of the yard without a human companion. The American Kennel Club recommends the average weight of a bulldog to be 40 to 50 pounds.
12. The Bully Kutta or Pakistani Mastiff or simply Bully or Indian Alangu Mastiff is a descendant of the extinct Alaunt that originated from the Sindh and Punjab regions of present day Pakistan, where they are the most common guard-dog. The Bully Kutta is predominantly white in color, however fawn, brindle, brown, black and various bicolors are also common. Because of this breed's dog aggression, it is commonly used in Pakistan for dog fighting.  It is a very smart dog and can easily be trained. Generally, a Bully Kutta stands 24″-30″ tall. Usually they have large heads, strong bone structure, and loose, and stretchy skin.
13. The Cavalier King Charles Spaniel is a small spaniel classed as a toy dog. It is one of the most popular breeds in the United Kingdom. The expected average lifespan of a Cavalier King Charles Spaniel is under ten years. Breed standards state that height of a Cavalier should be between 12 to 13 inches (30 to 33 cm) with a proportionate weight between 10 to 18 pounds (4.5 to 8.2 kg). The breed has four recognized colours. The breed is highly affectionate, playful, extremely patient and eager to please. Cavaliers are active and sporting. The Cavaliers coat requires weekly brushing, but no trimming.
14. The Chihuahua  is the smallest breed of dog and is named for the state of Chihuahua in Mexico. Chihuahuas come in a wide variety of sizes, head shapes, colors, and coat lengths.  There are two main varieties recognized by kennel clubs, the short-haired and the long-haired. Generally, the height ranges between 15 and 23 cm (6 and 9 in); however, some dogs grow as tall as 30 to 38 cm (12 to 15 in). The temperament of its human guardian can make a difference in the temperament of the pup. Tempered Chihuahuas can be easily provoked to attack, and are therefore generally unsuitable for homes with small children.
15. The Chow Chow (sometimes simply Chow) is a dog breed originally from northern China. The breed has also been called the Tang Quan, "Dog of the Tang Empire". It is believed that the Chow Chow is one of the native dogs used as the model for the Foo dog, the traditional stone guardians found in front of Buddhist temples and palaces. Research indicates it is one of the first primitive breeds to evolve from the wolf. The Chow Chow is a sturdily built dog, square in profile, with a broad skull and small, triangular, erect ears with rounded tips. The fur is particularly thick in the neck area, giving it a distinctive ruff or mane appearance.  Chow Chows tend to display discernment of strangers and can become fiercely protective of their owners and property.
16. The Collie is a distinctive type of herding dog, including many related landraces and formal breeds. It originates in Scotland and Northern England. Collies are very active and agile, and most types of collies have a very strong herding instinct. Collies are generally medium-sized dogs of about 22 to 32 kg (48 to 70 lb) and light to medium-boned. Cattle-herding types are stockier. The fur may be short, flat, or long, and the tail may be smooth, feathered, or bushy. Collies can have both naturally long and naturally bobbed tails. Collies range in trainability from the "average" to very biddable.
17. The Czechoslovakian Wolfdog is a relatively new dog breed that traces its original lineage to an experiment conducted in 1955 in Czechoslovakia. Both the build and the hair of the Czechoslovakian Wolfdog are reminiscent of a wolf. The color of the hair is from yellow-grey to silver-grey, with a light mask. The hair is straight, close and very thick. The Czechoslovakian Wolfdog is more versatile than specialized. It is quick, lively, very active, and courageous. The behavior of the Czechoslovakian Wolfdog is strictly purposeful – it is necessary to find motivation for training. They typically weigh around 54 pounds (26 kg) for males and 44 pounds (20 kg) for females.
18. The Doberman Pinscher (alternatively spelled Dobermann in many countries) or simply Doberman, is a medium-large breed of domestic dog. Doberman Pinschers are among the most common of pet breeds, and the breed is well known as an intelligent, alert, and loyal companion dog. Kennel club standards describe Doberman Pinschers as dogs of medium-large size with a square build and short coat. They are compactly built and athletic with endurance and swiftness. The dog typically stands between 68 to 72 centimetres (27 to 28 in). Two different color genes exist in the Doberman, one for black and one for color dilution. The Doberman Pinscher's natural tail is fairly long. Doberman Pinschers often have their ears cropped.
19. The English Mastiff, referred to by most Kennel Clubs simply as the Mastiff, is a breed of large dog.  Distinguishable by enormous size, massive head, and a limited range of colours, but always displaying a black mask, the Mastiff is noted for its gentle and loving nature. The AKC standard height (per their website) for this breed is 30 inches (76 cm) at the shoulder for males and 27.5 inches (70 cm) (minimum) at the shoulder for females. A typical male can weigh 150–250 pounds (68–113 kg), a typical female can weigh 120–200 pounds (54–91 kg), with show specimens tending towards the upper ranges. Domesticated Mastiffs are powerful yet gentle and loyal dogs, but due to their physical size and need for space, are best suited for country or suburban life.
20. The French Bulldog is a small breed of domestic dog. "Frenchies" were the result in the 1800s of a cross between bulldog ancestors imported from England and local ratters in Paris (France). Frenchies are very playful and affectionate.They are loyal, loving, and wonderful companion dogs. The French Bulldog should have the appearance of an active, muscular dog, of heavy bone, smooth coat, compactly built, and of medium or small structure. Acceptable colors under the breed standard are the various shades of brindle, fawn, tan or white with brindle patches (known as "pied"). The head should be large and square. The neck should be thick and well arched, with loose skin at throat.
21. The German Shepherd is a breed of large-sized working dog that originated in Germany. German Shepherds are large sized dogs. The breed standard height at the withers is 60–65 cm (24–26 in) for males and 55–60 cm (22–24 in) for females. The weight standard is 30–40 kilograms (66–88 lb) for males and 22–32 kilograms (49–71 lb) for females. German Shepherds were bred specifically for their intelligence, a trait for which they are now famous. German Shepherds are highly active dogs and described in breed standards as self-assured. The breed is marked by a willingness to learn and an eagerness to have a purpose. Well-trained and socialized German Shepherds have a reputation as being very safe. German Shepherds have been featured in a wide range of media.      
22. The German Shorthaired Pointer (GSP) is a medium to large sized breed of dog developed in the 19th century in Germany for hunting. The breed is streamlined yet powerful with strong legs that make it able to move rapidly and turn quickly. The German shorthaired pointer is a member of the Sporting Group. The German shorthaired pointer's coat is short and flat with a dense undercoat protected by stiff guard hairs.  The color can be a dark brown, black or either liver and white or black and white. The temperament is that of an intelligent, bold, boisterous, eccentric, and characteristically affectionate dog. German Shorthaired Pointers along with other sporting dogs requires a lot of exercise and space to run.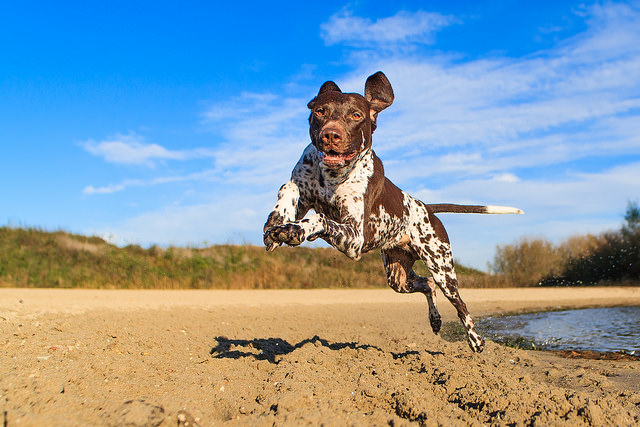 23. The Giant Schnauzer is a working breed of dog developed in the 17th century in Germany. It is the largest of the three breeds of Schnauzer. They have dense coarse coat that protects them from the weather and from vermin. The fur on the Giant Schnauzer's face forms a distinct "beard" and eyebrows. Giant Schnauzers are usually a quiet breed who has been described as trustworthy with children. They are easily trained, and deeply loyal to their owner. Giant Schnauzers require regular grooming.  Giant Schnauzers come in two color patterns: Solid black, and a color known as pepper and salt.
24. The Golden Retriever is a large-sized breed of dog bred as gun dogs to retrieve shot waterfowl such as ducks and upland game birds during hunting and shooting parties. This magnificent dog is a large, strongly built breed with a dense, water-repellant wavy coat. The temperament of the Golden Retriever is a hallmark of the breed, and is described in the standard as "kindly, friendly and confident". Golden Retrievers make good family pets, particularly as they are patient with children. The average lifespan for a Golden Retriever is about 11 to 12 years. They are susceptible to specific ailments, so should be taken to a veterinarian for yearly checkups. Golden Retrievers require regular grooming and occasional baths.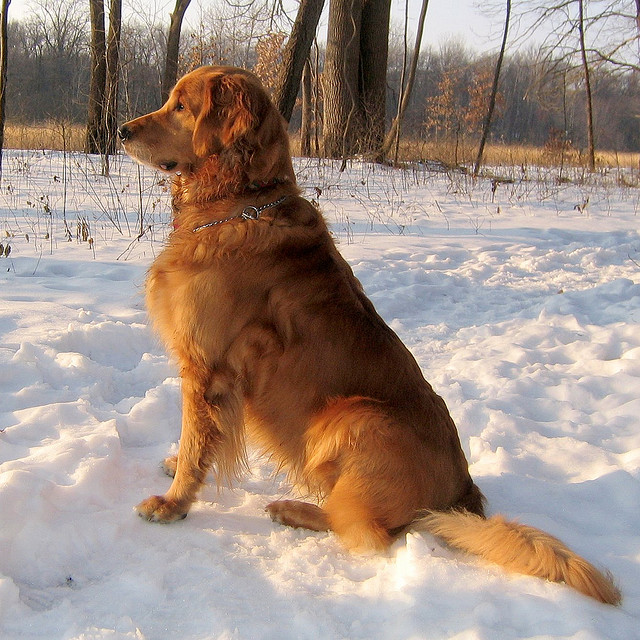 25. The Great Dane is a large German dog breed known for its giant size. The name of the breed in Germany is Deutsche Dogge (German Mastiff). They are known for their enormous bodies and great height. The Great Dane is one of the world's tallest dog breeds. The Great Dane combines, in its regal appearance, dignity, strength and elegance with great size and a powerful, well-formed, smoothly muscled body. The male dog should not be less than 30 in (76 cm) at the shoulders, a female 28 in (71 cm). Danes under minimum height are disqualified. There are three colour varieties with five to six (depending on the standard) show-acceptable coat colors for Great Danes. Like most dogs, Great Danes require daily walks to maintain their health.      
26. The Gull Terrier also known as the Kohati Gultair is a breed of dog found in Pakistan. These dogs are very loyal and protective to their family. They are medium size dog having very high jaw strength. The Gull Terrier has a smooth, broad-shaped head. Gull Terriers have erect ears when fully mature and are usually pure white in color, although some have slight black dots. Gull Terriers are bred in the Kohat and Punjab regions of Pakistan. They are very protective of their master and property. Talented and easily trained, they are gladiators and if pushed they will defend their family till their last breath.
27. The Irish Wolfhound is a breed of domestic dog, which is actually a sighthound. Irish Wolfhounds can be an imposing sight due to their formidable size; they are the tallest of all dog breeds. The Irish Wolfhound is remarkable in combining power and swiftness with keen sight.  The average height of an Irish wolfhound should be taller than that of a Great Dane. The colours allowed by the American Kennel Club are "grey, brindle, red, black, pure white, fawn, wheaten and steel grey". Unlike many other breeds, Irish wolfhounds have a varied range of personalities and are most often noted for their personal quirks and individualism. Like many large dog breeds, Irish Wolfhounds have a relatively short lifespan.
28. Labrador Retriever, also known as simply Labrador or Lab, is one of several kinds of retrievers, a phenomenal type of gun dog. Labradors are athletic, playful, and the most popular breed of dog by registered ownership in Australia, Canada, New Zealand, the United Kingdom and the United States (since 1991). Labradors are relatively large, with males typically weighing 65 to 80 lb (29 to 36 kg) and females 55 to 70 lb (25 to 32 kg). Labrador Retrievers are registered in three colours: black (a solid black colour), yellow (considered from cream to fox-red), and chocolate (medium to dark brown). Labradors have a reputation as a very even-tempered breed and an excellent family dog. Labradors are an intelligent breed with a good work ethic. Their life expectancy is generally 10 to 12 years and it is a healthy breed with relatively few major problems.
29. The Lowchen or Little Lion Dog is a breed of dog. A small dog, they are considered by some registries as a toy dog. The Löwchen's coat is long and flowing and comes in many colours. The coat should not be thin and fluffy like a Bichon Frise, but wavy with a mix of thicker hairs amongst the fine ones. The head of the Löwchen is one of its most important features, with its relatively short, wide muzzle, broad skull, lively round eyes, and pendulant ears. The Löwchen's life span is around 12–14 years. The Löwchen is a friendly, healthy and happy dog. Dogs of this breed are both active and playful, and very intelligent.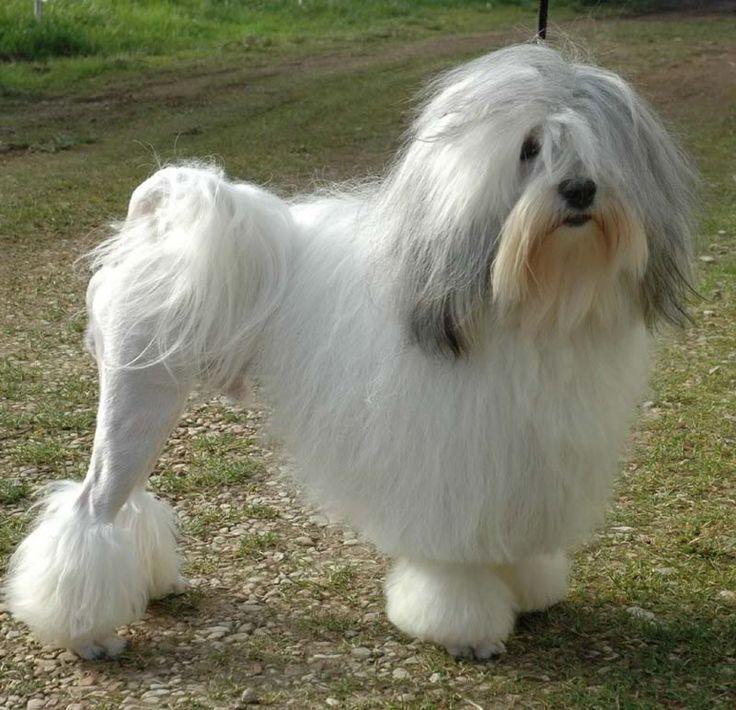 30. The Malinois  or Belgian Shepherd Dog is a medium breed of dog,  used as a working dog for tasks including detection of odors such as explosives, accelerants (for arson investigation), and narcotics; tracking of humans for suspect apprehension in police work; and search and rescue missions.  It has black erect ears and a black muzzle. It has a square build in comparison to the German Shepherd. Male dogs are about 61–70 cm (24–28 in), while females are about 56–61 cm (22–24 in) at the withers. Well-raised and trained Malinois are usually active, intelligent, friendly, protective, alert and hard-working.
31. The Maltese is a small breed of dog in the Toy Group. It descends from dogs originating in the Central Mediterranean Area. Characteristics include slightly rounded skulls, with a finger-wide dome, a black button nose and brown eyes. The coat is long and silky and lacks an undercoat. Maltese should have long silky coats. Some Maltese can have curly hair, but this is considered a fault. Adult Maltese range from roughly 3 to 10 lb (1.4 to 4.5 kg), though breed standards, as a whole, call for weights between 5-8 lbs. They are extremely lively and playful, and even as Maltese ages, their energy level and playful demeanor remain fairly constant.
32. The Miniature Schnauzer is a breed of small dog of the Schnauzer type that originated in Germany in the mid-to-late 19th century. The breed remains one of the most popular world wide, primarily for its temperament and relatively small size. Miniature Schnauzers have a very square-shaped build, measuring 13 to 14 inches (33 to 36 cm) tall and weighing 10 to 15 pounds (4.5 to 6.8 kg) for females and 11 to 18 pounds (5.0 to 8.2 kg) for males. They are characterized by a rectangular head with bushy beard, mustache and eyebrows. They are highly playful dogs, and, if not given the outlet required for their energy, they can become bored and invent their own "fun".
33. The Newfoundland is a large working dog. Newfoundlands can be black, brown, white and black (called Landseer) or gray.  They are known for their giant size, intelligence, tremendous strength, calm dispositions, and loyalty. They are wonderfully good with children, but because of their size at a very young age, small children could get accidentally leaned on and knocked down. Males normally weigh 60–70 kg (130–150 lb), and females 45–55 kg (100–120 lb). They may grow up to 22–30 inches (55–71 cm) tall at the shoulder.  It is common that "Newfs" live to be 8 to 10 years of age; 10 years is a commonly cited life expectancy.
34. The Papillon is also called the Continental Toy Spaniel, which is a breed of dog of the Spaniel type. One of the oldest of the toy spaniels, it derives its name from its characteristic butterfly like look of the long and fringed hair on the ears. The Papillon is a very intelligent and self-assured dog that has a very easy time learning new tricks. Papillons are parti-colored or white with patches of any color. The temperament of a papillon is a happy, friendly, adventurous dog. They are not shy or aggressive. Papillons can live up to 17 years. Like any other dog, Papillons need a daily walk. They can also be socialized to get along well with other pets.
35. The Pembroke Welsh Corgi is a herding dogbreed, which originated in Pembrokeshire, Wales. The Pembroke Welsh Corgi is proportional to larger canines, but has legs much shorter than other breeds within the herding dog category. There are four accepted coat colors recognized by reputable kennel clubs and organizations. These colors consist of red and white, sable and white, fawn, and black and tan (tri-colored). Some Pembroke Welsh Corgis are born with a natural dock. Others may have their tails surgically docked. Pembroke Welsh Corgis are very affectionate, love to be involved in the family, and tend to follow wherever their owners go.
36. The Peruvian Hairless Dog or Peruvian Inca Orchid is perhaps one of the world's oddest-looking dogs. Completely hairless except for some random hairs on the feet and the top of the head, the Peruvian Inca Orchid usually has a skin color known as "elephant grey." Peruvian Hairless dogs are affectionate with family but wary of strangers. They are typically lively, alert and friendly with other dogs but can be protective as well. They are agile and fast. The lack of hair leads to a reputation for being clean, for being easy to wash with a sponge, and for a natural lack of fleas or other parasites. This is an ancient breed.
37. The Pharaoh Hound is a breed of dog and the national hound of the Mediterranean nation of Malta. Pharaoh Hounds have very short, reddish coats and paw-pads, whiskers and noses that match that tone. While they can reach a weight of up to 55 lbs., many are smaller and slimmer. Females can be as short as 21 inches high, while males can reach a height of up to 25 inches. Stubborn and independent, these dogs can be a challenge to train, but they do well in competition obedience if you manage to crack their tough exterior. All Pharaoh Hounds may blush at times when they are excited. The Pharaoh Hound is independent-minded, highly intelligent, and occasionally stubborn.
38. The Pomeranian (often known as a Pom or Pom Pom) is a breed of dog of the Spitz type. Pomeranians are small dogs weighing 1.9–3.5 kilograms (4.2–7.7 lb) and standing 5.0–11 inches (13–28 cm) high at the withers. Pomeranians are typically a very friendly, playful and lively breed of dog. They love to be around their owners and are known to be protective of them. The Pomeranian has been among the more popular dog breeds in the United States. Pomeranian comes in the widest variety of colors of any dog breed, including white, black, brown, red, orange, cream, blue, sable, black and tan, brown and tan, spotted, brindle, plus combinations of those colors.
39. The Poodle is an active, intelligent and elegant dog, squarely built, and well proportioned. Poodles have been used as working dogs in the military since at least the 17th century. Poodles are bred in a variety of sizes, distinguished by adult shoulder (withers) height. Unlike most dogs which have double coats, poodles have a single layer coat (no undercoat is present) composed of dense, curly fur that sheds minimally. The Poodle has a wide variety of coloring, including white, black, brown, parti, silver, gray, silver beige, apricot, red, cream, sable, and patterns such as phantom and brindle.
 40. The Pug is a breed of dog with a wrinkly, short-muzzled face and curled tail. The breed has a fine, glossy coat that comes in a variety of colours, most often fawn or black, and a compact square body with well-developed muscles. Pugs remain popular into the twenty-first century, with some famous celebrity owners. Pugs are strong willed but rarely aggressive, and are suitable for families with children. Pugs tend to have a lazy nature and spend a lot of time napping. They are often called "shadows" because they follow their owners around and like to stay close to the action.
41. The Rottweiler is a medium/large size breed of domestic dog. Technically a "medium / large" breed, according to the FCI standard the Rottweiler stands 61 to 69 cm (24 to 27 in) at the withers for males, 56 to 63 cm (22 to 25 in) for females, and the weight must be between 50 to 60 kg (110–132 lbs) for males and 35–48 kg (77–105 lbs) for females. The Rottweiler is good-natured, placid in basic disposition, very devoted, obedient, biddable and eager to work. Rottweilers are a relatively healthy, disease-free breed. The coat consists of an outer coat and an undercoat. The outer coat is of medium length, coarse, dense and flat. The undercoat should be present on the neck and thighs. The traditional gait of a Rottweiler is a trot.
42. The Saluki, also known as the Slougui, Arabian Greyhound, Royal Dog of Egypt or Persian Greyhound is one of the oldest known breeds of domesticated dog. Salukis are "sight" hounds, which means they hunt by sight, run the quarry down, catch it, and kill or retrieve it. The normal size range for the breed is 23–28 inches (58–71 cm) high at the withers and 40–60 pounds (18–27 kg) in weight, with females being slightly smaller than males. The Saluki's head is long and narrow with large eyes and drop ears. The tail of the breed is long and curved. Historically, Salukis were used by nomadic tribes for hunting. A true modern Saluki retains the qualities of hunting hounds and may seem reserved to strangers. Given their hunting instincts, they are prone to chasing moving objects.
43. The Samoyed is a breed of dog that takes its name from the Samoyedic peoples of Siberia. Samoyed eyes are usually black or brown and are almond in shape.  Height is 21–23.5 inches (53–60 cm) at the shoulder for males, 19–21 inches (48–53 cm) for females. Samoyed ears are thick and covered with fur, triangular in shape, and erect. The Samoyed tail is one of the breed's more distinguishing features. The Samoyeds are tough, strong and competitive. The hair of Samoyed dogs has hypoallergenic properties. Samoyeds can compete in dog agility trials, carting, obedience, showmanship, flyball, tracking, mushing and herding events.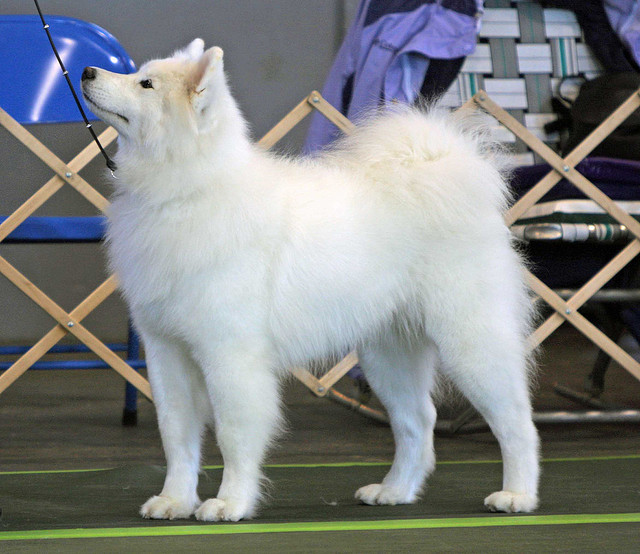 44. The Shetland Sheepdog, often known as the Sheltie, is a breed of herding dog. They are small to medium dogs, and come in a variety of colors, such as sable, tri-color, and blue merle. They are vocal, excitable, energetic dogs who are always willing to please and work hard. Shelties have a double coat, which means that they have two layers of fur that make up their coat. Shelties normally weigh around 5–11 kilograms (11–24 lb). Shelties have a high level of intelligence. As the name suggests, Shelties can and have been used as sheepdogs and still participate in sheepdog trials to this day. For the most part, Shelties are athletic and healthy.
45. The Siberian Husky is a medium size, dense-coat working dog breed that originated in north-eastern Siberia. The breed belongs to the Spitz genetic family. It is recognizable by its thickly furred double coat, erect triangular ears, and distinctive markings. Huskies are a very active, energetic, and resilient breed whose ancestors came from the extremely cold and harsh environment of the Siberian Arctic. The Husky has been described as a behavioral representative of the domestic dog's forebearer, the wolf, exhibiting a wide range of its ancestors' behavior. The breed standard indicates that the males of the breed are ideally between 21 and 23.5 inches (53 and 60 cm) tall at the withers and weighing between 45 and 60 pounds (20 and 27 kg).
46. The St. Bernard or St Bernard is a breed of very large working dog from the Italian and Swiss Alps, originally bred for rescue. The St. Bernard is a giant dog. The average weight of the breed is between 140 and 264 lb (64–120 kg) or more and the approximate height at the withers is 27½ inches to 35½ inches (70 to 90 cm). The coat can be either smooth or rough, with the smooth coat close and flat. The breed is strikingly similar to the English Mastiff and Newfoundland. The very fast growth rate and the weight of a St. Bernard can lead to very serious deterioration of the bones if the dog does not get proper food and exercise. The Saint Bernard is calm, patient and sweet with adults, and especially children.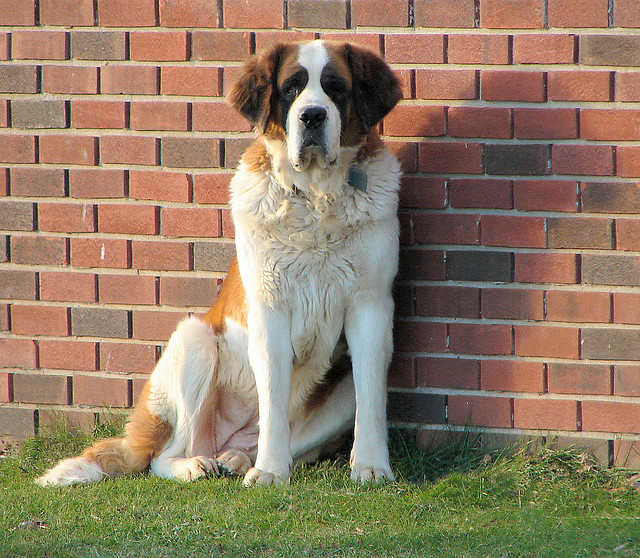 47. The Tibetan Mastiff is another ancient breed and one of the largest dogs in the world. As a flock guardian dog in Tibet and in the West, it is capable of confronting predators the size of wolves and leopards, although it uses all the usual livestock guardian tactics (e.g., barking, scent-marking perimeters) to warn them away and avoid direct confrontations. Males can reach heights up to 83 cm (33″). Its double coat is long, subject to climate, and found in a wide variety of colors, including solid black, black and tan, various shades of "red" (from pale gold to deep red) and bluish-gray (dilute black), often with white markings. As a socialized, more domestic dog, it can thrive in a spacious, fenced yard with a canine companion, but it is generally not an appropriate dog for apartment living.
48. The Vizsla is a dog breed originating in Hungary. The Vizsla is a natural hunter endowed with an excellent nose and an outstanding trainability. Although they are lively, gentle mannered, demonstrably affectionate and sensitive, they are also fearless and possessed of a well-developed protective instinct. The standard coat is a solid golden-rust color in different shadings, but some breeding programs have resulted in a solid rust coat. Average Height in males is 22–25 in (56–64 cm) and in females is 21–24 in (53–61 cm). Vizslas are excellent swimmers. Some may need a little motivation to get in the water but as they get used to it they will love it.
49. The Weimaraner is a large dog that was originally bred for hunting in the early 19th century. The Weimaraner is athletic in appearance. Traditionally, the tail is docked. This breed's short coat and unusual eyes give it a distinctive regal appearance. The coat is extremely low-maintenance, short, hard, and smooth to the touch, and may range from charcoal-blue to mouse-grey to silver-grey or even blue-gray. The male Weimaraner stands between 25 to 27 in (64 to 69 cm) at the withers and the females are between 23 to 25 in (58 to 64 cm). From adolescence, a Weimaraner requires frequent exercise in keeping with an energetic hunting dog breed prized for its physical endurance and stamina.
50. The Yorkshire Terrier is a small dog breed of terrier type, developed in the 19th century in the county of Yorkshire, England.  The defining features of the breed are its maximum size of 7 pounds (3.2 kg) and its gray, black, and tan coat. The Yorkshire Terrier is a tan dog with a blue saddle. Particolours exist, although they are not correct for the breed standard. The particolour coat is white with black/blue and tan. The ideal Yorkshire Terrier character or "personality" is described with a "carriage very upright" and "conveying an important air." Yorkie owners are particularly proud of their dogs and relate well to other Yorkie owners.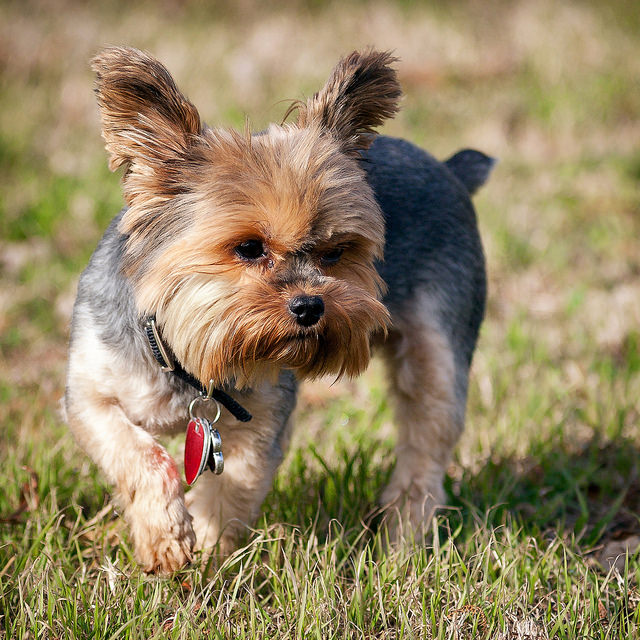 Also click to view: