There are few countries in the world with whom many among us fall in love. Turkey is truly one of such countries sparkling for its magnificent and diverse features. Turkey is a destination for the people who desire to learn the history and culture. Likewise it has astonishing geography, scenic locations, exotic beaches and tantalizing heritage. Almost all cities of this fabulous country have their own individual and attractive characteristics with a number of mesmerizing sites.  Above all of these, the Turkish people possess brilliant qualities; they are beautiful, they are hospitable, they are talkative and they are believers in humanity and spirituality. Turkish nation value their ways of living, centuries old culture and awe-inspiring traditions.
The capital of Turkey is Ankara and Istanbul is the largest historic city which is in fact a country within itself. Turkish currency is Lira. The country has facilitated the tourism development and there are out-class hotels, motels, restaurants and cottages available. The local flights are comfortable and cheap and the inter-city transport system is also phenomenal.  Turkish cuisine is well-known throughout globally with availability of veggie and meat dishes in all corners of the country. Although there are countless attractions for tourists in Turkey, however in this article, we've made a collection of 30 top and the best tourist destinations in Turkey for your interest and all of these are listed below in alphabetical order.
1- Alaçatı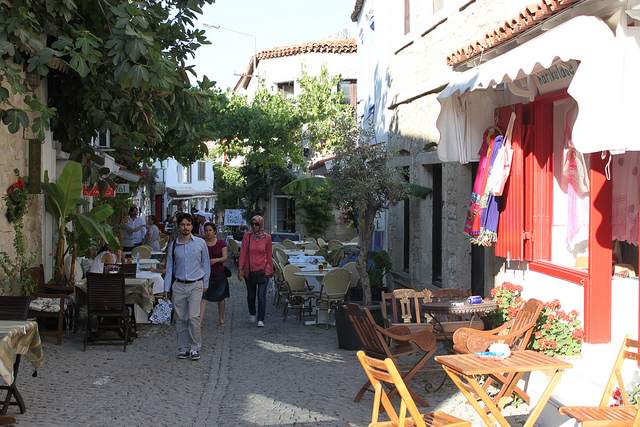 The alluring Alacati is an Aegean town on the western coast of İzmir Province in Turkey which has been famous for its architecture, vineyards and windmills for over 150 years. Alacati has stone houses and narrow streets with pavements. The centre of Alacati only has old Greek houses which are over 100 years old. As the town was declared as a historical site in 2005, the buildings are well protected.
2- Alanya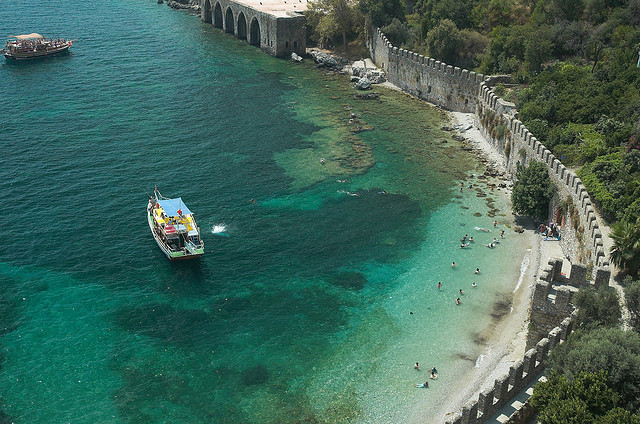 Alanya formerly Alaiye, is a beach resort city in Turkey. It is clustered around the foot of a massive, citadel-crowned rock looming high above the Mediterranean, and backed by the rugged Taurus Mountains.  It has plenty of historic sites to explore; there are boat trips around the rock, and great swimming from the beaches to the east and west. Alanya's culture is a subculture of the larger Culture of Turkey. The city's seaside position is central to many annual festivals.
3- Ani 
Ani is a ruined medieval Armenian city-site situated in the Turkish province of Kars near the border with Armenia. The city is located on a triangular site, visually dramatic and naturally defensive, protected on its eastern side by the ravine of the Akhurian River and on its western side by the Bostanlar or Tzaghkotzadzor All the structures at Ani are constructed using the local volcanic basalt, a sort of tufa stone. It is easily carved and comes in a variety of vibrant colors, from creamy yellow, to rose-red, to jet black.
4- Antalya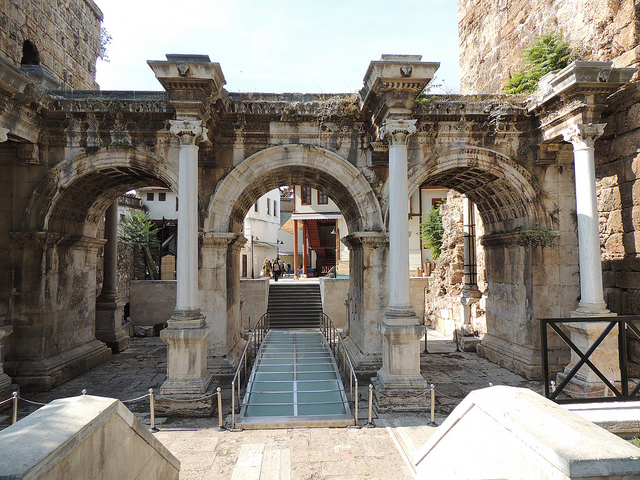 Antalya is the eighth most populous city in Turkey and the capital of its eponymous province. Kaleiçi is the historic city center of Antalya, Turkey. Until modern times, almost the entire city was confined within its walls. It has structures dating from the Roman, Byzantine, Seljuk, Ottoman and modern Turkish republican eras. With its hotels, bars, clubs, restaurants, and shopping, it has been restored to retain much of its historical character.
5- Anzac Cove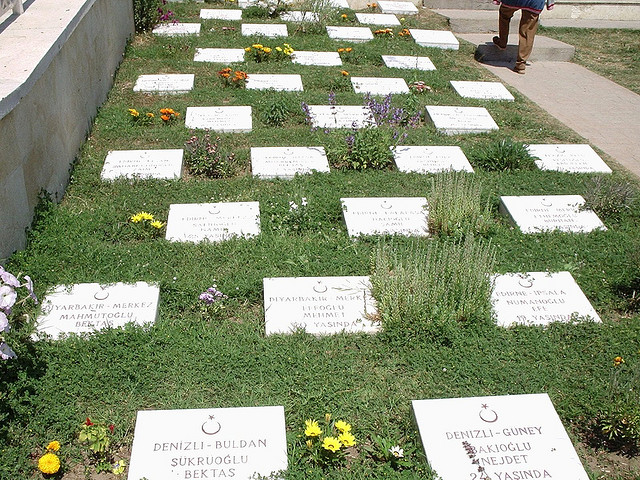 Anzac Cove is a small cove on the Gallipoli peninsula in Turkey. It became famous as the site of World War I. In modern times, the battlefields of this campaign are marked with a series of memorials, museums and cemeteries where visitors can pay their respects and learn about the somber history of these costly events. Today, it is at Anzac Cove where the annual commemorative Anzac Day ceremonies are held.
6- Aspendos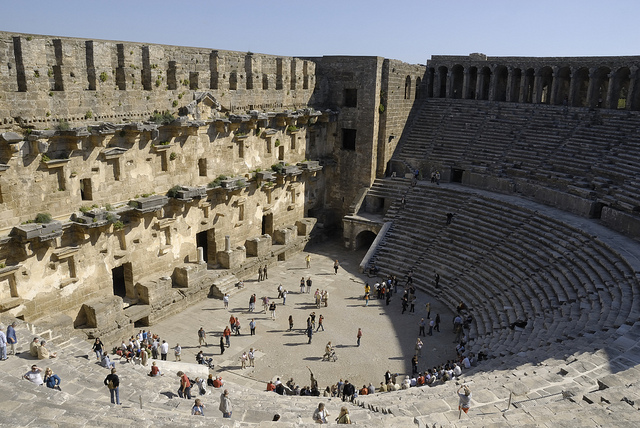 Aspendos or Aspendus is an old city which is known for the best preserved ancient theater and it is located in Antalya, Turkey, which is just 7 kilometres northeast of central Serik. Aspendos has a diameter of 96 metres (315 ft), the theatre providing seating for 7,000. It was constructed in 155 AD during the rule of the Roman Emperor Marcus Aurelius. The Aspendos Theatre has been able to survive to this days without losing almost any of its original qualities.
7- Basilica cistern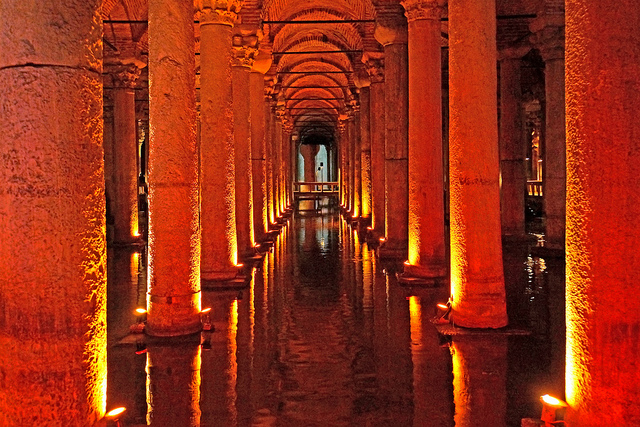 Basilica cistern or better known as Yerebatan sarayi is a very authentic place and a must see in Istanbul. The cistern is located at the Sultanahmet square. An ancient underground wonder and one of Istanbul's best Byzantine sites, this former water storage chamber is composed of imposing columns, vaulted ceilings and even ornate carvings of the ancient gods. Today, visitors can mount its raised platforms to view its eerie waters.
8- Belek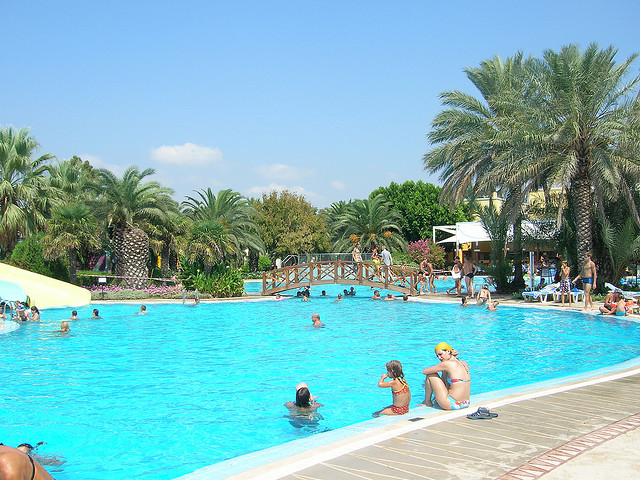 Belek, a resort town on the Turkish Riviera, is known for very clean, white-sand beaches surrounded by pine forests. It is located 30 kilometers on the east side of Antalya province. The region has first-class holiday villages, 32 four or five-stars hotels and five golf courses. All of the facilities that have been designated first-class provide an ideal atmosphere for families and meticulously offer many services and opportunities aimed at pleasing their guests.
9- Blue Mosque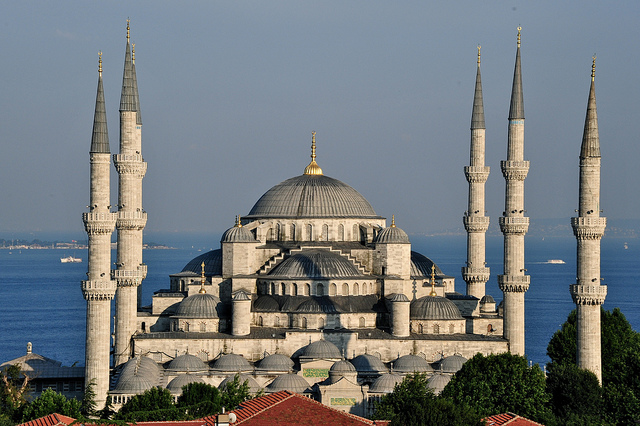 The Blue Mosque (Sultanahmet Camii in Turkish) was built by Sedefkar Mehmet Aga which is located on the site of the Great Palace of Byzantium, on the southeastern side of the Hippodrome. It is called by Europeans as Blue because of its interior blue tiles which were used more than 20.000 pieces. Blue Mosque has a feature like social complex by including madrasa, Sultan Resting Mantion, Turkish bath, fountain, hospital, Mekteb-I Sıbyan, rental rooms and homes except from mosque.
10- Bodrum Castle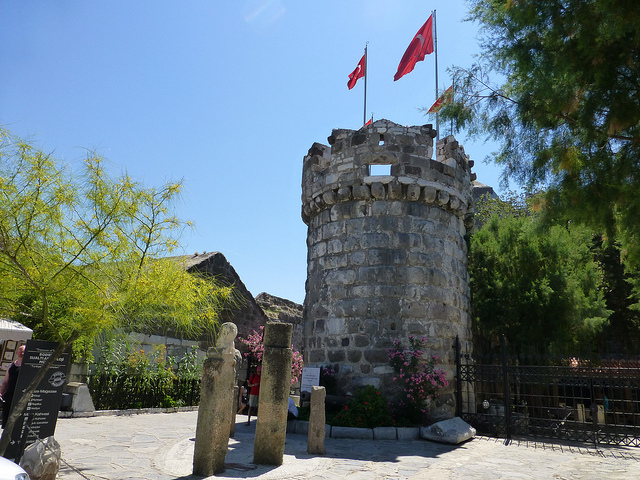 Going Turkey and not visiting the resplendent site of Bordum castle will be a worth miss. Bodrum Castle overlooks the magnificent harbor and the international marina. This dazzling structure was built by the Knights of Rhodes in the 15th century during the crusades of the middle ages, and it was given the name 'The Castle of St. Petrus or Petronium'. It is located in the southwest Turkey in the port city of Bodrum.
11- Cappadocia
Cappadocia is a historical region in Central Anatolia in Turkey.  It is famous for its weird and wonderful natural rock formations and unique historical heritage. One of the best places to see these strange formations is the town of Göreme, which is located among a large number of tuff cones, termed fairy chimneys. The fairy chimneys have been formed as the result of wind and water erosion of two different volcanic layers. Since 2012, a multiday track running ultra marathon of desert concept, called Run-fire Cappadocia Ultra marathon, is held annually in July.
12- Çeşme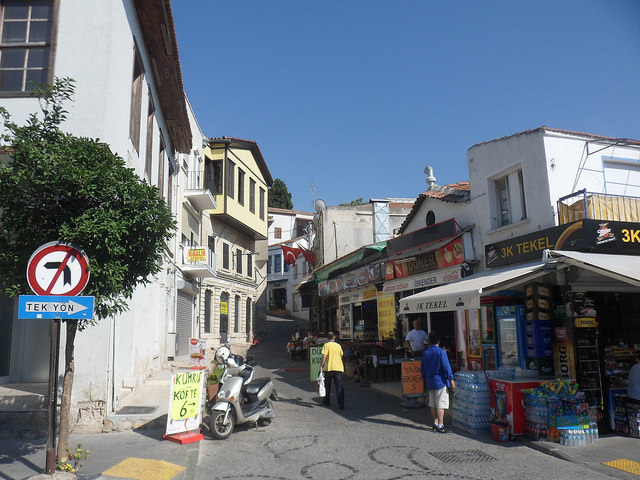 Ceseme is a coastal town in Turkey which is a favourite holiday spot with its healing thermal waters, golden sands, sun, sea, colourful lifestyle and enjoyable nightlife. It is located on a peninsula named after it on the most western edge of Izmir.
13- Cirali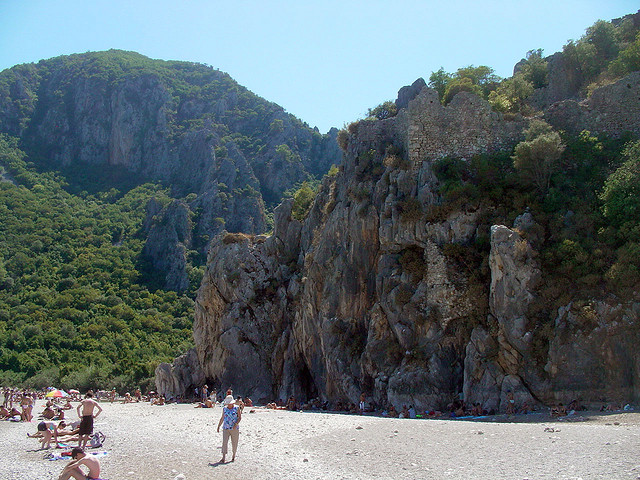 Çıralı is an agricultural village in southwest Turkey, in the Kemer district of Antalya Province. Çıralı has several historic sites such as the ruins of Olympos and the flames of Chimaera. It is also a highly visited location during the summer for its large seaside.
14- Dalyan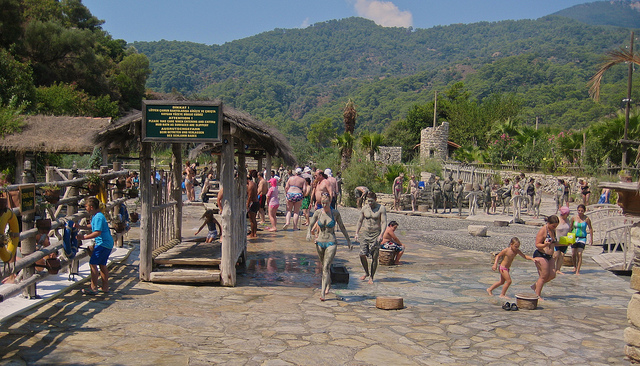 Dalyan is a town in southern Muğla Province of Turkey. Dalyan is established in an environmentally protected area. This is one of the few surviving places of paradise, an area of natural beauty and historical interest. People come for its setting on the placid Dalyan Çayı, for the dramatic Lycian tombs hewn into the rock faces that dominate the town on the west bank of the river, for the ruins of ancient Roman city of Caunos, and for broad İztuzu Beach, a natural nesting-ground for carretta carretta (loggerhead turtles).
15- Didim
Didim is a small town, popular seaside holiday resort located on the Aegean coast of western Turkey. Tourism is the main source of income for the area, especially in summer. The resort has secluded coves, golden sand beaches, and natural harbours and nearby Lake Bafa, which is spot full of tranquility. The important Ionian towns of Miletos and Didyma, home of the famous prophet in ancient times, are also near Didim.
16-Hagia Sophia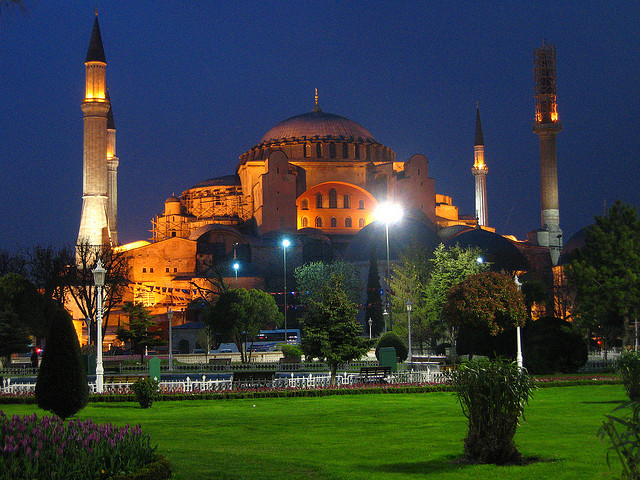 Hagia Sophia is located in Istanbul and is a great architectural beauty and an important monument both for Byzantine and for Ottoman Once a church, later a mosque, and now a museum at the Turkish Republic, Hagia Sophia has always been the precious of its time. Hagia Sophia is currently the second-most visited museum in Turkey, attracting almost 3.3 million visitors annually. The Hagia Sophia was converted into a museum in 1935 and is now one of the top attractions in Turkey. The amazing survival of Hagia Sophia is due to the love and care of centuries of believers who have made it a home of prayer, history and art.
17- Kalkan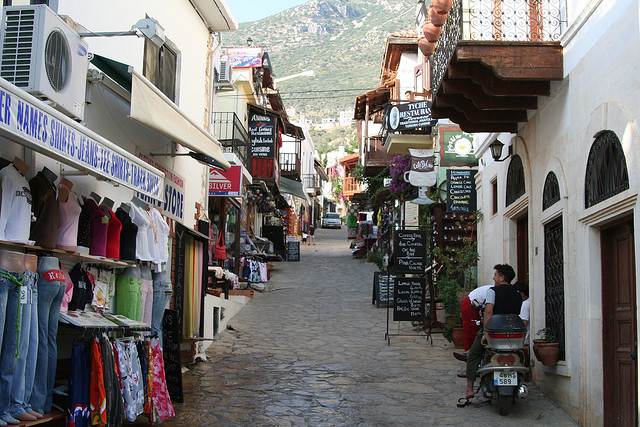 Kalkan is a town on the Turkish Mediterranean coast, and an important tourist destination. Kalkan is connected more closely to Fethiye economically and for transportation. It is famous for its white-washed houses, descending to the sea, and its brightly coloured bougainvilleas.
18- Kemer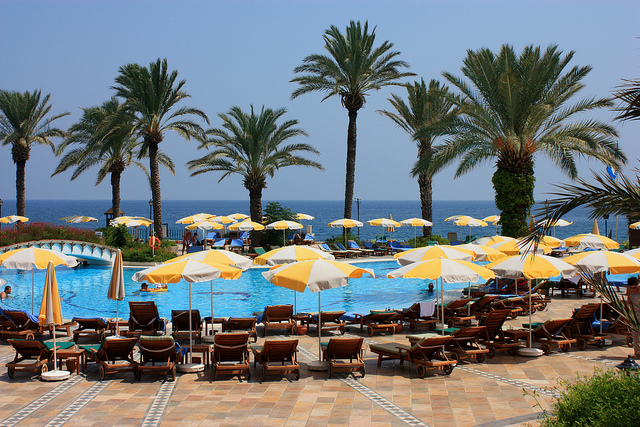 Kemer is a made-to-order resort carved from Turkey's pristine pine-shaded Mediterranean coast 35km (22 miles) southwest of Antalya. The most attractive characteristic of Kemer is its natural beauty, with many parks, and orange trees can be found everywhere. It has a long pedestrian with shops and eating places. The streets are wide, well maintained and full of trees and flower beds.
19- Kusadasi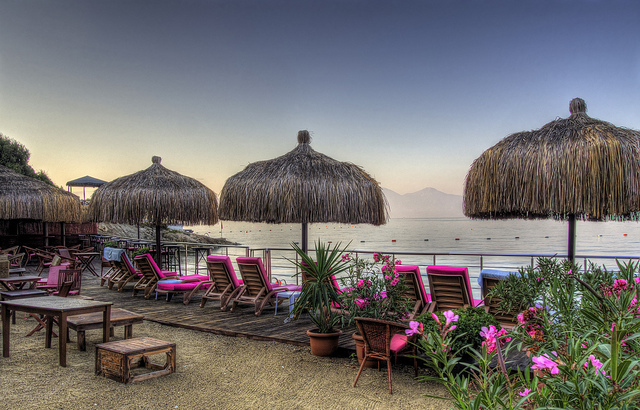 Kusadasi, which means "bird island", is set in a superb gulf in the Aegean region of Turkey and is known for its turquoise sparkling water of the Sea, broad sandy beaches, bright sun and large marina with a capacity for 600 boats. There are also many hostels, discos, bars, cafes, pubs and "Turkish Nights"; all those to cater holiday-makers.
20- Library of Celsus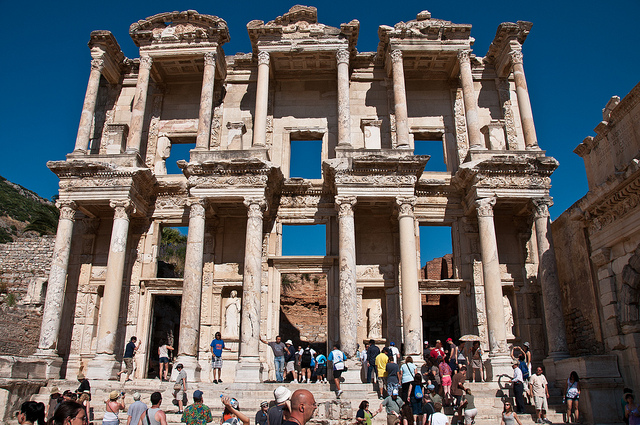 Library of Celsus is one of the most beautiful structures in Ephesus. It was built in 117 A.D. It was a monumental tomb for Gaius Julius Celsus Polemaeanus, the governor of the province of Asia; from his son Galius Julius Aquila. The capacity of the library was more than 12,000 scrolls. It was the third richest library in ancient times after the Alexandra and Pergamum. It is the best preserved site of ancient Ephesus.
21- Marmaris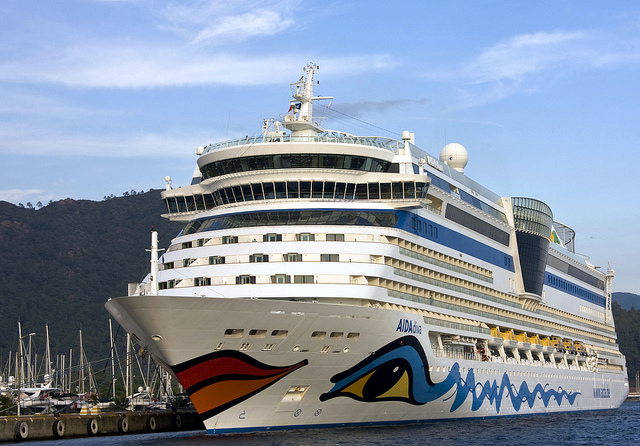 Marmaris is a town in Turkey, along the Mediterranean coast in the province of Muğla. There's plenty to do in Marmaris. Busy beaches, lots of bars and restaurants and plenty of shopping with fabulous bargains. Marmaris has lots for families too. Great inexpensive boat excursions can take you out round the bay and to neighbouring towns like Icmeler and Turunc.
22- Mount Nemrut 
Mount Nemrut or Nemrud of Turkey is particularly famous for its numerous eye-catching statues which were erected around 1st century BC. The arrangement of such statues is known by the term hierothesion. The site was excavated in 1881 by Karl Sester. It is declared as a World Heritage Site by UNESCO.  The nearby town of Adıyaman is a popular place for car and bus trips to the site, and one can also travel from there by helicopter. There are also overnight tours running out of Malatya or Kahta.
23- Ölüdeniz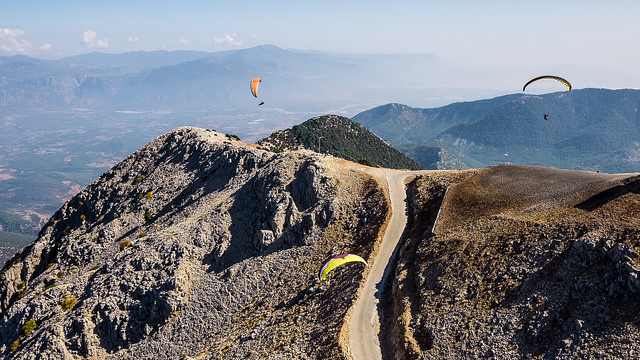 Oludeniz which literary means Blue Lagoon is a small village and beach resort in the Fethiye district of Muğla Province on the Turquoise Coast of southwestern Turkey. Ölüdeniz offer a variety of diving opportunities with regard to its crystal clear waters and rich underwater caves and fauna. Scuba diving is the most popular underwater activity.
24- Pamukkale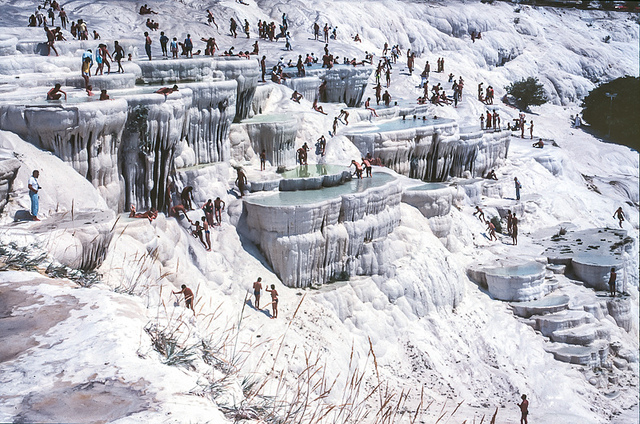 Pamukkale is an attractive natural site located in Denizli Province in southwestern Turkey. There are tremendous features of this tourist spot including hot springs and travertines along with terraces of carbonate minerals left by the flowing water. It exists almost in the middle of Aegean region, in the River Menderes valley, which has a temperate climate for most of the year. People have bathed in its pools for thousands of years.
25- Patara Beach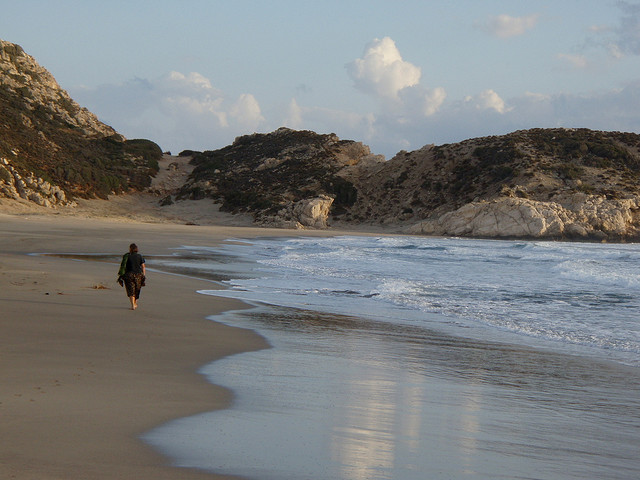 Patara Beach is also a popular tourist destination of Turkey which is known for its stunning and exotic shore and it is located near the ancient Lycian city of Patara on the coast of the Turkish Riviera. The 18 kilometres (11 mi)-long Patara Beach is the longest in its region and sometimes reaches a width of 200–300 metres. The beach has soft sand and shallow sea.
26- Pergamon
Pergamon was an ancient Greek city in Aeolis, currently located 26 kilometres from the Aegean Sea. Today, the main sites of ancient Pergamon are to the north and west of the modern city of Bergama in Turkey.  Once home to one of the ancient world's most important libraries, Pergamum's remaining temple remnants now preside dramatically across a hilltop.
27- Side
Side is an ancient Greek city on the southern Mediterranean coast of Turkey, a resort town and one of the best-known classical sites in the country. Within the old walled quarter are ancient Greek-Roman temples and fishermen's cottages, just outside dune-engulfed ruins and a stunning Roman theatre still used for concerts to this day. There are plenty of places to eat, drink, club and shop here too.
28- The Sumela Monastery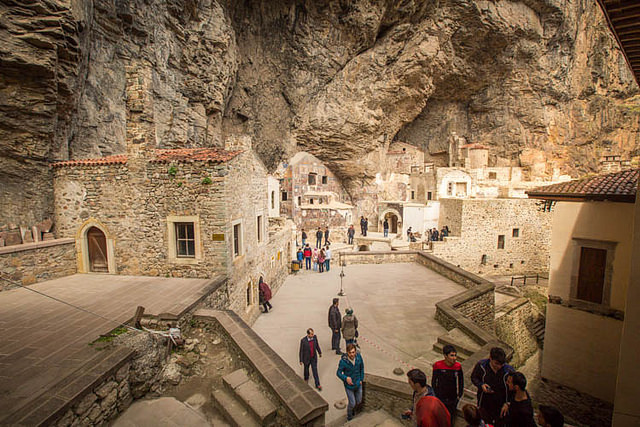 Sumela Monastery is a Greek Orthodox monastery dedicated to the Virgin Mary located within the Pontic Mountains range, in the Maçka district of Trabzon Province in modern Turkey. The principal elements of the Monastery complex are the Rock Church, several chapels, kitchens, student rooms, a guesthouse, a library, and a sacred spring revered by Eastern Orthodox Christians. Today the monastery's primary function is as a tourist attraction. It overlooks forests and streams, making it extremely popular for its aesthetic attraction as well as for its cultural and religious significance.
29- Troy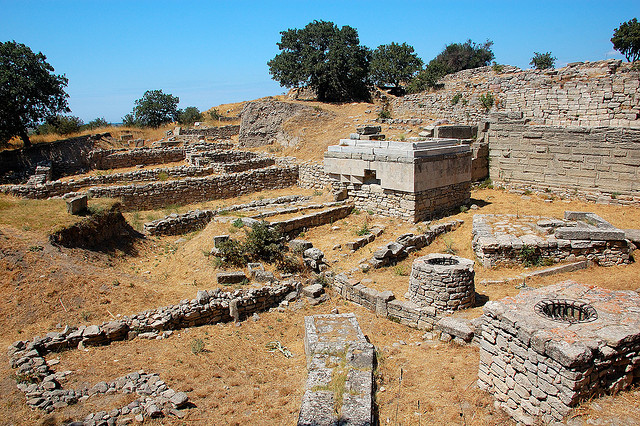 Troy was a city situated in what is known from classical sources as Asia Minor, now northwest Anatolia in modern Turkey. A new capital called Ilium was founded on the site in the reign of the Roman Emperor Augustus. It flourished until the establishment of Constantinople and declined gradually during the Byzantine era. Today, the hill at Hisarlik has given its name to a small village near the ruins, supporting the tourist trade visiting the Troia archaeological site. It lies within the province of Çanakkale. Troia was added to the UNESCO World Heritage list in 1998.
30- The Topkapı Palace
Topkapi Palace is a large palace in Istanbul, Turkey, that was the primary residence of the Ottoman sultansfor approximately 400 years (1465–1856) of their 624-year reign. The palace complex consists of four main courtyards and many smaller buildings. At its peak, the palace was home to as many as 4,000 people and covered a large area with a long shoreline.  Palace was transformed by a government decree dated April 3, 1924, into a museum of the imperial era. It contains large collections of porcelain, robes, weapons, shields, armor, Ottoman miniatures, Islamic calligraphic manuscripts and murals, as well as a display of Ottoman treasures and jewelry.
Also click for more interesting posts – Explore the world series