A fountain or water feature makes a lovely addition to almost any garden. Decorative water fountains have been around since Roman times, in fact, excavations of Pompeii revealed that many wealthy Romans had a fountain in their atrium or inner courtyard. Since then, things have moved on a bit, and today water features are a part of gardens both large and small. Let's take a look at some of the most spectacular examples.
Buchart Gardens Sturgeon Fountain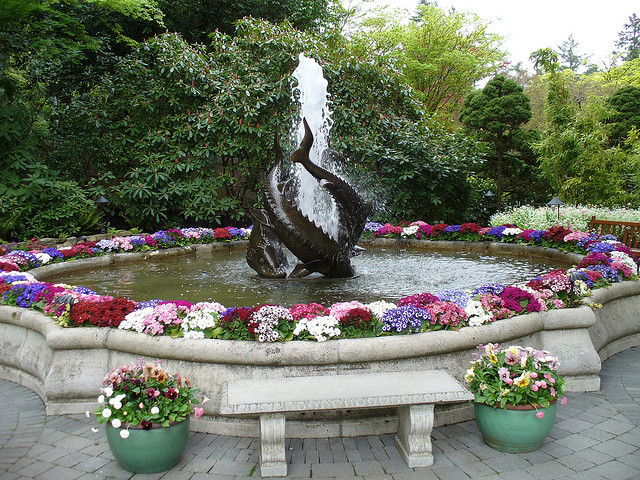 Buchart Gardens in Victoria, Canada is home to some amazing fountains, most notably this 17th Century cast bronze Sturgeon fountain created by Italian sculptor Pietro Tacca. Tacca created a number of animal sculptures and fountains, and his work can be found in gardens and museums all over the world. Perhaps the fishy theme was inspired by his childhood in Tuscany, which is well known for its seafood dishes.
The Diana Garden Fountain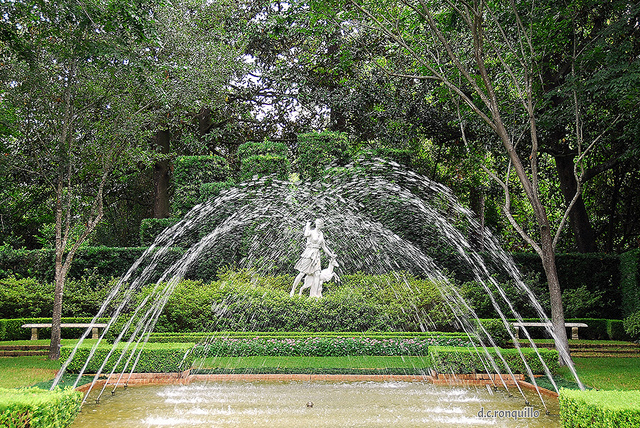 This impressive feature is actually a tribute to the Roman goddess of the hunt, Diana. Situated in Bayou Bend Gardens in Houston, the fountain has no fewer than twelve water spouts arcing over a statue of Diana, creating parallel lines in the pool below that reflect the lines of the terrace leading down to it.
The Emperor Fountain, Chatsworth, Derbyshire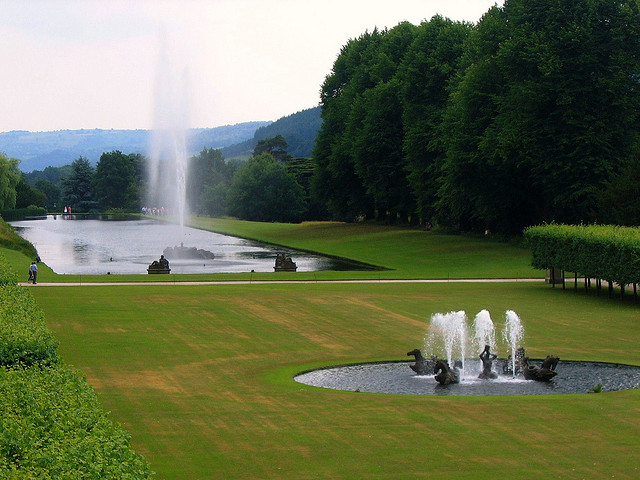 While calling the grounds of Chatsworth a garden is pushing the envelope a little, there's no denying this fountain a spot in the top five. It was created after Tsar Nicholas I informed the Duke of Chatsworth that he was paying him a visit the following year. To honour the visit, the Duke decided to create the world's highest fountain in a hurry, working day and night until it was finished 6 months later in early 1844. Unfortunately the Tzar never got to see it. 
The fountain was built by Joseph Paxton, who had to create an eight acre lake to power the ninety meter water jet. As well as looking wonderful and creating enough spray to catch huge rainbows in, the fountain was actually used to generate electricity from 1893 to 1936.
The Oval Fountain, Villa d'Este at Tivoli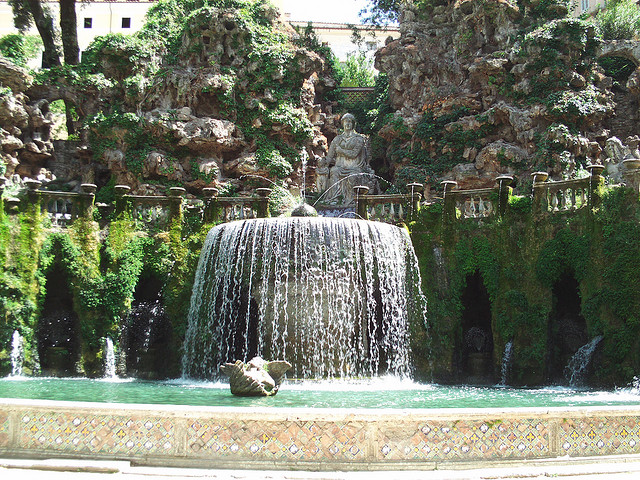 This gorgeous creation has been around since the 16th century, and over four hundred years later it's still going strong. The fountain is set in a garden designed by Pirro Ligorio for Cardinal Ippolito II d'Este. When he was appointed town governor in 1550, the cardinal was unimpressed with his official residence and decided to build a new one. The gardens are regarded as some of the finest examples of Renaissance architecture, and profoundly influenced garden design throughout Europe.
Rodin's Fountains, Tuileries Garden, Paris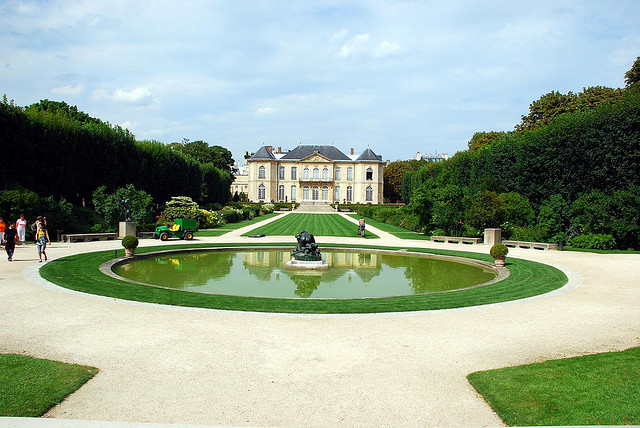 While lacking the 300 foot splendour of the Emperor Fountain and the delicate beauty of the Oval Fountain, these sculptures by Auguste Rodin are a classic example of this gargoyle-like style of water feature found all over Europe. They can be seen in the terrace of the Orangerie in Paris's Tuileries Garden, each one perfectly detailed and comically exaggerated.
I know that most of us don't have the kind of space in our garden to have an Emperor Fountain but we can all have our little pond or small fountain in our backyard. All we need is a bit of imagination, a plan and a simple pump like the one Lowara or Wilo manufacture.
About the Author:
| | |
| --- | --- |
| | James Finlayson works for London Pumps and loves spectacular architecture and water features. He writes for various blogs and he cares a great deal about environmental causes. He lives in the British countryside with his beautiful wife and their dog Charlie. |