Wander here and there in Belgium! You'll find the French domination in the Belgian clothing. It is very much true that Belgium is the European country having the population of French, Dutch, Flemish and Flanders who inhabited Belgium thousands of years ago. But today, in all of the three territories i-e Flanders, Wallonia and Brussels, you'll hardly find any Belgian wearing the traditional attire as by now, the traditional dress of Belgium has become the part of the Belgian folklore. Any how, the traditional dress of Belgium is a charming European attire.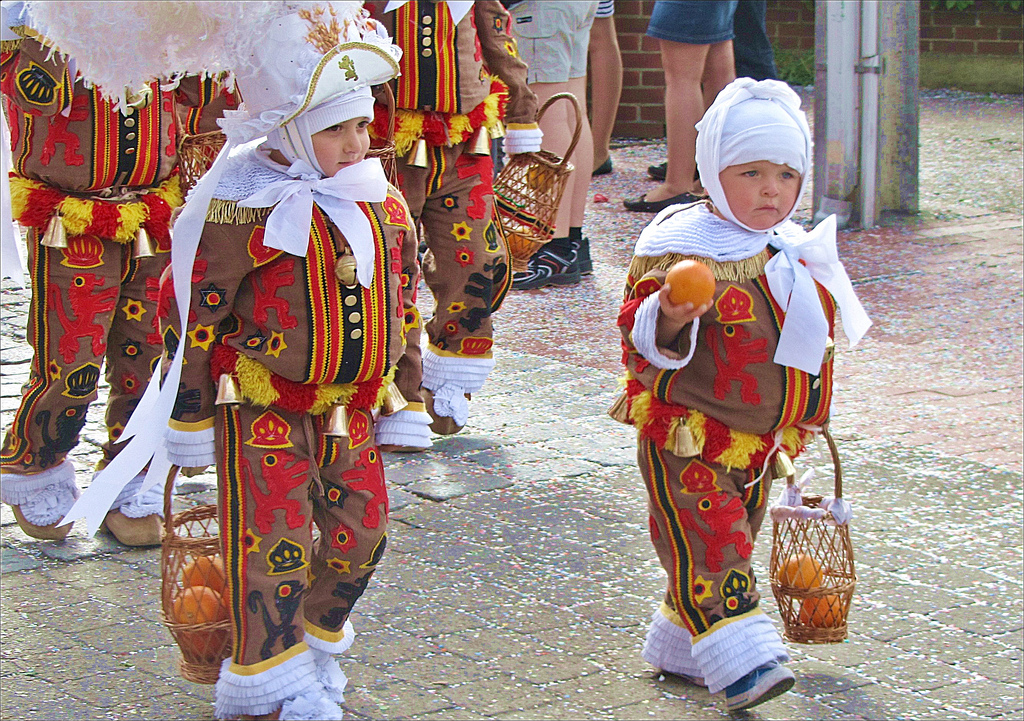 The Belgian male population love to wear Smocks and Berets, the trends of which were picked by the Belgians from the French during their period of oppression upon them. On one side, the French language has put a huge impact on the Belgians and on the other, their clothing is mainly influenced by the French styles. Till the twentieth century, the youngsters in Belgium could usually be seen dressed up with the long and traditional tunic shirts supported by pant letters. Knee pants were a normal part of the Belgian boys but with the passage of time, it became the story of the past.
Similarly, traditionally the Belgian women used long gowns to cover themselves. But, these gowns were so beautiful and sophisticated that the most of the ethnic women in Belgium had adopted them. The Huntress was very famous and traditional costume for the Belgian women, as also today; the Belgian women wear these as their wedding attire. The dress has ties which have been given a trimming with colorful beads. Fashion designers that produce this Belgian costume for today's masses offer an opportunity to choose your own trims and make the huntress dress with detachable sleeves. The dress is worn with a special chemise which is usually white in color.
The Belgian women also used to wear Eponin that was actually a slimming dress and it was usually stitched with fully lined cotton twill. It had a square neck accompanying with a matching trim. Each side of the Eponin was laced up with decorative garments. The dress had a very narrow waist and as such it flatters the natural feminine form of the wearer. We hope, you liked this article on the traditional dress of Belgium, a charming European attire.
Apart from the marvelous and colorful traditional dress of Belgium, for more interesting posts with the same subject on the Lovely Planet Website, please click the following links;
1-    
Algerian Traditional Dress
2-    
Traditional Dress Of Serbia
3-    
Traditional Dress Of Kosovo
4-    
Traditional Dress Of Libya
5-    
Traditional Dress Of Morocco
6-    
Traditional Dress Of Albania
7-    
Traditional Dress Of Tunisia
8-    
Traditional Dress Of Lebanon
9-    
Traditional Dress Of Bosnia And Herzegovina
10-  
Traditional Dress Of Azerbaijan
11-  
Traditional Dress Of Turkmenistan
12-  
Traditional Dress Of Kazakhstan
13-  
Traditional Dress Of Kyrgyzstan
14-  
Traditional Dress Of Uzbekistan
15-  
Traditional Dress Of Tajikistan
16-  
The Traditional Dress Of Laos
17-  
The Traditional Dress Of Vietnam
18-  
Traditional Dresses Of The World – 1
19-  
Traditional Dress Of Jammu & Kashmir
20-  
Ottoman Dresses From Turkey
21-  
Colors Of Cholistan
22-  
Cultural Dresses Of Balochistan
23-  
Lehenga Choli Or Ghagra Choli
24-  
Sari Or Saree : Traditional Dress Of Women In South Asia
25-  
Ajrak , The Traditional Attire From Sindh , Pakistan
26-  
The Traditional Tais Of East Timor
27-  
Shalwar Kameez: The Popular Dress Of South Asia
28-  
Churidar Pajama: The Favorite South Asian Attire
29-  
Pakistani Bridal Dress
30-  
Rilli, Sindhi Quilt Art
31-  
Fantastic, Alluring Khussa Shoes
32-  
Customs And Traditions Of Kalash Tribe
33-  
Hanfu, The Classical Chinese Dress
34-  
London Fashion Week
35-  
Fashion Week Milan: The Glamorous Event Of Italy
36-  
New York Fashion Week
37-  
Paris Fashion Week
38- 
Traditional Dress Of Jordan
39- 
Traditional Dress Of Syria
40- 
Traditional Dress Of Afghanistan
41- 
Traditional Dress Of Palestine
42- 
Traditional Dress Of Oman
43-
Traditional Dress Of Nigeria
44- 
Traditional Dress Of Hungary
45-
Traditional Dress Of Ukraine
46- 
Malaysian Traditional Dress
47- 
Traditional Dress Of Kenya
48- 
Traditional Eastern Brides
49- 
Traditional Dress Of Bulgaria
50- 
Traditional dress of Uganda
51- 
Traditional Dress of Iceland
52- 
Traditional Dress of Croatia
53- 
traditional dress of Norway
54- 
Traditional dress of Finland
55- 
Traditional Dress of Philippines
56- 
Traditional dress of Denmark
57- 
Traditional dress of Belarus
58- 
Traditional Dress of Puerto Rico
59- 
Traditional Dress of Nicaragua: Marvelous and colorful