Slovakia is traditionally a rich European country and it has a fantastic cultural heritage. Although the country has not too much population but its small population is divided into many regions and each region has its own cultural identity and significance. The Slovak people have splendid treasure of folk dances, music, art, dialect and traditional costumes.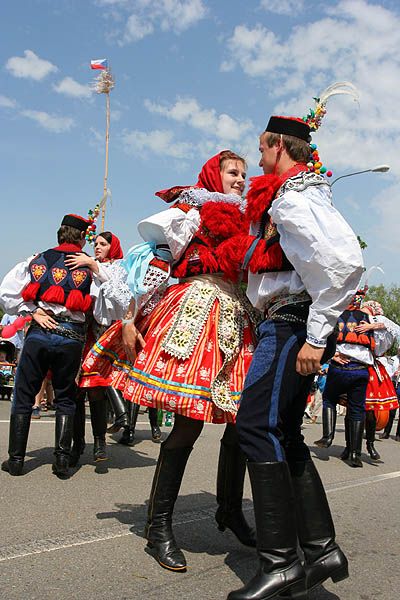 The traditional dress of Slovakia has the influences from the medieval style of clothing that was gradually altered with different patterns, designs and modifications. The changing occurred due to the foreigners that used to come in the region and the historic fashion trends in the clothing were evolved. New kinds of raw materials were introduced in the region and variations were brought according to the geographic and climatic need as well.
In the lowland areas of Slovakia, people usually preferred linen and the costumes were of loose nature while in the mountainous areas, woolen textiles and furs were also used and the clothing was fashioned more tightly. Today, it is only a matter of festive occasion to dress up traditionally in every state of Slovakia.
Like other European countries, the importance of the national costume in today's Slovakia was flourished during the 15thcentury Renaissance. Later on the French revolution and under the Habsburg Monarchy, Hungarian culture both put their cultural influences on the region's clothing. But it would not be wrong to say that the dire need of having an own national costume was reached to its peak after the end of Bach's absolutism.
Kroje or "kro-yeh" is the typical name of the decorated,traditional and cultural dress worn by the Czechs and the Slovaks. Women's traditional dress in Slovakia was characterized by a long, large skirt and a white blouse with large sleeves tapered to the wrists.
Decoration and embellishment with embroidery remained a prominent feature and the bodice and bonnet were made with precious materials. Sometimes for more festive clothes, the services of many eminent painters were hired to color the costumes. White, red and blue colors remained very popular throughout the Slovak folk costume culture.
Men's traditional wear in Slovakia was fashioned to the town style of the period and the accessories included narrow trousers, tight waistcoat, jacket tapered to the waist etc. The dresses were usually made from cotton (skirts and summer trousers) and wool. Woolen material in white, blue and black was used for festive trousers, waistcoats and jackets. These were adorned with braiding.
The traditional dress of Slovakia gradually lost its importance after the World War II and it became only the part of folk events, theater presentations and festive occasions. Apart from today's stage costume, the traditional dress of Slovakia is really symbolic in the cultural heritage of the country.
For more interesting posts with the same subject on the Lovely Planet Website, please click the following links;
1-    
Algerian Traditional Dress
2-    
Traditional Dress Of Serbia
3-    
Traditional Dress Of Kosovo
4-    
Traditional Dress Of Libya
5-    
Traditional Dress Of Morocco
6-    
Traditional Dress Of Albania
7-    
Traditional Dress Of Tunisia
8-    
Traditional Dress Of Lebanon
9-    
Traditional Dress Of Bosnia And Herzegovina
10-  
Traditional Dress Of Azerbaijan
11-  
Traditional Dress Of Turkmenistan
12-  
Traditional Dress Of Kazakhstan
13-  
Traditional Dress Of Kyrgyzstan
14-  
Traditional Dress Of Uzbekistan
15-  
Traditional Dress Of Tajikistan
16-  
The Traditional Dress Of Laos
17-  
The Traditional Dress Of Vietnam
18-  
Traditional Dresses Of The World – 1
19-  
Traditional Dress Of Jammu & Kashmir
20-  
Ottoman Dresses From Turkey
21-  
Colors Of Cholistan
22-  
Cultural Dresses Of Balochistan
23-  
Lehenga Choli Or Ghagra Choli
24-  
Sari Or Saree : Traditional Dress Of Women In South Asia
25-  
Ajrak , The Traditional Attire From Sindh , Pakistan
26-  
The Traditional Tais Of East Timor
27-  
Shalwar Kameez: The Popular Dress Of South Asia
28-  
Churidar Pajama: The Favorite South Asian Attire
29-  
Pakistani Bridal Dress
30-  
Rilli, Sindhi Quilt Art
31-  
Fantastic, Alluring Khussa Shoes
32-  
Customs And Traditions Of Kalash Tribe
33-  
Hanfu, The Classical Chinese Dress
34-  
London Fashion Week
35-  
Fashion Week Milan: The Glamorous Event Of Italy
36-  
New York Fashion Week
37-  
Paris Fashion Week
38- 
Traditional Dress Of Jordan
39- 
Traditional Dress Of Syria
40- 
Traditional Dress Of Afghanistan
41- 
Traditional Dress Of Palestine
42- 
Traditional Dress Of Oman
43-
Traditional Dress Of Nigeria
44- 
Traditional Dress Of Hungary
45-
Traditional Dress Of Ukraine
46- 
Malaysian Traditional Dress
47- 
Traditional Dress Of Kenya
48- 
Traditional Eastern Brides
49- 
Traditional Dress Of Bulgaria
50- 
Traditional dress of Uganda
51- 
Traditional Dress of Iceland
52- 
Traditional Dress of Croatia
53- 
traditional dress of Norway
54- 
Traditional dress of Finland
55- 
Traditional Dress of Philippines
56- 
Traditional dress of Denmark
57- 
Traditional dress of Belarus
58- 
Traditional Dress of Puerto Rico
59- 
Traditional Dress of Nicaragua: Marvelous and colorful
60 – 
Traditional Dress of Nepal: Whimsical but charming
61- 
Brilliant Colors of Dagestan: Really fanciful and imaginative
62- 
Kabuki: A classical and traditional Japanese theater
63- 
Boogie-woogie: A famous Swing Dance
64- 
Colors of Samba Dance from Brazil: So lively so amazing
65- 
Ho Jamalo: The favorite folk dance of Sindh
66- 
Odissi from the Eastern India: A historic ritual dance
67- 
Sattriya from Assam: A classical Indian dance
68- 
Fandango: A famous couple dance from Spain
69- 
Maypole from Europe: A fabulous circle folk dance
70- 
Cueca: The national dance of Chile
71- 
Traditional dress of Belgium: A charming European attire
72- 
Traditional dress of the Kingdom of Saudi Arabia
73- 
Colors of Kalash: 5 lovely images of beautiful Kalash girls
74- 
Traditional dress of Georgia: The fantastic Chokha
75- 
Traditional dress of Argentina: The warrior Gaucho costume
76- 
Traditional dress of Venezuela: Not complicated but decorated
77- 
Traditional dress of Latvia: Made with the Linen fabric
78- 
Traditional dress of Romania: So captivating and graceful
79- 
Traditional dress of Estonia: So classy and versatile
80- 
Traditional dress of Armenia: So colorful and diversified
81- 
Traditional dress of Angola: A symbol of the ethnic culture
82- 
Traditional dress of Austria: Dirndl, Lederhosen and Tracht
83-
Traditional dress of Namibia: Far from the modernizations
84- 
Traditional dress of Zambia: Rare but unique in nature