Eritrea is one of the four countries from Horn of Africa having multi-ethnic population and Asmara as its capital. This multilingual country which is located along the Red Sea coast has several ethnic groups and each one of them has their own distinctive traditional clothing. Urban people in Eritrea have adopted the western clothing as you'll find people wearing jeans and shirts in casual wear while in the offices with western suits. Traditional dress of Eritrea is however worn by some communities, still in their domestic affairs and also in cultural celebrations. On the whole, traditional dress of Eritrea is a bright colored garment and proudly worn as conventional attire by Eritreans.
Traditionally the women of Eritrea in villages mostly wear a hooded dress which is known as Zuria. This garment goes to the ankles, with a gauze hood around the head and shoulders. New dress designers in Eritrea are nowadays making Zuria in various styles and patterns as the popularity of the dress is still continued.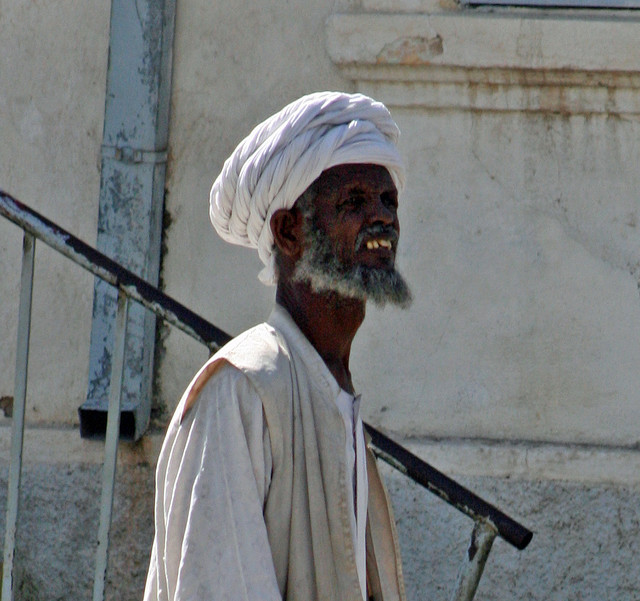 Habesha people are living in the Eritrean highlands for many centuries who are the founders of the great Abyssinian civilization in Africa. Habesha people in Eritrea are known for cattle herding and agriculture. Habesha women of Eritrea normally wear the Habisha Kamis which is ankle length attire and it is customarily made with chiffon which comes in white, grey or beige shades. In the wedding ceremonies or formal events, most of the Eritrean women also wear a shawl called a netela.  Netela is actually a handmade cloth used to cover the head and shoulders. Some women also wear a similar form of cloth which is known as Gabi and it consists of four layers.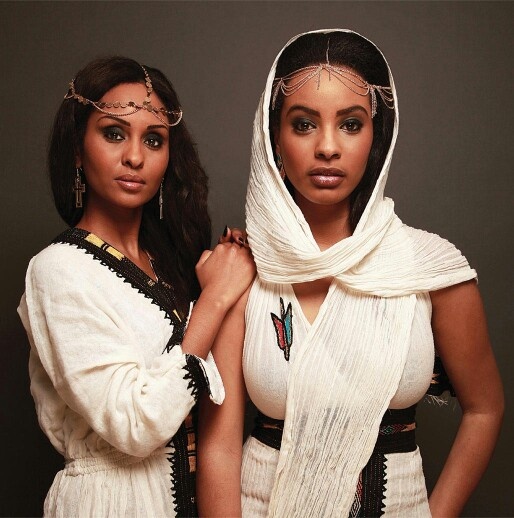 Kidan Habesha is a more cultural and festive garment both for the men and women in Eritrea which consists of shirts and trousers. It also includes a thin fabric which is wrapped over the shirts around the shoulders and chest. Kidan Habesha is preferred to be worn with intricately designed stick and white shoes.
The people living in the southern and the central parts of Eritrea mostly belong to Tigrinya ethnicity. They primarily live in a region of Eritrea known as the Kebessa. Traditional Tigray clothing is white, which is regarded as Christian, with little adornment. In the formal occasions, the traditional Tigary dress for women comprises of an ankle-length garment with long sleeves made with precious material. Tigrinyan men wear ankle-length pants that are tight from the knee to the ankle and baggy in the upper legs and hips. A fitted, long-sleeved shirt normally covers the upper body.
Rashaida or Rashaayda is a local tribe of Eritrea who dwell in Eritrea and South Sudan. In the mod of the nineteenth century, these people migrated from Saudi Arabia due to the tribal warfare. These people depend upon the cattle herding primarily breeding goats and sheep and pass a nomadic lifestyle. They still possess their own traditional lifestyle, custom and clothing which are unique in Africa. Rashaidas are thought to be related to the Bedouin of Saudi Arabia and are the only true nomadic people left in Eritrea. Rashaida people make up five percent of the population of Eritrea of about 5.75 million people.
Rashaida women are known for their unique dress code. There traditional outfits are normally black-and-red geometrically patterned garments along with their conventional veils that are called as Burqa. Burqa for a Rashaida woman is a long garments usually adorned with heavy embroidery of silver thread, beads and sometimes seed pearls. It is compulsory for the Rashaida woman to wear this costume since her childhood. Rashaida women are very conservative and normally cover their faces in public. The veil is removed only when they are alone with their husbands. The Eritrean Rashaida men wear their traditional outfits bedecked with swords and knives and popular for their folk dances. Rashaidas are largely Muslims and are considered as the Eritrean gypsies who live in isolated communities, preferring not to live with other tribes.
A small ethnic group of Africa which is known as Kunama people has the largest portion of its population in Eritrea. They are considered as the oldest nomadic ethnic group of Africa. Although some Kunamas still practice traditional beliefs but most of them have adopted Christianity and Islam. Like other nomads of Eritrea they also depend upon agriculture and animal husbandry. The famous dresses for Kunama people of Eirtrea include Ballada and Matalita for men and Adalkana which is usually worn by Kunama women of Eritrea. These outfits are specially prepared for the cultural Tuka-Satta and Galli-Gala festivals by the Kunama people.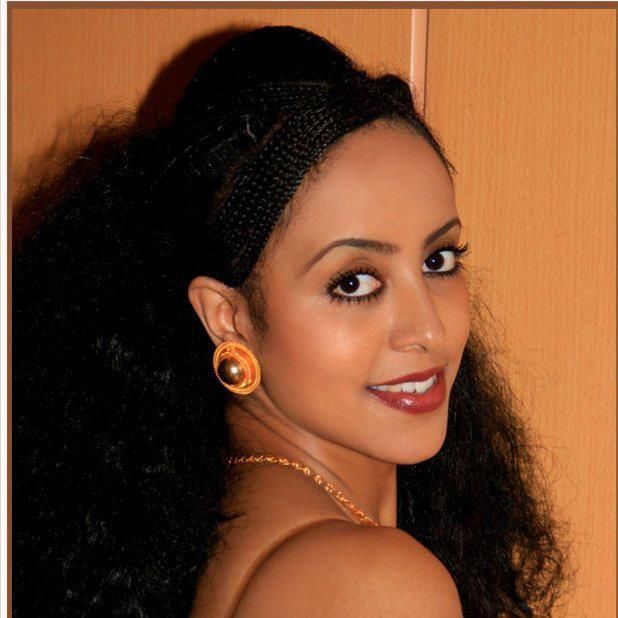 Hairstyle is a feature that must be collaborated with the traditional clothing of Eritrea. Almost every ethnic community in Eritrea has its own unique hairstyle. Popular and traditional hairstyle in Eritrea includes; Albaso which usually consists of seven large braids that flow back till the end extends out like a fur coat. Gamme hairstyle is intended for adolescent girls who haven't married. This hairstyle usually features braids being braided to the sides and backward. Tigre men, they style their hair in a fluffy crown like shape that have long ringlets hanging down on the sides. This type of hairstyle is known as the tiffa in the Hidareb language.
Traditional jewelry in Eritrea also plays a significant role in the country's heritage as it represents the extraordinary handcrafted skill of the Eritrean goldsmiths and craftsmen. In the rural areas of Eritrea, making of handcrafted jewelry is also a primary source of earning. Each ethnic community in Eritrea has its own individual jewelry making art. Both Eritrean men and women are involved in this business. The historians have strong belief that the jewelry making tradition has a very long history since the first human in-habitation in Eritrea.
For more interesting posts with the same subject on the Lovely Planet Website, please click the following links;
1-    
Algerian Traditional Dress
2-    
Traditional Dress Of Serbia
3-    
Traditional Dress Of Kosovo
4-    
Traditional Dress Of Libya
5-    
Traditional Dress Of Morocco
6-    
Traditional Dress Of Albania
7-    
Traditional Dress Of Tunisia
8-    
Traditional Dress Of Lebanon
9-    
Traditional Dress Of Bosnia And Herzegovina
10-  
Traditional Dress Of Azerbaijan
11-  
Traditional Dress Of Turkmenistan
12-  
Traditional Dress Of Kazakhstan
13-  
Traditional Dress Of Kyrgyzstan
14-  
Traditional Dress Of Uzbekistan
15-  
Traditional Dress Of Tajikistan
16-  
The Traditional Dress Of Laos
17-  
The Traditional Dress Of Vietnam
18-  
Traditional Dresses Of The World – 1
19-  
Traditional Dress Of Jammu & Kashmir
20-  
Ottoman Dresses From Turkey
21-  
Colors Of Cholistan
22-  
Cultural Dresses Of Balochistan
23-  
Lehenga Choli Or Ghagra Choli
24-  
Sari Or Saree : Traditional Dress Of Women In South Asia
25-  
Ajrak , The Traditional Attire From Sindh , Pakistan
26-  
The Traditional Tais Of East Timor
27-  
Shalwar Kameez: The Popular Dress Of South Asia
28-  
Churidar Pajama: The Favorite South Asian Attire
29-  
Pakistani Bridal Dress
30-  
Rilli, Sindhi Quilt Art
31-  
Fantastic, Alluring Khussa Shoes
32-  
Customs And Traditions Of Kalash Tribe
33-  
Hanfu, The Classical Chinese Dress
34-  
London Fashion Week
35-  
Fashion Week Milan: The Glamorous Event Of Italy
36-  
New York Fashion Week
37-  
Paris Fashion Week
38- 
Traditional Dress Of Jordan
39- 
Traditional Dress Of Syria
40- 
Traditional Dress Of Afghanistan
41- 
Traditional Dress Of Palestine
42- 
Traditional Dress Of Oman
43-
Traditional Dress Of Nigeria
44- 
Traditional Dress Of Hungary
45-
Traditional Dress Of Ukraine
46- 
Malaysian Traditional Dress
47- 
Traditional Dress Of Kenya
48- 
Traditional Eastern Brides
49- 
Traditional Dress Of Bulgaria
50- 
Traditional dress of Uganda
51- 
Traditional Dress of Iceland
52- 
Traditional Dress of Croatia
53- 
traditional dress of Norway
54- 
Traditional dress of Finland
55- 
Traditional Dress of Philippines
56- 
Traditional dress of Denmark
57- 
Traditional dress of Belarus
58- 
Traditional Dress of Puerto Rico
59- 
Traditional Dress of Nicaragua: Marvelous and colorful
60 – 
Traditional Dress of Nepal: Whimsical but charming
61- 
Brilliant Colors of Dagestan: Really fanciful and imaginative
62- 
Kabuki: A classical and traditional Japanese theater
63- 
Boogie-woogie: A famous Swing Dance
64- 
Colors of Samba Dance from Brazil: So lively so amazing
65- 
Ho Jamalo: The favorite folk dance of Sindh
66- 
Odissi from the Eastern India: A historic ritual dance
67- 
Sattriya from Assam: A classical Indian dance
68- 
Fandango: A famous couple dance from Spain
69- 
Maypole from Europe: A fabulous circle folk dance
70- 
Cueca: The national dance of Chile
71- 
Traditional dress of Belgium: A charming European attire
72- 
Traditional dress of the Kingdom of Saudi Arabia
73- 
Colors of Kalash: 5 lovely images of beautiful Kalash girls
74- 
Traditional dress of Georgia: The fantastic Chokha
75- 
Traditional dress of Argentina: The warrior Gaucho costume
76- 
Traditional dress of Venezuela: Not complicated but decorated
77- 
Traditional dress of Latvia: Made with the Linen fabric
78- 
Traditional dress of Romania: So captivating and graceful
79- 
Traditional dress of Estonia: So classy and versatile
80- 
Traditional dress of Armenia: So colorful and diversified
81- 
Traditional dress of Angola: A symbol of the ethnic culture
82- 
Traditional dress of Austria: Dirndl, Lederhosen and Tracht
83-
Traditional dress of Namibia: Far from the modernizations
84- 
Traditional dress of Zambia: Rare but unique in nature
85- 
Traditional dress of Slovakia: Kroje , decorated and cultural
86. 
Traditional dress of Qatar: Pure Arabian endowment
87. 
Traditional dress of Brazil: So bright and colorful in nature
88. 
Traditional dress of Colombia: So iconic in Latin America
89. 
Traditional dress of Chile: So artistic and cultural
90. 
Traditional dress of Mexico: Blend of indigenous and imported cultures
91- 
Traditional dress of Panama: The exotic Mola and La Pollera
92- 
Traditional dress of Cuba: A product of multi-cultural effects
93- 
Traditional dress of Bangladesh: So awesome in its nature and kind
94- 
Traditional dress of Indonesia: Featured with unique patterns and designs
95- 
Traditional dress of Pakistan: Legacy of ancient civilizations
96- 
Traditional dress of Russia: A symbol of ethnic diversity in the Russian Federation
97- 
Traditional dress of England: Outcome of the local and European clothing repercussions
98- 
Traditional dress of Mauritania: Fusion of Berber and African cultures
99- 
Traditional dress of Egypt: Legacy of ancient Kings and Queens
100- 
Traditional dress of Iran: A product of the glorious Persian heritage
101- 
Traditional dress of Iraq & Kurdistan: Offshoot of the ancient acculturation
102- 
Traditional dress of Costa Rica: A charming garb of Latin America
103- 
Traditional dress of Italy: A garnished garment with beauty and style
104- 
Traditional dress of Antigua and Barbuda