No one would have any idea about this robotic nation; seriously they are amazingly traditional. Yes, the Japanese people, apart from their phenomenal progress in mechanics and technology, have continued to preserve their thousands of years old heritage. They genuinely live with their gorgeous culture and this makes Japan, a really fascinating destination of the lovely planet. After the destruction of the World War II, although the rapid economic prosperity has attracted different ethnicities, but still Japanese demography mainly comprises of one proud nation of almost homogenous society. However, a small factor of diversification exists; there is no doubt about that and i-e due to a considerable number of immigrants and foreigners.  
Customs, manners, festivities and folklore are significant features of the Japanese culture. And one thing, which is common among all of the earlier said characteristics, is the traditional dress of Japan. Both Japanese men and Japanese women wear contemptuously the classical Kimono. Kimono which dates back to Jomon era, is actually a full-length robe garment particularly worn on the cultural events in Japan. People also especially dress up in Kimono while attending weddings, funerals and the traditional tea ceremonies.
Men's Kimono is not as complicated and adorned as the women's one. It is a simple outfit and made with typical matte fabric. Men's kimono sleeves are attached to the body of the kimono with no more than a few inches unattached at the bottom.  The primary reason is to support the obi around the waist. With the passage of time, numerous types of Kimono were introduced in Japan. Japanese clothing, specifically kimono, is styled to fit the seasons.
A popular form of Kimono which is usually made of cotton or synthetic fabric is known as Yukata. This is also worn by both men and women in summer as a light and casual garment. Compared with other types of kimonos, Yutaka kimonos are much easier to wear and maintain and are less expensive. Traditionally, yukata were mostly made of indigo-dyed cotton, but today, a wide variety of colors and designs are available.  Yukata are also worn at Japanese inns ryokan after bathing.
Under these garments, the Japanese males normally wear the traditional Fundoshi which is a type of underwear. The fundoshi comes in several basic styles and is worn by every class of Japanese men when they participate in the conventional functions. Fundoshis are usually prepared with white linen or cotton.
Japanese men sometimes prefer to wear the traditional Geta sandals which are normally having an elevated wooden base. They are also similar to some extent with flip-flops or clogs. Geta are made of one piece of solid wood forming the sole and two wooden blocks underneath. Nowadays, Getas are prepared in tremendous varieties. Normally these sandals are worn without socks or stockings.
Hakama is also a traditional outfit particularly associated with the Japanese men. Hakama are tied at the waist and fall approximately to the ankles. Hakama are worn over a kimono. Commonly, this dress comes in black and white colored stiff, striped silk and sometimes in navy blue as well. This is a typical formal attire for the Japanese men.  The Sumo wrestlers of Japan wear Hakama when they attend the public or formal ceremonies. Hakama is the cultural emblem for the Japanese men.
See also – 

Sumo Wrestling of Japan
Happi is worn by the traditional male performers, particularly in dances, which is actually a straight sleeved jacket.  Happi is normally having an open front and it is fastened with ties. In the modern patterns, Happi are worn over clothes and tied at the waist with a belt. In the festivals, Japanese men wear Happi adorned with spectacular icons and glorious patterns. Hachimaki is the traditional Japanese headbands which are worn in order to keep the wearer safe from evil spirits. Hachimaki are usually made from a strip of white or red cloth approximately 8 centimeters in length. They may be worn flat against the forehead or rolled into a cylindrical shape. 
Samue is a loose-fitting cotton kimono-style top along with a trouser set which is favorite among the Japanese men as a casual and leisure wear. Samue have been worn traditionally as work clothes by artists, potters, priests and sculptors for centuries. Made with cotton or linen Samue has become so popular in Japan these days.
Kimono is also the fundamental traditional garb for the Japanese women which is worn by them on special occasions, cultural festivals and conventional ceremonies.  According to the strong belief, Kimono has the roots from the ancient Chinese Hanfu dress. Kimono is having several types which are used on different occasions. Although Kimonos are traditionally made from a single bolt of fabric called a tan. But today, Kimonos are prepared with variety of fabrics like precious silk or cotton and they also come in fascinating colors and designs. Kimonos range from extremely formal to casual.
See also – Hanfu, the classical Chinese dress
The furisode is a popular form of Kimono dress for woman which comprises of long sleeves hanging down to ankles or claves. The sleeves of furisode average between 39 and 42 inches (110 cm) in length. They are generally embellished with striking colors and motifs covering the complete garment. Significant motifs include sho-chiku-bai (pine, bamboo, and plum), cranes and turtles and other breathtaking floral patterns. Red and pink are the most popular base colors, followed by delicate shades like white, beige, and various pastel colors. Furisode is typical formal attire for the Japanese unmarried women and the longer the sleeve is, the more formal it is. Originally, this dress was worn by under aged girls but now, it is also associated with the teenage girls.
Homongi is slightly modified form of earlier described furisode. This type of Kimono is worn by the married women and it comes in comparatively descent motifs and in light colors. The sleeve length varies and unmarried women wear longer sleeves. It is mostly worn with a fukuro obi with a matching obiage and obijime. The design used for a hōmongi is called a eba-moyō which is a difficult and sophisticated process. 
Iromuji is a single-colored kimono that may be worn by married and unmarried women. They are mainly worn on tea ceremonies. It has no specific design or pattern, except base pattern of damask. It is generally considered the most comfortable and convenient form of Kimono.
Komon is bedecked with small sized patterns all over the garment. This Kimono dress is considered both as formal and casual outfit. Traditionally Komon was popular in small flowery patterns and it could be worn by every aged women.
Mofuko is completely black colored form of Kimono which is considered as a mourning dress. Mofuku is worn by both genders. A principle is set in Japan that Mofuku should be prepared with a certain color darker than the normal black. The fabric used for making Mofuku is black silk, with family crests at prominent places. Mofuku is supported by a long white undergarment called naga-juban.
Tomesode is a form of kimono having shortened sleeves which is specially worn by married Japanese women. This Kimono dates back to the late Edo period. This dress can be recognized as it is having five family marks, two marks in front while the remaining three on back.  These marks are family marks called Mon in Japanese. This dress is particularly worn by Japanese mother when she hosts her child's wedding ceremony. Normally tomesode is a single-colored kimono, patterned only below the waistline.
Uchikake is the most delicate, skillfully adorned and the finest form of Kimono which is worn by a Japanese bride on the eve of her wedding. It is a long kimono coat with a padded hem, which is made either from stiff, thickly woven brocade or satin. The Uchikake is often heavily brocaded and is supposed to be worn outside the actual kimono and obi, as a sort of coat. It is a long and stiff Kimono which trails the ground on all sides. The uchikake is either white or very colorful often with red as the base color.
While talking about the traditional bridal outfit of Japan, if we don't mention Tsunokakushi, it will be quite unfair. Tsunokakushi is a veil type headgear which is worn by the bride on her wedding and it is a centuries old custom in Japan. Tsunokakushi is actually a rectangular piece of cloth, which covers the bridal high topknot called Bunkin.  The myth is that this veil is worn by the bride as a tool to repress anger and avoid aggression in her upcoming martial life.  
Tsukesage is a little more casual than Homongi kimono. It has more modest patterns that cover a smaller area mainly below the waist. Both Houmongi and Tsukesage are most often characterized by patterns that wrap around the lower hem of the kimono, and are displayed on the sleeves and shoulders, typically on the back of the right sleeve and shoulder, and the front of the left sleeve and shoulder. It is a party dress for Japanese women.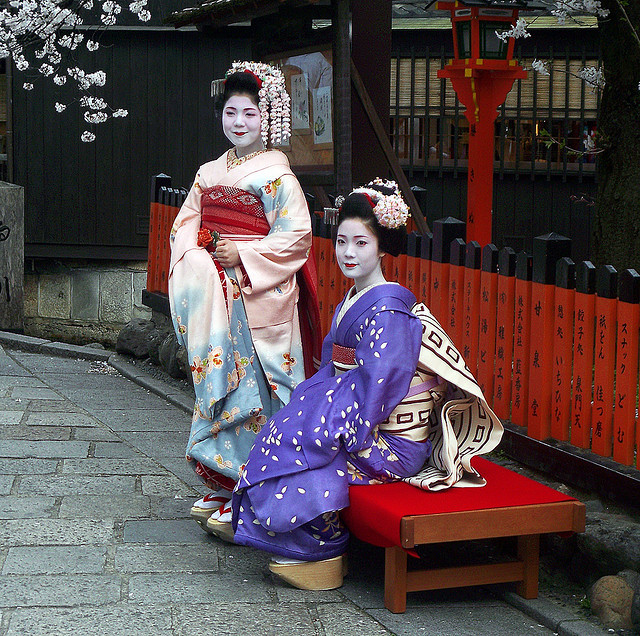 Susohiki is specially associated with Geisha girls of Japan who perform the traditional and classical Japanese art and dances. The color, pattern and style of this kimono are dependent on the season and the event the geisha is attending. It is quite long, compared to regular kimono, because the skirt is supposed to trail along the floor. A susohiki can be up to 2 m (6.6 ft) long.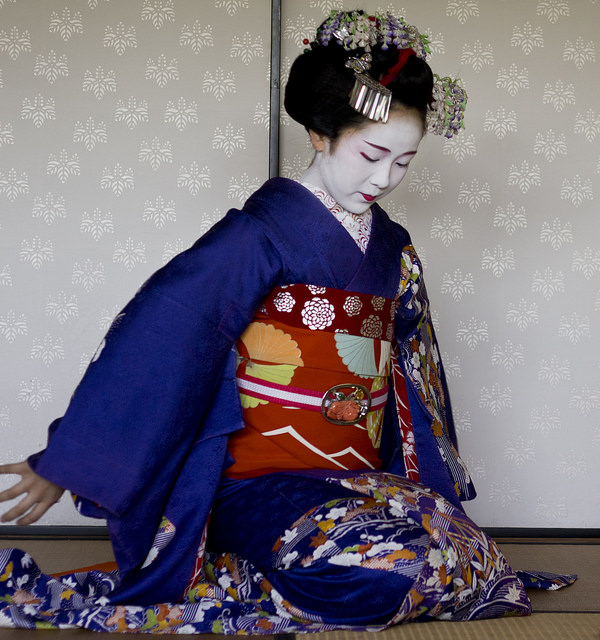 Susohiki Kimono is also sometimes named as Hikizuri and it is also worn by Maiko who perform songs, dances, and play the shamisen (three-stringed Japanese instrument) for visitors during feasts. One of the most important accessories of their dress is Kanzashi i-e the hair ornaments used along with the traditional Japanese hairstyle. Kanzashi are fabricated from a wide range of materials such as lacquered wood, gold and silver plated metal, tortoiseshell and silk, and recently, plastic.
Okobo is also the traditional shoes used by Maiko girls. These are simple elevated sandals that consist of a block of wood from a willow tree with straps on top. They're constructed much like a zori or flip-flop sandal but with a much higher base. The base is often unfinished wood or a black lacquered finish. 
In other considerable traditional footwear of Japan, Zori slippers are very famous. Traditionally made of straw, modern zori are made of rubber, with plastic or nylon straps. These are very comfortable and easy to wear shoes.  Traditional Y style can be used barefoot or with split toe tabi socks.  X style have the advantage of being able to be used with normal socks.
One of the most notable accessories of all of the above mentioned forms of kimono is the traditional Japanese sash which is called as Obi. The obi for men's kimono is rather narrow, 10 centimetres (3.9 in) wide at most, but a woman's formal obi can be 30 centimetres (12 in) wide and more than 4 metres (13 ft) long. Obi comes in exotic types for the Japanese women. The fanciest and the most colourful obis are for young unmarried women. A woman's obi is worn in a fancy musubi knot. There are ten ways to tie an obi, and different knots are suited to different occasions and different kimono.
The Japanese Monks are known for using a traditional slipper made with straw which is known as Waraji. Waraji can be made out of various materials such as rice straw, hemp, stalks of myōga, palm fibers, and cotton thread. These shoes are tied in different ways by the monks to keep them tidy.
We hope you like our attempt to disclose before you the traditional dress of Japan, which is indeed having a fancy range of colors and designs and has the iconic status in the centuries old Japanese culture. We also pay a special tribute to the photographers and owners of the photos that are included in this article for their remarkable contribution to the common heritage of mankind. 
For more interesting posts with the same subject on the Lovely Planet Website, please click the following links;
1-    
Algerian Traditional Dress
2-    
Traditional Dress Of Serbia
3-    
Traditional Dress Of Kosovo
4-    
Traditional Dress Of Libya
5-    
Traditional Dress Of Morocco
6-    
Traditional Dress Of Albania
7-    
Traditional Dress Of Tunisia
8-    
Traditional Dress Of Lebanon
9-    
Traditional Dress Of Bosnia And Herzegovina
10-  
Traditional Dress Of Azerbaijan
11-  
Traditional Dress Of Turkmenistan
12-  
Traditional Dress Of Kazakhstan
13-  
Traditional Dress Of Kyrgyzstan
14-  
Traditional Dress Of Uzbekistan
15-  
Traditional Dress Of Tajikistan
16-  
The Traditional Dress Of Laos
17-  
The Traditional Dress Of Vietnam
18-  
Traditional Dresses Of The World – 1
19-  
Traditional Dress Of Jammu & Kashmir
20-  
Ottoman Dresses From Turkey
21-  
Colors Of Cholistan
22-  
Cultural Dresses Of Balochistan
23-  
Lehenga Choli Or Ghagra Choli
24-  
Sari Or Saree : Traditional Dress Of Women In South Asia
25-  
Ajrak , The Traditional Attire From Sindh , Pakistan
26-  
The Traditional Tais Of East Timor
27-  
Shalwar Kameez: The Popular Dress Of South Asia
28-  
Churidar Pajama: The Favorite South Asian Attire
29-  
Pakistani Bridal Dress
30-  
Rilli, Sindhi Quilt Art
31-  
Fantastic, Alluring Khussa Shoes
32-  
Customs And Traditions Of Kalash Tribe
33-  
Hanfu, The Classical Chinese Dress
34-  
London Fashion Week
35-  
Fashion Week Milan: The Glamorous Event Of Italy
36-  
New York Fashion Week
37-  
Paris Fashion Week
38- 
Traditional Dress Of Jordan
39- 
Traditional Dress Of Syria
40- 
Traditional Dress Of Afghanistan
41- 
Traditional Dress Of Palestine
42- 
Traditional Dress Of Oman
43-
Traditional Dress Of Nigeria
44- 
Traditional Dress Of Hungary
45-
Traditional Dress Of Ukraine
46- 
Malaysian Traditional Dress
47- 
Traditional Dress Of Kenya
48- 
Traditional Eastern Brides
49- 
Traditional Dress Of Bulgaria
50- 
Traditional dress of Uganda
51- 
Traditional Dress of Iceland
52- 
Traditional Dress of Croatia
53- 
traditional dress of Norway
54- 
Traditional dress of Finland
55- 
Traditional Dress of Philippines
56- 
Traditional dress of Denmark
57- 
Traditional dress of Belarus
58- 
Traditional Dress of Puerto Rico
59- 
Traditional Dress of Nicaragua: Marvelous and colorful
60 – 
Traditional Dress of Nepal: Whimsical but charming
61- 
Brilliant Colors of Dagestan: Really fanciful and imaginative
62- 
Kabuki: A classical and traditional Japanese theater
63- 
Boogie-woogie: A famous Swing Dance
64- 
Colors of Samba Dance from Brazil: So lively so amazing
65- 
Ho Jamalo: The favorite folk dance of Sindh
66- 
Odissi from the Eastern India: A historic ritual dance
67- 
Sattriya from Assam: A classical Indian dance
68- 
Fandango: A famous couple dance from Spain
69- 
Maypole from Europe: A fabulous circle folk dance
70- 
Cueca: The national dance of Chile
71- 
Traditional dress of Belgium: A charming European attire
72- 
Traditional dress of the Kingdom of Saudi Arabia
73- 
Colors of Kalash: 5 lovely images of beautiful Kalash girls
74- 
Traditional dress of Georgia: The fantastic Chokha
75- 
Traditional dress of Argentina: The warrior Gaucho costume
76- 
Traditional dress of Venezuela: Not complicated but decorated
77- 
Traditional dress of Latvia: Made with the Linen fabric
78- 
Traditional dress of Romania: So captivating and graceful
79- 
Traditional dress of Estonia: So classy and versatile
80- 
Traditional dress of Armenia: So colorful and diversified
81- 
Traditional dress of Angola: A symbol of the ethnic culture
82- 
Traditional dress of Austria: Dirndl, Lederhosen and Tracht
83-
Traditional dress of Namibia: Far from the modernizations
84- 
Traditional dress of Zambia: Rare but unique in nature
85- 
Traditional dress of Slovakia: Kroje , decorated and cultural
86. 
Traditional dress of Qatar: Pure Arabian endowment
87. 
Traditional dress of Brazil: So bright and colorful in nature
88. 
Traditional dress of Colombia: So iconic in Latin America
89. 
Traditional dress of Chile: So artistic and cultural
90. 
Traditional dress of Mexico: Blend of indigenous and imported cultures
91- 
Traditional dress of Panama: The exotic Mola and La Pollera
92- 
Traditional dress of Cuba: A product of multi-cultural effects
93- 
Traditional dress of Bangladesh: So awesome in its nature and kind
94- 
Traditional dress of Indonesia: Featured with unique patterns and designs
95- 
Traditional dress of Pakistan: Legacy of ancient civilizations
96- 
Traditional dress of Russia: A symbol of ethnic diversity in the Russian Federation
97- 
Traditional dress of England: Outcome of the local and European clothing repercussions
98- 
Traditional dress of Mauritania: Fusion of Berber and African cultures
99- 
Traditional dress of Egypt: Legacy of ancient Kings and Queens
100- 
Traditional dress of Iran: A product of the glorious Persian heritage
101- 
Traditional dress of Iraq & Kurdistan: Offshoot of the ancient acculturation
102- 
Traditional dress of Costa Rica: A charming garb of Latin America
103- 
Traditional dress of Italy: A garnished garment with beauty and style
104- 
Traditional dress of Antigua and Barbuda
105- 
Traditional dress of Eritrea: Proudly worn by Eritreans
106- 
Traditional dress of Ethiopia: Colors of Ethiopian culture
107- 
Traditional dress of France: Found in many versions
108- 
Traditional dress of Spain: Colors and history of Spanish culture
109- 
Traditional dress of Germany: The identical emblem of Germanic peoples