The red-eyed tree frog is the native to the rain forests of Central America and as its name suggests, the red-eyed tree frog has red eyes with vertically narrowed pupils. Red-eyed tree frogs are scientifically known as Agalychnis callidryas and these are carnivores that eat crickets, moths, flies, and other insects.
These iconic rain-forest amphibians sleep by day stuck to leaf-bottoms with their eyes closed and body markings covered. When disturbed, they flash their bulging red eyes and reveal their huge, webbed orange feet and bright blue-and-yellow flanks. This technique, called startle coloration, may give a bird or snake pause, offering a precious instant for the frog to spring to safety.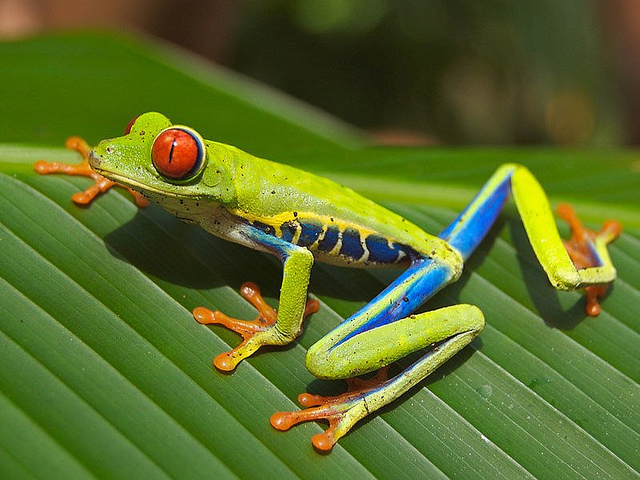 Adult red-eyed tree frog or  Agalychnis callidryas is only about 5 cm (2 inches) in length while the females tend to be larger at 7.5 cm (3 inches). Males croak and quiver, like a song and a dance, to try to attract females. These frogs change color according to their mood from dark green to a reddish-brown. The average life span of the red-eyed tree frog is almost five years.