One of the water sweethearts from North America is the Wood Duck, which is also sometimes known as Carolina Duck. The Wood Duck is so colorful and splendid waterfowl species which is actually a medium sized perching duck. A typical adult is from 47 to 54 cm (19 to 21 in) in length with a wingspan of between 66 to 73 cm (26 to 29 in). The widespread population of the Wood Duck is mainly found in the southern United States near the Atlantic coast.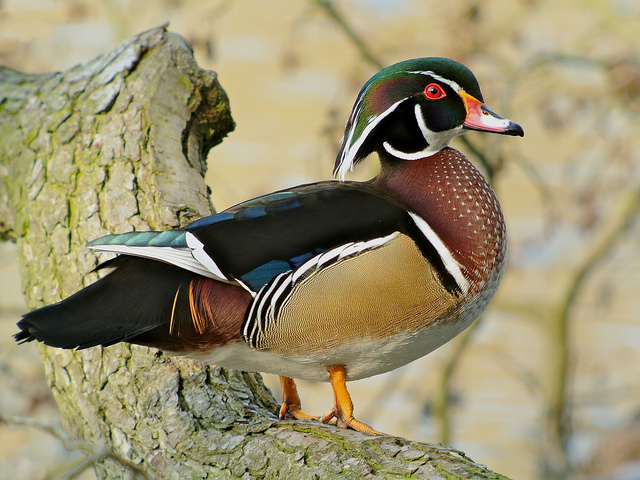 The Wood Duck is originally a non-migratory waterfowl and normally feed itself by dabbling or walking on land. The main diet of the Wood Duck includes berries, acorns, seeds and insects etc. The Wood Ducks are particularly famous for their distinctve features and splendid plumage. The adult male has  unique multicoloured iridescent plumage and red eyes,with an uncommon white flare down the neck. The female, less colourful, has a white eye-ring and a whitish throat. Both adults have crested heads.The male's call is a rising whistle, "jeeeeee"; the females utter a drawn-out, rising squeal, "do-weep do-weep," when flushed, and a sharp "cr-r-ek, cr-e-ek" for an alarm call.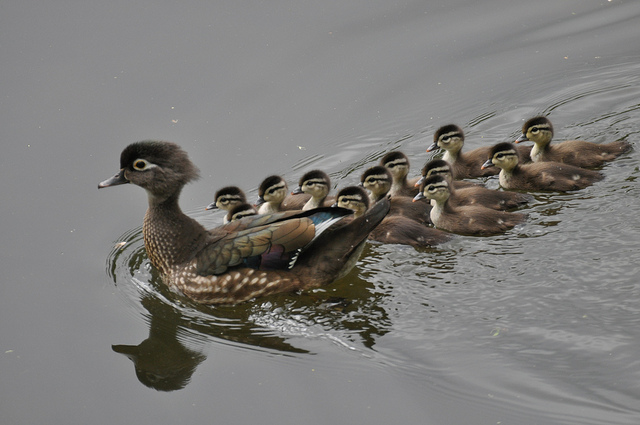 The Wood Ducks usually build nesting boxes in the shallow swamps and marshes. Females line their nests with feathers and other soft materials, and the elevation provides some protection from predators. The female Wood Duck or Carolina Duck lays between 7 and 15 white-tan eggs that incubate for an average of 30 days. After hatching, the ducklings jump down from the nest tree and make their way to water. The ducklings can swim and find their own food by this time. The splendid Wood Duck is an amazing waterfowl from North America which is one of the few duck species equipped with strong claws that can grip bark and perch on branches.