When people think of New Zealand they mostly think of the green vast open spaces, the unspoiled wilderness and off course the wildlife.  Also often the first things mentioned are the beaches.  But what if I were to tell you about our penguins?  Yes, those gorgeous birds you would automatically associate with ice, white snow and deep oceans. Here again New Zealand is proving to be unique as our Penguins prefer our bluer than blue oceans, our bays, our nooks and crannies – even our rainforests!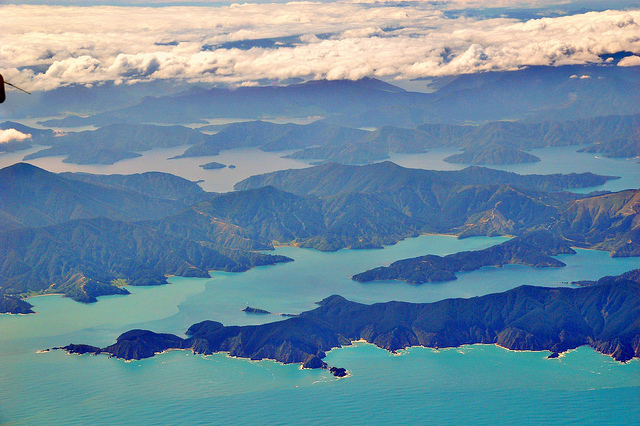 Although we are an island nation, just not in the conventional island way like Fiji or Hawaii, we are non-the less a series of large and small islands in the middle of an ocean. Our nearest neighbours are 1,459.9km (or 907.2 miles) away and that would be the small settlement on Norfolk Island (with a population of around 2,302 – according to the 2011 Census).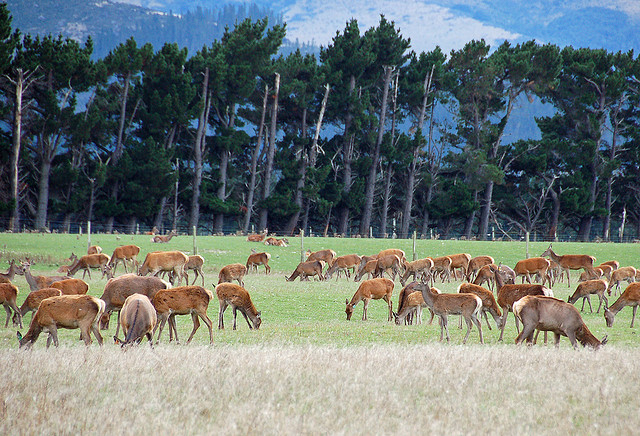 Although farming is our countries main 'bread and butter' – tourism is quite high on the list too and one of the main reasons for visiting New Zealand is being able to watch many wild species in the wild without them being exploited or behind some form of fence.  Which brings me nicely to some of my own trips around the region where I live;  I live in the South Island where there is an abundance of sea life both in and out of the water and I've been lucky enough to have seen most of them on my travels.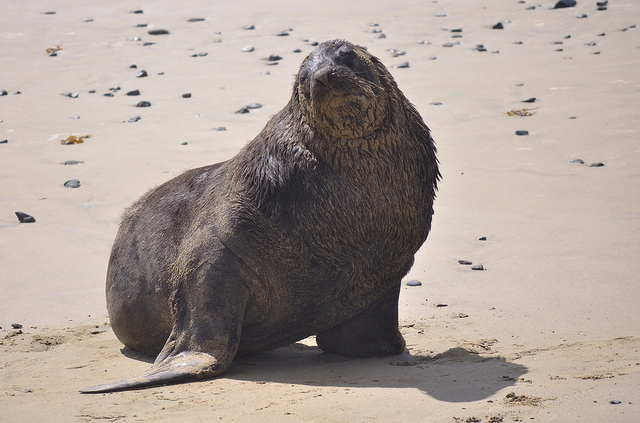 Among my favorites must be the 'Pinnipeds'; they are a group of mammals that includes walruses, true seals and eared seals.  True Seals do not have external ears, cannot turn their hind flippers forward, so they can't 'walk' on them and they have fur on all their flippers. New Zealand examples include the leopard seal and the Southern Elephant Seal both of which are fully protected by law in New Zealand.  Both species are seen on New Zealand's mainland but generally are residents of New Zealand's Sub-Antarctic Islands or the Antarctic main pack ice – even further 'down under' than the South Island of New Zealand.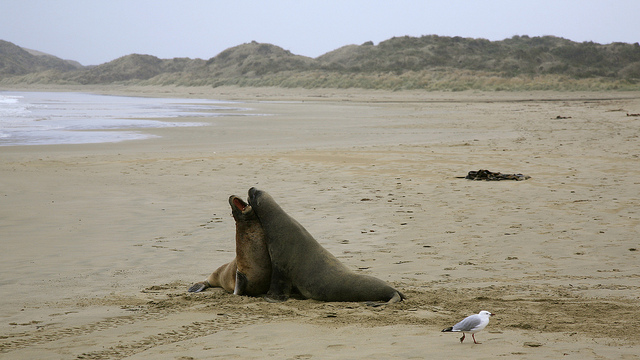 Eared seals include fur seals and sea lions; and they have external ears, have hind flippers they can walk on when turned under their body and have no fur on the underside of their flippers. The New Zealand Fur Seal and New Zealand Sea Lion are included in this group.  I've already boasted about the New Zealand Fur Seal or Kekeno in a previous article, well worth a look, these animals are just stunning!  Like the NZ Fur Seal, the New Zealand Sea Lion is only found in New Zealand and they are one of the rarest species of sea lion in the world.  The NZ Sea Lion is quite large with the males being between 2.4-3.5 m in length and weighing upto 400kg.  And they are surprisingly quick on land and all kiwis know to stay at least 10m away from them.  For the tourists safety there are thankfully signs in areas Sea Lions are found to outline the safest way to behave around these magnificent creatures.
New Zealand is not visited by walruses.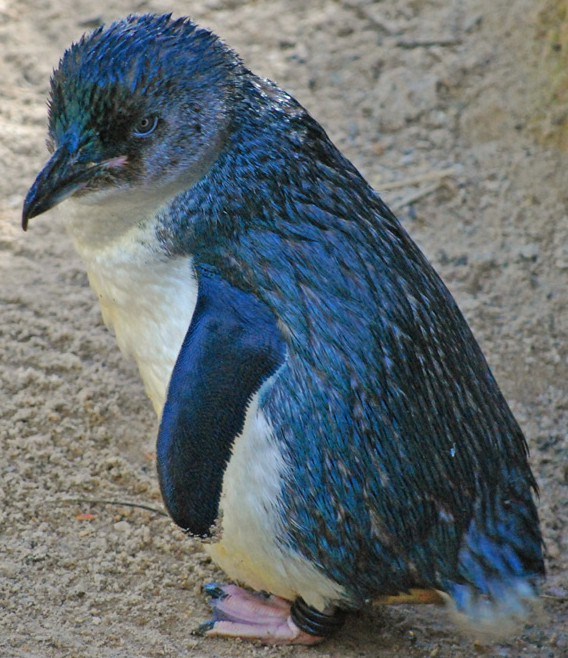 Also found on-land are three New Zealand penguins; Little Blue Penguin ('Korora') is the world's smallest penguin and lives in areas in the South Island.  The equally rare Hoiho, the Yellow-eyed Penguin can be found on the Otago Peninsula, just south of Dunedin (South Island).  And then there is the Fiordland Crested Penguin ('Tawaki'), which is one of the world's rarest, also lives in remote rainforest areas in the South Island.  And it is these birds we'll start with by exploring.
We'll start with a rather unusual character – 'Tawaki' (Fiordland Crested Penguin).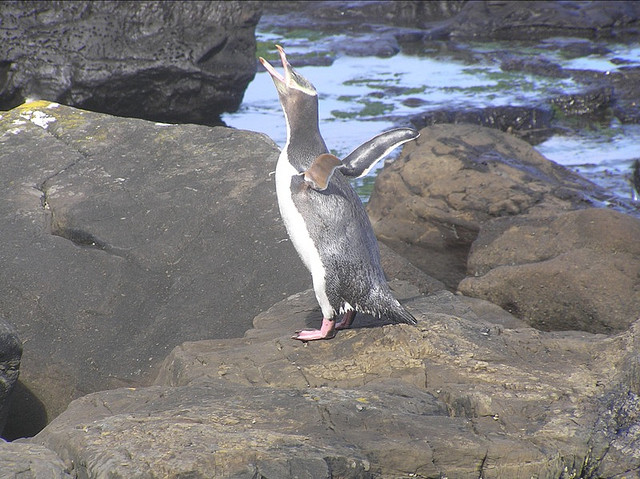 I haven't had the pleasure of seeing this wee guy in the wild yet, but will be travelling into it's home range within the next few months.  This penguin likes to do things a little different.  First Tawaki is found only in the wild southwest corner of the South Island and they choose to build their nests deep beneath lush rainforest.  Not quite what you'd expect!  The breeding season lasts from July until December and during this time adult penguins are busy raising their young in nests beneath boulders and tree stumps.  These penguin mate for life and also return to the same nest every year.  By the time the young chick is around two months old they are as large as the adults thanks to the huge appetite and dedicated feeding by the adults.  By the second week of December the Tawaki chicks are ready to head out to sea and spend the next six months in the ocean only returning to land to moult in February or March.  As an adult they stand around 60 cm tall and weigh upto four kilograms.  Their diet is mainly young squid, octopus, krill and small fish.  The current status of this New Zealand penguin is 'threatened' due to its small population.  Current population in this Land of the Penguins estimates range between 2,500 and 3,000 pairs.  The threats come from dogs, cats, stoats, rats and off course man itself. For penguins while out at sea the threat include getting stuck in setnets and inshore trawl nets used by fishermen.  Oil spills pose a potential extreme risk to the penguin if they occur near breeding colonies. The Tawaki is easily recognized by its 'rock star' looks (yellow feathers that extend over the eyes and drops down the neck).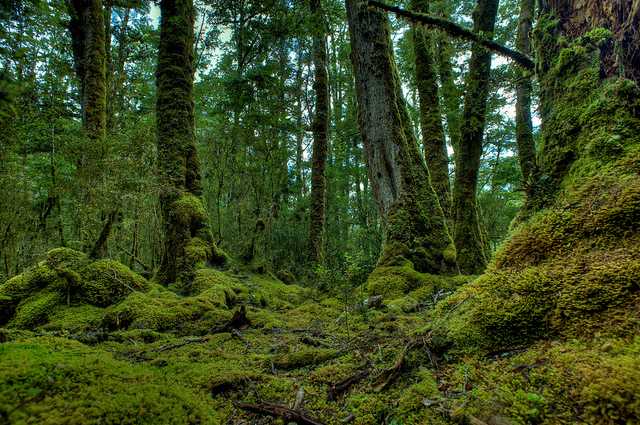 I'll have to time my visit to where they live but even without spotting these beautiful birds the trip to Fiordland National Park is going to be worth it alone.
About the Author : 
Monica Toretto is a writer, painter, photographer and blogger. She lives with her two young sons in Invercargill near Bluff. She has travelled widely in Canada and the US and worked as a veterinary technician before returning to New Zealand. Her work has appeared in several magazines in the UK and New Zealand. She has also authored a book of poetry and photography called 'Words'.