Rosellas are small colorful and pretty parrots endemic to Australia ranging in size from 26–37 cm (10–14.5 in) with long tails. Rosellas live in the shrub lands, woodlands, parks and farmlands of Australia and its neighboring small islands. Rosella feed predominantly on seeds and fruit, with food held in the foot. They enjoy bathing in puddles of water in the wild and in captivity. The more colourful rosella species are popular as pet parrots and also as aviary birds. They can live for longer than 20 years, and they are relatively easy to breed. There are 6 brilliant colored species of Rosellas and several subspecies from Australia.
1- Western Rosella – (Platycercus icterotis) – From Southwest Australia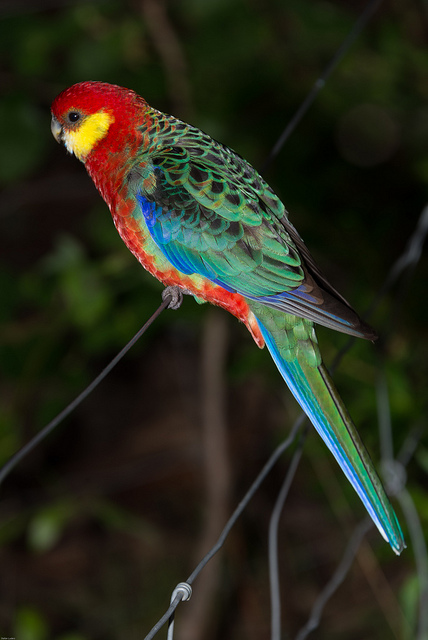 26 cm (10 in) long, the smallest rosella. The male is mainly red with yellow cheek patches, green rump, and a dark green tail. The female is duller, with a mainly green head, reddish forehead, yellow cheeks, and variegated green-red underparts. Colours of scalloped back feathers differ between two subspecies. The bill is whitish and the irises are dark brown.
2- Crimson Rosella – (Platycercus elegans) from East and Southwest Australia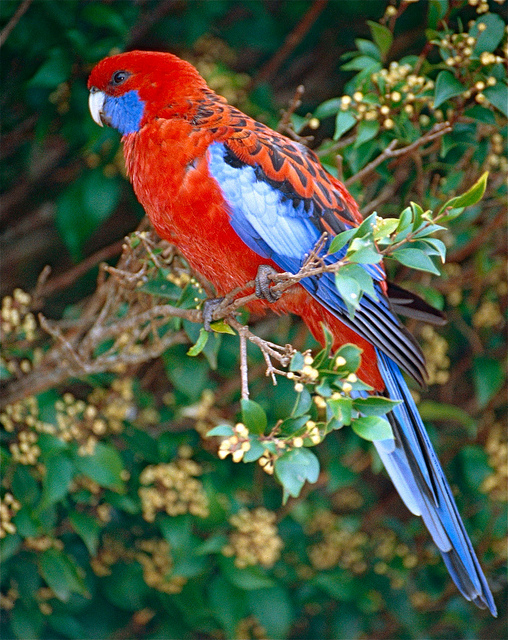 36 cm long, five subspecies, three of which are actually crimson. The red is replaced by yellow in the case of var. flaveolus and a mixture of red, orange and yellow in the Adelaide Rosella.
3- Green Rosella – (Platycercus caledonicus) from Tasmania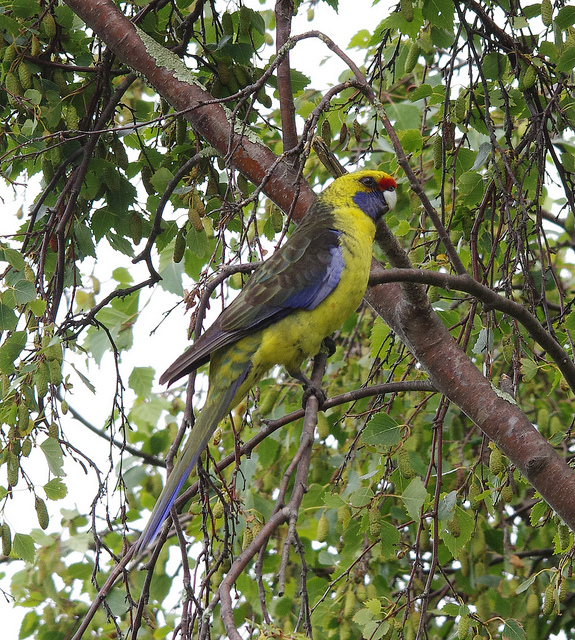 37 cm (14.5 in) long, the largest rosella. It has a yellow head and underparts with blue cheeks and a red frontal band above the bill. The feathers on the back and inner wings are black with narrow green margins at their tips, and the outer wing feathers are blue and green. Rump olive and the tail green. Irises are dark brown and the bill is light grey.
4- Pale-headed Rosella – (Platycercus adscitus) from Eastern Australia
30 cm long, mostly covered in blue except for the upper breast and head which are cream-yellow, the tail is blue-black and green, and an area around the vent is red. Two subspecies.
5- Eastern Rosella – (Platycercus eximius) – From Australia and Tasmania.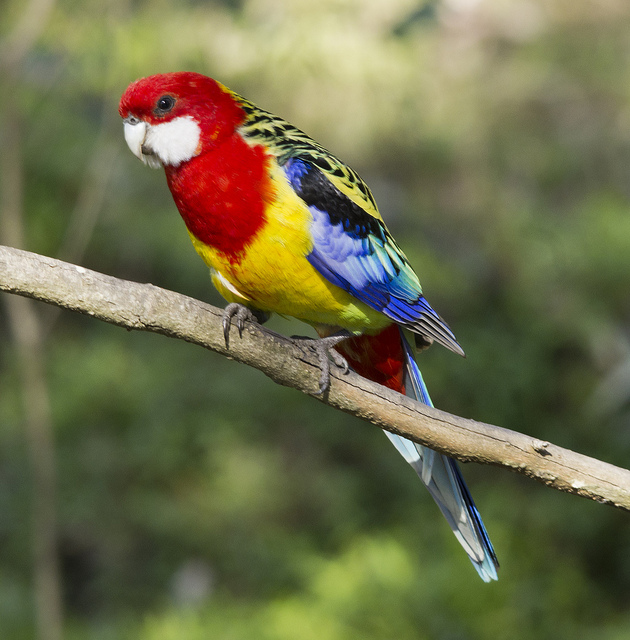 6-  Northern Rosella – (Platycercus venustus) – From the Gulf of Carpentaria, through Arnhem Land to the Kimberleys in open savannah country, Australia.
28 cm long, forehead, crown and nape are black in colour with white-on-blue cheek-patches. The back and wing feathers are blackish with yellow borders, while the feathers of the belly, chest and rump are pale yellow with black borders giving rise to a scalloped appearance, tail is bluish green. The bill is pale grey.