Fossa is an amazing cat like mammal native to the rain forests of Madagascar which is also the largest carnivore of this African country and it is closely relating to the Mongoose family. Fossa might live for fifteen years and the adult weighs 15.5 to 26.5 lbs (7 to 12 kg) on average. The size of an adult fossa is normally; Head and body, 23.5 to 30 in (60 to 76 cm); tail, 22 to 28 in (55 to 70 cm). Apart from its long skinny body, fossa has black, brown or red fur and round ears, large eyes and short snout with long whiskers.This splendid mammal is generally a solitary and territorial animal and spends its time both in the trees and on the ground. Fossas are very active at night and also during the day. Females give birth to an annual litter of two to four young, and adulthood is reached after about three years. In the times of danger Fossa uses special scent produced by the anal gland to mark its 4 square kilometer large territory.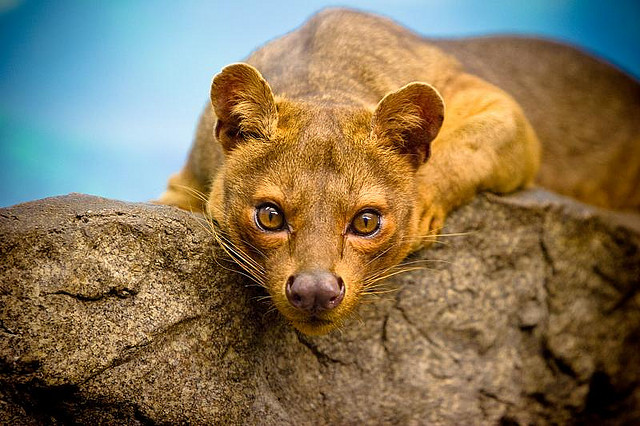 Fossa normally eats small mammals, birds, fish, lizards, frogs and domestic animals (such as chickens) but they are the mainly the predators of lemurs. It has semi-retractable claws and flexible ankles that allow it to climb up and down trees head-first, and also support jumping from tree to tree. They live on the trees having many athletic characteristics. Their tails play vital role in supporting their acrobatic activities. 
Mating season lasts from October to December. Males are especially aggressive during this period and they often fight with each other to attract female's attention. Female fossa usually mates with several males during mating season. Fossa reproduces slowly. Pregnancy lasts 6 to 7 weeks and ends with 2 to 4 babies. Babies have only 3.5 ounces on birth, they are blind and toothless.
The fossa of Madagascar has been assessed as "Vulnerable" by the IUCN Red List since 2008, as its population size has probably declined by at least 30% between 1987 and 2008; previous assessments have included "Endangered" (2000) and "Insufficiently Known" (1988, 1990, 1994). Although this amazing cat like mammal is widely distributed, it is locally rare in all regions, making fossas particularly vulnerable to extinction.