This country is a real homeland to fashion; this is what most of us truly know. But a few will have knowledge about the heritage history of this great nation. France is located in the Western Europe which is the largest country in Europe having its territories all over the lovely planet.  France was once known as the main hub for the luxury items production and their trade which is still continued. France remained a dominating country in its history as it was a major power in Europe since the late middle ages. You can easily guess the cultural significance of France as it has the world's fourth-largest number of cultural UNESCO World Heritage Sites and thus it attracts largest number of tourists from all around the globe.
The archaeological history of France is evident that the country had a strong past of sophisticated cloth making that surely started from animal-skin. Later invasions brought positive change in the region's cultural scenario. More innovations were adopted by the cloth merchants as new fabrics like silk and linen were introduced.
Tunic-shaped and wool made cloaks over linen made shirts were in common. Wealthy people enriched their dresses with gold-thread and silver-thread embroidery. Stockings and socks embellished with skillful knitting were quite popular. Similarly, the elaborate and fascinating shoes were also used. Magnificent headdresses are significant parts of the traditional French outfits.
Real progressive change occurred in the French clothing during the renaissance period when home-based small units involved in the silk-weaving business were established everywhere. Silk fiber resultantly also lead to produce different types of decorative items for dresses as tassels, fringes, pompoms, silk embroideries and floral ribbons. Lace making was become the prominent feature of the French textile industry.
Enormous development was made in the women clothes as the fashion of white colored lace-trimmed blouses and aprons was massively accepted. The outfits were usually bedecked with brilliant floral patterns. In some parts, white flared bonnets and dresses with wide elbow-length sleeves were also trendy.
France is historically Europe's most populous nation as in 2013; France ended with a population of 65,820,916 people. Currently a large number of immigrants who have sought asylum from the French government are also inhabited in France. These immigrants mainly belong to other European, Latin American and African countries. France is a large multiethnic country and many ethnic groups reside in different parts of its territory. When it comes to the traditional dress of France, there is distinction in the clothing trend of various regions. Commonly, French people are seen in pants and skirts and wearing stylish hats. Traditional costumes are rarely seen as the same are the part of folklore and cultural celebrations.
Between eleventh to the thirteenth century, an over garment known as the bliaut or bliaud that was made with woolens, linens or silks was also acclaimed among the French elite. Bliaut was fit closely from the shoulder to approximately the elbow, and then widen from the elbow to drape to floor- or nearly floor-length. Both men and women wore floor length bliaut while some bliauts included a double wrapped belt as well. This medieval garb was equally popular in other European countries like England and Germany.
During renaissance, mantua was also a famous object in the clothing for the French women. In the beginning, the mantua was actually a cloak like a loose gown, with sleeves cut in one piece with the back and front. It was pleated at the shoulders and fell to the waist, where it was held in place by a sash. From there it was folded back into a bustle shape and worn over a matching petticoat. The dress was gradually become acceptable for women as a cherished formal costume in France.
The French hood was actually a multi-layered and complicated head-dress sitting flat on the wearer's head that was originated from France during the sixteenth century.  Velvet, satin and taffeta was commonly used for the hood, and satin, taffeta or a lighter fabric for the veil. French hoods were normally made after preparing the buckram and millinery-wire bases which that were covered with fabric. In the sixteenth century, French hood contained coif or cap that was made with linen and tied under the chin.  The veil of a French hood was sometimes made semi-circularly while sometimes rectangular by others. Billaments were the decorative borders along the upper edge of the hood and the front edge of the coif or paste.
A fichu was a large, square kerchief worn by the French women to fill in the low neckline of a bodice. It originated in the United Kingdom in the 18th century and remained popular there and in France through the 19th with many variations, as well as in the United States. The fichu was generally of linen fabric and was folded diagonally into a triangle and tied, pinned, or tucked into the bodice in front.
In the French military uniform, kepi hat made with a fine cloth having a flat circular top along with a short leather bill was also used customarily. Even today, the same type hats are worn by the French police and military. Kepi hat is usually associated with the United States Civil War in North America. French customs officers (douaniers) and the Gendarmerie still wear kepis for ceremonial duty.
The striped Breton shirt which is popular these days was originally introduced for the French navy as the white striped knitted shirt was made as the uniform for all French navy seamen in Brittany. The original design featured 21 stripes, one for each of Napoleon's victories. Later, it became the favorite attire of the sailors of the northern France. In the start of the twentieth century, Breton tops were fashionable garments among the common French people particularly the working class.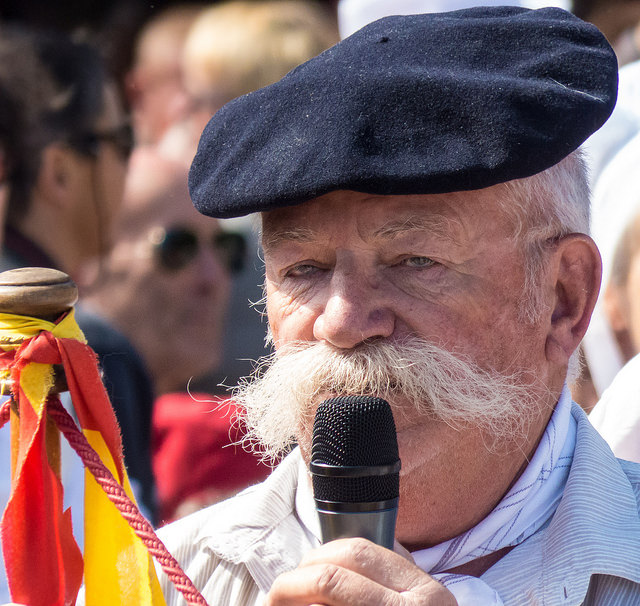 Beret was a common headdress among the French people as the same was evolved to protect the head from harsh weather effects. It was made with rain-resistant wool fabric usually hand-knitted or woven and it got immense popularity in the 19th century, when it was made the component part of the soldier's uniform. Today, beret is considered as a strong sign of local identity in the southwest of France and is worn while celebrating traditional events.
French youth especially students feel proud in wearing faluche, which is a traditional beret shaped cap, normally black in color and adorned with bright ribbons and badges. The colors and badges related to the faluche recall the life of the student. The circular is covered with a fabric band taking again the colors of the studied discipline. In 1988 the 100th anniversary of the faluche was celebrated in Reims, which has continued annually, in a different city each year.
French people are no more interested in wearing their traditional dresses in the modern life. However, as it is mentioned earlier that France is the most attractive tourist destination in the world, the folk artists, traditional performers and entertainers amuse the visitors by wearing colorful traditional dress of France.
It is better for understanding that the traditional dress of France is found in many versions both for the men and women. Due to this, there is no declaration as the national dress of France by the French government.
For more interesting posts with the same subject on the Lovely Planet Website, please click the following links;
1-    
Algerian Traditional Dress
2-    
Traditional Dress Of Serbia
3-    
Traditional Dress Of Kosovo
4-    
Traditional Dress Of Libya
5-    
Traditional Dress Of Morocco
6-    
Traditional Dress Of Albania
7-    
Traditional Dress Of Tunisia
8-    
Traditional Dress Of Lebanon
9-    
Traditional Dress Of Bosnia And Herzegovina
10-  
Traditional Dress Of Azerbaijan
11-  
Traditional Dress Of Turkmenistan
12-  
Traditional Dress Of Kazakhstan
13-  
Traditional Dress Of Kyrgyzstan
14-  
Traditional Dress Of Uzbekistan
15-  
Traditional Dress Of Tajikistan
16-  
The Traditional Dress Of Laos
17-  
The Traditional Dress Of Vietnam
18-  
Traditional Dresses Of The World – 1
19-  
Traditional Dress Of Jammu & Kashmir
20-  
Ottoman Dresses From Turkey
21-  
Colors Of Cholistan
22-  
Cultural Dresses Of Balochistan
23-  
Lehenga Choli Or Ghagra Choli
24-  
Sari Or Saree : Traditional Dress Of Women In South Asia
25-  
Ajrak , The Traditional Attire From Sindh , Pakistan
26-  
The Traditional Tais Of East Timor
27-  
Shalwar Kameez: The Popular Dress Of South Asia
28-  
Churidar Pajama: The Favorite South Asian Attire
29-  
Pakistani Bridal Dress
30-  
Rilli, Sindhi Quilt Art
31-  
Fantastic, Alluring Khussa Shoes
32-  
Customs And Traditions Of Kalash Tribe
33-  
Hanfu, The Classical Chinese Dress
34-  
London Fashion Week
35-  
Fashion Week Milan: The Glamorous Event Of Italy
36-  
New York Fashion Week
37-  
Paris Fashion Week
38- 
Traditional Dress Of Jordan
39- 
Traditional Dress Of Syria
40- 
Traditional Dress Of Afghanistan
41- 
Traditional Dress Of Palestine
42- 
Traditional Dress Of Oman
43-
Traditional Dress Of Nigeria
44- 
Traditional Dress Of Hungary
45-
Traditional Dress Of Ukraine
46- 
Malaysian Traditional Dress
47- 
Traditional Dress Of Kenya
48- 
Traditional Eastern Brides
49- 
Traditional Dress Of Bulgaria
50- 
Traditional dress of Uganda
51- 
Traditional Dress of Iceland
52- 
Traditional Dress of Croatia
53- 
traditional dress of Norway
54- 
Traditional dress of Finland
55- 
Traditional Dress of Philippines
56- 
Traditional dress of Denmark
57- 
Traditional dress of Belarus
58- 
Traditional Dress of Puerto Rico
59- 
Traditional Dress of Nicaragua: Marvelous and colorful
60 – 
Traditional Dress of Nepal: Whimsical but charming
61- 
Brilliant Colors of Dagestan: Really fanciful and imaginative
62- 
Kabuki: A classical and traditional Japanese theater
63- 
Boogie-woogie: A famous Swing Dance
64- 
Colors of Samba Dance from Brazil: So lively so amazing
65- 
Ho Jamalo: The favorite folk dance of Sindh
66- 
Odissi from the Eastern India: A historic ritual dance
67- 
Sattriya from Assam: A classical Indian dance
68- 
Fandango: A famous couple dance from Spain
69- 
Maypole from Europe: A fabulous circle folk dance
70- 
Cueca: The national dance of Chile
71- 
Traditional dress of Belgium: A charming European attire
72- 
Traditional dress of the Kingdom of Saudi Arabia
73- 
Colors of Kalash: 5 lovely images of beautiful Kalash girls
74- 
Traditional dress of Georgia: The fantastic Chokha
75- 
Traditional dress of Argentina: The warrior Gaucho costume
76- 
Traditional dress of Venezuela: Not complicated but decorated
77- 
Traditional dress of Latvia: Made with the Linen fabric
78- 
Traditional dress of Romania: So captivating and graceful
79- 
Traditional dress of Estonia: So classy and versatile
80- 
Traditional dress of Armenia: So colorful and diversified
81- 
Traditional dress of Angola: A symbol of the ethnic culture
82- 
Traditional dress of Austria: Dirndl, Lederhosen and Tracht
83-
Traditional dress of Namibia: Far from the modernizations
84- 
Traditional dress of Zambia: Rare but unique in nature
85- 
Traditional dress of Slovakia: Kroje , decorated and cultural
86. 
Traditional dress of Qatar: Pure Arabian endowment
87. 
Traditional dress of Brazil: So bright and colorful in nature
88. 
Traditional dress of Colombia: So iconic in Latin America
89. 
Traditional dress of Chile: So artistic and cultural
90. 
Traditional dress of Mexico: Blend of indigenous and imported cultures
91- 
Traditional dress of Panama: The exotic Mola and La Pollera
92- 
Traditional dress of Cuba: A product of multi-cultural effects
93- 
Traditional dress of Bangladesh: So awesome in its nature and kind
94- 
Traditional dress of Indonesia: Featured with unique patterns and designs
95- 
Traditional dress of Pakistan: Legacy of ancient civilizations
96- 
Traditional dress of Russia: A symbol of ethnic diversity in the Russian Federation
97- 
Traditional dress of England: Outcome of the local and European clothing repercussions
98- 
Traditional dress of Mauritania: Fusion of Berber and African cultures
99- 
Traditional dress of Egypt: Legacy of ancient Kings and Queens
100- 
Traditional dress of Iran: A product of the glorious Persian heritage
101- 
Traditional dress of Iraq & Kurdistan: Offshoot of the ancient acculturation
102- 
Traditional dress of Costa Rica: A charming garb of Latin America
103- 
Traditional dress of Italy: A garnished garment with beauty and style
104- 
Traditional dress of Antigua and Barbuda
105- 
Traditional dress of Eritrea: Proudly worn by Eritreans
106- 
Traditional dress of Ethiopia: Colors of Ethiopian culture