5 facts about Beluga Sturgeon: The sea monster in danger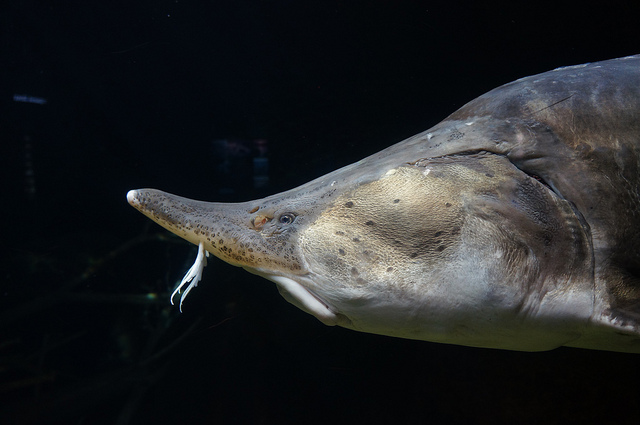 Beluga is an Anadromous endemic to the Caspian and Black Sea basins. Anadromous fishes are ones that migrate from the sea into fresh water to spawn; or, ones that stay entirely in fresh water and migrate upstream to spawn.
Beluga is also known as European sturgeon which is considered as the largest carnivorous fish on The Lovely Planet. This big fish has a life span of more than 100 years and it feeds itself on other small fishes, water fowls and sea pups.
The largest generally accepted record for Beluga is of a female taken in 1827 in the Volga estuary at 1,571 kg (3,463 lb) and 7.2 m (24 ft). Several other records of aged sturgeon exceed 5 m (16 ft). The female beluga is typically 20% larger than the male.
Today, Beluga Sturgeon, the sea monster in danger and it is declared as critically endangered species by IUCN due to its heavy poaching and fishing. Beluga caviar is one of the famous and expensive marine delicacies around the world with present market prices ranging from $7,000 to $10,000/kg ($3,200 to $4,500/lb). The poachers have dangerously decreased the number of Beluga Sturgeon in order to get its roe (fully ripe egg masses) existing in the poor females.
Beluga of such great sizes are very old (continuing to grow throughout life) and have become increasingly rare in recent decades due to the heavy fishing of this species. Today, belugas that are caught are generally 142–328 cm (4.66–10.76 ft) long and weigh 19–264 kg (42–582 lb).