One of the oldest and the most loyal companions of the humans, both in the times of peace and wars, the horses are serving to the mankind since 3000 BC. Just before two centuries, horse was the fastest mean for travelling for the man on the lovely planet. The horses are regarded as the animals of high prestige in the human history and their importance is depicted in ancient art, often with great insight and empathy.
Pam Brown rightly said, "A horse is the projection of peoples' dreams about themselves – strong, powerful, beautiful – and it has the capability of giving us escape from our mundane existence."
But even today, the horse is a solid character, which represents the human's intellect showcasing not only in chivalry but also in the fields of entertainment.  There are numerous awe-inspiring sports, from racing and driving competitions to barrel racing, dressage, eventing, endurance, polo, show jumping and many more in which, horses are the heroes. A horse has an average lifespan of between 25 and 30 years. Horse breeds usually categorized categories as; based on general temperament: spirited "hot bloods" with speed and endurance; "cold bloods", such as draft horses and some ponies, suitable for slow, heavy work; and "warmbloods", developed from crosses between hot bloods and cold bloods, often focusing on creating breeds for specific riding purposes, particularly in Europe. There are more than 300 breeds of horse in the world today, developed for many different uses. Here is the list of 50 best and the most popular horse breeds of the world along with their magnificent images. We have also mentioned some significant features of these horse breeds as well for your interest.
1. The Akhal-Teke is an exceptional horse breed from Turkmenistan, where they are a national emblem. They have a reputation for speed and endurance, intelligence, and a distinctive metallic sheen. The shiny coat of palominos and buckskins led to their nickname "Golden Horses". The Akhal-Teke typically stands between 14.2 and 16 hands (58 and 64 inches, 147 and 163 cm).
2. The American Cream Draft is a rare draft horse breed, the only such breed developed in the United States that is still in existence. It is recognized by its cream color, known as "gold champagne".  The American Cream is at risk for the autosomal recessive genetic disease junctional epidermolysis bullosa. The stallions and geldings stand 16–16.3 hands (64–67 inches, 163–170 cm) in height.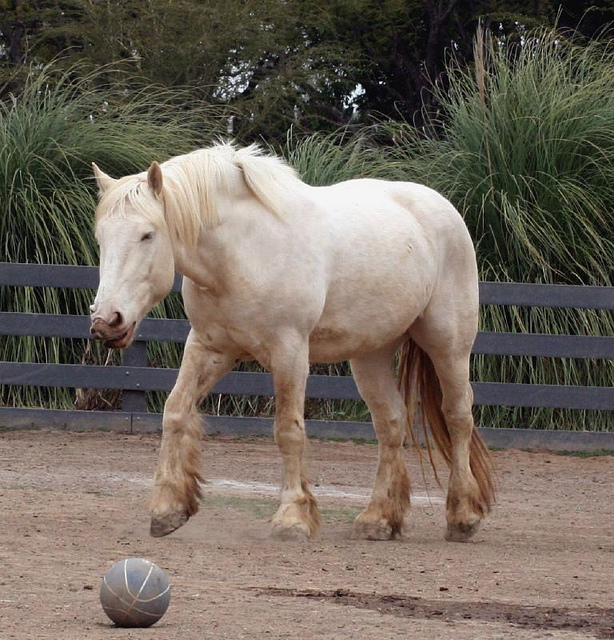 3. The American Paint Horse is a gorgeous breed of horse that combines both the conformational characteristics of a western stock horse with a pinto spotting pattern of white and dark coat colors. Each Paint Horse has a particular combination of white and another color of the equine spectrum.
4. The American Quarter Horse is a brilliant American breed of horse that excels at sprinting short distances. Its name came from its ability to outdistance other horse breeds in races of a quarter mile or less. The American Quarter Horse is the most popular breed in the United States today. Quarter Horses come in nearly all colors. They usually stand between 14 and 16 hands (56 and 64 inches, 142 and 163 cm) high, although some Halter-type and English hunter-type horses may grow as tall as 17 hands (68 inches, 173 cm).
5. The American Saddlebred is a splendid horse breed from the United States. Descended from riding-type horses, this breed includes the Narragansett Pacer, Canadian Pacer, Morgan and Thoroughbred among its ancestors. Today, the Saddlebred is exhibited in the United States in multiple divisions, including ridden in saddle seat classes, hunter country pleasure, and western pleasure, pleasure driving, fine harness etc. American Saddlebreds stand 15 to 17 hands (60 to 68 inches, 152 to 173 cm) high.
6. The Andalusian, also known as the Pure Spanish Horse or PRE is a unique horse breed from the Iberian Peninsula, where its ancestors have lived for thousands of years. The Andalusian is closely related to the Lusitano of Portugal. Andalusian horses are elegant and strongly built. The Andalusian breed has over the centuries been consistently selected for athleticism. Andalusians stallions and geldings average 15.1 1⁄2 hands (61.5 inches, 156 cm) in heights.
7. The Anglo-Arabian or Anglo-Arab is a dazzling crossbred, part-Arabian horse that now also has its own status as a horse breed. It is a Thoroughbred (thus, the prefix "Anglo") crossed with an Arabian.  An Anglo-Arabian is a bit taller than the average Arabian and of somewhat less refined type. Anglo-Arabians average 15.2–16.3 hands (62–67 inches, 157–170 cm) high.
8. The Appaloosa is a stunning horse breed best known for its colorful spotted coat pattern. Each horse's color pattern is genetically the result of various spotting patterns overlaid on top of one of several recognized base coat colors.  It is best known as a stock horse used in a number of western riding disciplines, but is also a versatile breed with representatives seen in many other types of equestrian activity. Their average heights are from 14 to 16 hands (56 to 64 inches, 142 to 163 cm).
9. The Arabian or Arab horse is a phenomenal breed of horse that originated on the Arabian Peninsula. With a distinctive head shape and high tail carriage, the Arabian is one of the most easily recognizable horse breeds in the world.  It is also one of the oldest breeds. The Arabian developed in a desert climate and was prized by the nomadic Bedouin people. The Arabian is a versatile breed. Arabians dominate the discipline of endurance riding, and compete today in many other fields of equestrian activity. Arabians normally stand between 14.1 to 15.1 hands (57 to 61 inches, 145 to 155 cm) tall, "with the occasional individual over or under.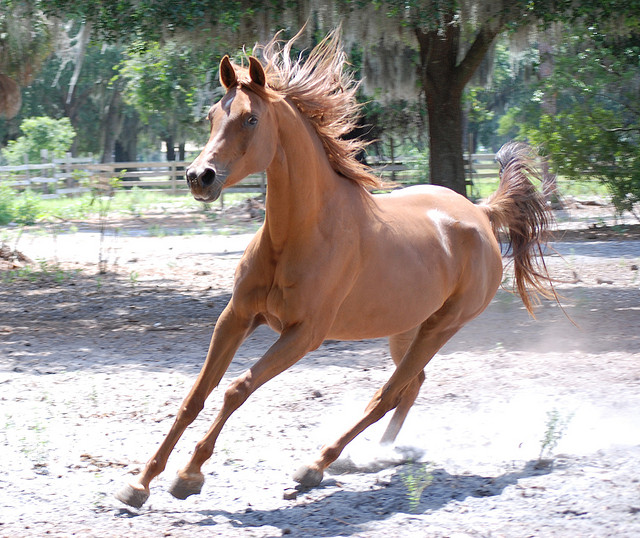 10: The Azteca is a glorious horse breed from Mexico, with a subtype, called the "American Azteca", found in the United States. They are well-muscled horses that may be of any solid color. Aztecas are known to compete in many western riding and some English riding disciplines. The ideal height is 14.3–15.1 hands (59–61 inches, 150–155 cm).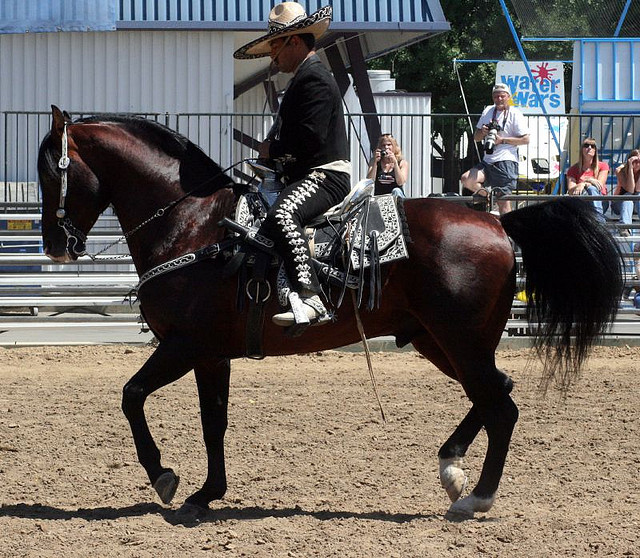 11. The Baluchi horse is a magnificent breed of horse native to the Baluchistan, Sindh and Punjab provinces in Pakistan. They are best recognized by their turned in ears. The Baluchi horse is usually bay, chestnut or gray. Their average height is 14 hands. Due to diluted bloodlines, horses of pure Baluchi lineage are extremely rare today.
12. The Belgian horse or Belgian draft horse, also known as Belgian Heavy Horse, Brabançon or Brabant, is from Belgium. It is one of the strongest of the heavy breeds. The Belgian Heavy Draft horse stands between 16.2 and 17 hands (66 and 68 inches, 168 and 173 cm). Belgians are still used as working animals, but have also become popular as show horses, and pleasure riding horses. These mighty Belgian horses are able to pull tremendous weights.
13. The Breton is a resplendent breed of draft horse. It was developed in Brittany, a province in northwest France. There are three distinct subtypes of the Breton, each coming from a different area of Brittany. This horse breed has been used in military, draft and agricultural capacities. Breton horses are usually about 1.58 metres (15.2 hands) tall.
14. A Brumby is a scintillating free-roaming feral horse in Australia. The best-known Brumbies are found in the Australian Alps region. Today they live in many places, including some National Parks. Captured Brumbies can be trained as stock horses and other saddle horses. Wild Brumbies are also used in the Brumby catch and handle event in stockman's challenge competitions.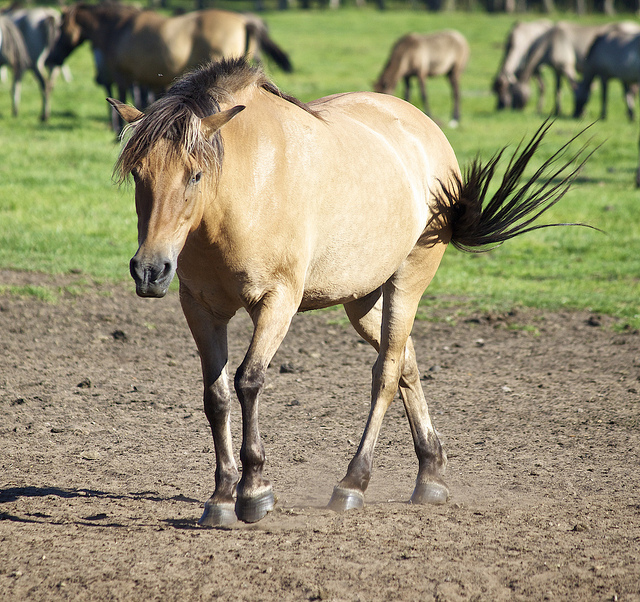 15. The Canadian horse is a tantalizing horse breed from Canada. It is a strong, well-muscled breed of light horse, usually dark in color. The horses are generally used for riding and driving. The Canadian horse has a rather short, high-set head with a broad forehead. Their height averages 14 to 16 hands (56 to 64 inches.
16. The Carolina Marsh Tacky or Marsh Tacky is a sizzling and rare breed of horse, native to South Carolina. The Marsh Tacky developed from Spanish horses brought to the South Carolina coast by Spanish explorers. There are only around 275 Marsh Tackies in existence today. The Marsh Tacky generally stands between 14 and 14.2 hands (56 and 58 inches, 142 and 147 cm) high.
17. The Clydesdale is an attractive breed of draught horse derived from the farm horses of Clydesdale, Scotland and named after that region.  They have also been used to create and improve other draught breeds. Today, the Clydesdale stands 16 to 18 hands (64 to 72 inches, 163 to 183 cm) high and weighs 1,800 to 2,000 pounds (820 to 910 kg). Today, Clydesdales are still used for draught purposes, including agriculture, logging and driving.
18. The Comtois horse is an astonishing draft horse that originated in the Jura Mountains on the border between France and Switzerland. The Comtois is a light draft horse, with a large head, straight neck, stocky and powerful body and deep girth. They usually stand 1.50–1.65 metres (14.3–16.1 hands) high. Comtois is used today for hauling wood in the pine forests of the Jura.
19. A Dutch Warmblood is a beautiful warmblood type of horse. Most Dutch Warmbloods are black, brown, bay, chestnut or grey and white markings are not uncommon. The Dutch Warmblood is long-legged but substantial with a smooth top line and dry, expressive head. Dutch Warmbloods are sound and long-lived due to the stringent requirements placed on stallions and elite mares.
20. The radiant Falabella miniature horse is one of the smallest breeds of horse in the world, seldom taller than 8 hands (32 inches, 81 cm) in height at the withers. The Falabella, despite its size, is not considered a pony, but rather is a miniature horse. They can be taught to drive, and cart driving is a common use for Falabellas.
21. The Fjord horse or Norwegian Fjord Horse is a relatively small but very strong horse breed from the mountainous regions of Western Norway. It is an agile breed of light draught horse build. All Fjord horses are dun in colour. It is used both as a harness horse and under saddle. The heights between 135 and 150 cm (13.1 and 14.3 hands; 53 and 59 inches) at the withers are recommended.
22. The Friesian (also Frisian) is a horse breed originating in Friesland, in the Netherlands. Although the breed's conformation resembles that of a light draft horse, Friesians are graceful and nimble for their size. The Friesian's average height is about 15.3 hands (63 inches, 160 cm). Friesian horses are popular in both Europe and the United States and are often used today for dressage competition, pleasure riding and driving.
23. The Gidran, Gidrán, or Hungarian Anglo-Arab is a marvelous horse breed developed in Hungary from bloodstock that included the Arabian horse. All members of the breed are Chestnut. Gidrans stand between 15.3 to 17 hands (63 to 68 inches, 160 to 173 cm). The horses are set apart for their speed, stamina, agility and courage.
24. The Gypsy Horse which is also known as the Gypsy Cob or Coloured Cob , Gypsy Vanner, Irish Cob and Tinker Horse is a distinguished horse breed originally developed by Romanichal peoples native to the British Isles. In its native Great Britain, the Gypsy is shown and traded at traditional horse fairs, the best-known of which is Appleby Horse Fair.  In the United States, the Gypsy Horse is being used in many equestrian sports, by amateurs and youths.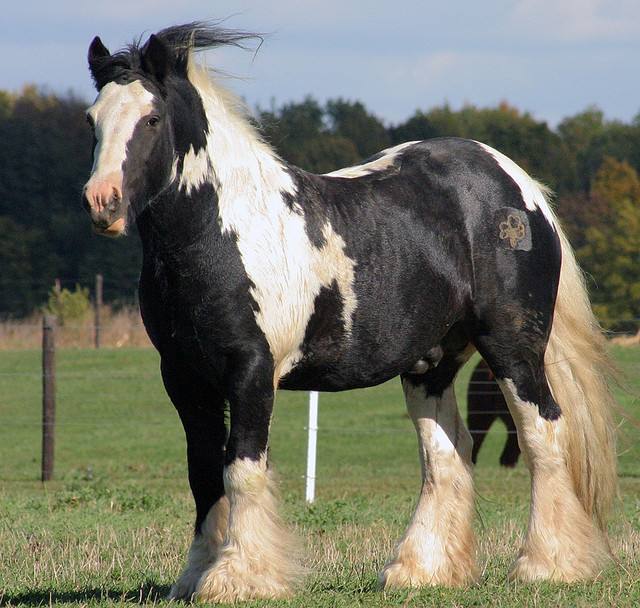 25. The Haflinger, also known as the Avelignese, is a tremendous breed of horse developed in Austria and northern Italy during the late 19th century. The breed traces its ancestry to the Middle Ages. Haflingers have many uses including light draft, harness work and various under-saddle disciplines such as endurance riding, dressage, equestrian vaulting and therapeutic riding. The desired height today is between 13.2 and 15 hands (54 and 60 inches, 137 and 152 cm).
26. A Hanoverian is a fabulous warmblood horse breed originating in Germany, which is often seen in the Olympic Games and other competitive English riding styles, and have won gold medals in all three equestrian Olympic competitions. The Hanoverian is known for a good temperament, athleticism, beauty, and grace. The horses can be 15.3–17.2 hands (63–70 inches, 160–178 cm) high. They are bred to be willing and trainable, and have a strong back, powerful body, athletic movement, and strong limbs.
27. The Hirzai is a breathtaking and rare breed of riding horse originating from Pakistan. The predominant colour of the Hirzai is gray. The head is handsome with a broad forehead, and the neck is medium in length, muscular, and arched. It usually stands around 15 hands (60 inches, 152 cm) high.  This is a horse of strength, good conformation, and stamina and it can used for hard and fast work.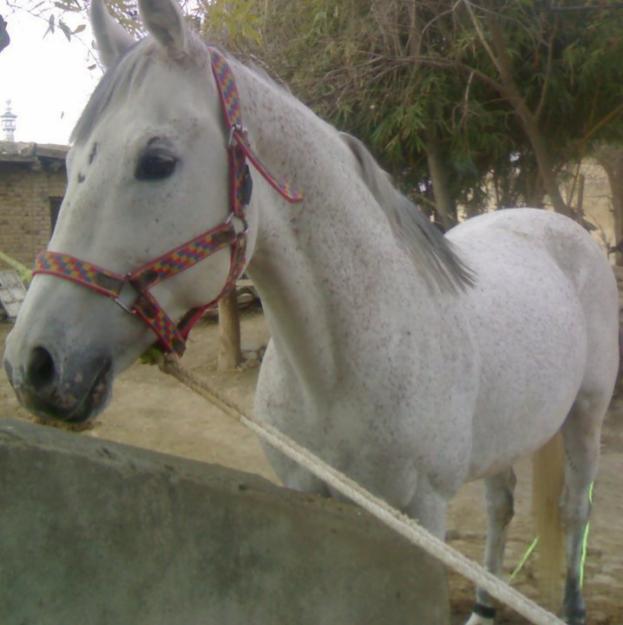 28. The fantastic Icelandic horse is a breed of horse developed in Iceland. Although the horses are small, at times pony-sized, most registries for the Icelandic refer to it as a horse. Icelandic horses are long-lived and hardy. Characteristics differ between various groups of Icelandic horses, depending on the focus of individual breeders.
 29. The charming Irish Sport Horse is actually a Draught Sport Horse, also known as the Irish Hunter, is the result of a cross between the Irish Draught and another warmblood breed. It ranges in height from 15 to 17 hands (60 to 68 inches, 152 to 173 cm).It has a good temperament, being calm, yet lively when needed, and is very tough.
30. The Jutland horse is an admirable draft horse breed originating in Denmark, named after the Jutland Peninsula which forms the western part of the country. Although compact in size, the Jutland is a strong, powerful horse that was used to transport carriages and heavy goods. They generally stand between 15 and 16.1 hands (60 and 65 inches, 152 and 165 cm).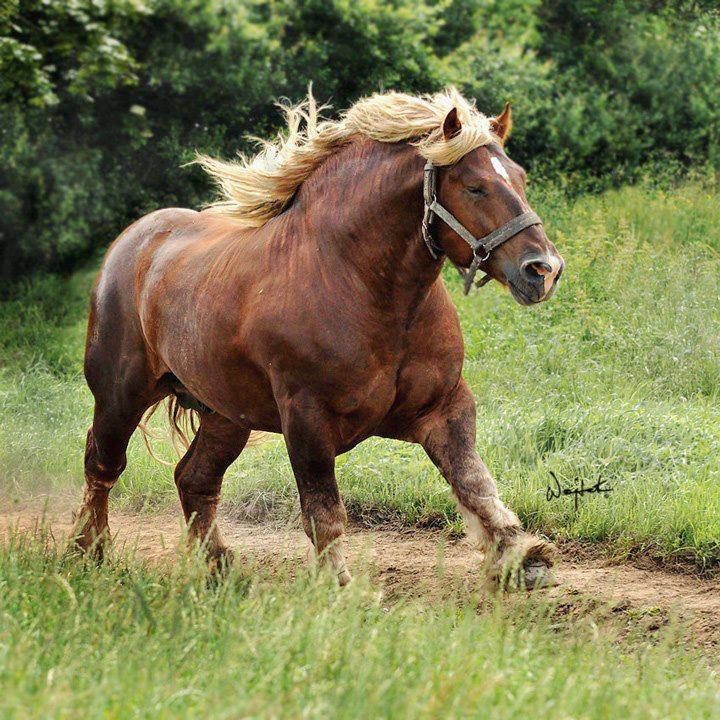 31. The Kathiawari is an amazing breed of horse from India, originating in the Kathiawar peninsula. They are found in all colors except for black, and are commonly dun with primitive markings. The best quality Kathiawaris are under 15 hands (60 inches, 152 cm). Many Indian mounted police units make use of the Kathiawari. The Kathiawari is also used extensively for the sport of tent pegging.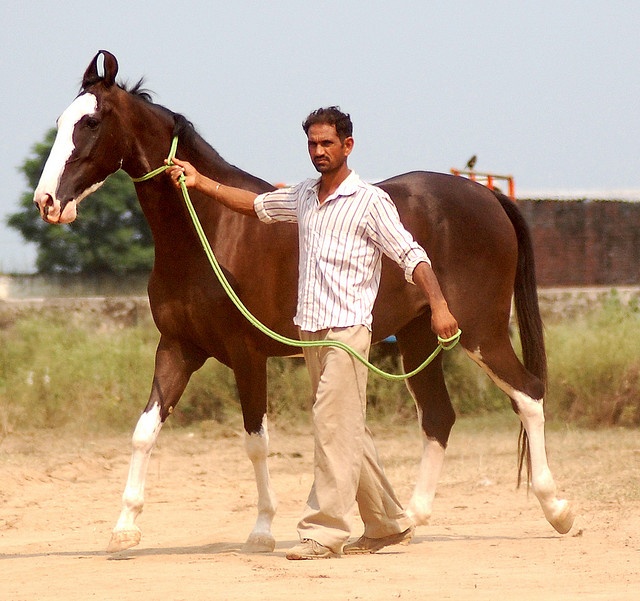 32. The astounding Kustanair is a breed of horse developed in Kazakhstan in the late 19th and early 20th centuries. They are used mainly for under-saddle and light draft work. The Kustanair generally stands 15 to 15.1 hands high and the coat can be bay, brown, black, chestnut, gray or roan. The breed is said to be very tough and hardy, with great endurance and stamina.
 33. The mind-blowing Lipizzan or Lipizzaner dates back to the 16th century, when it was developed with the support of the Habsburg nobility. The world-famous Spanish Riding School uses highly trained Lipizzan stallions in public performances that demonstrate classical dressage movements and training. Most Lipizzans measure between 14.2 and 15.2 hands (58 and 62 inches, 147 and 157 cm).
34. The Lusitano is a Portuguese horse breed, closely related to the Spanish Andalusian horse. Both are sometimes called Iberian horses. Lusitanos can be any solid color, although they are generally gray, bay or chestnut. They usually stand 15.2 and 15.3 hands (62 and 63 inches, 157 and 160 cm) high.  Today, Lusitanos are seen in Olympic disciplines, including high-level combined driving competition.
35.The Marwari or Malani is a handsome and rare breed of horse from the Marwar (or Jodhpur) region of India. Known for its inward-turning ear tips, it comes in all equine colours.   The Marwari are descended from native Indian ponies crossed with Arabian horses. The Marwari averages between 15 and 16 hands (60 and 64 inches, 152 and 163 cm) high. The Marwari is used for riding, packing and light draught and agricultural work.
36. The Menorquin Horse or Cavall Menorquí is an incredible breed of horse indigenous to the island of Menorca in the Balearic Islands, from which it takes its name. The Menorquín may only be black, in all its variations; horses of any other colour cannot be registered.  The average height is 1.60 m (15.3 hands). The breed has remained agile and slender.
37. The Morgan horse is one of the earliest horse breeds developed in the United States. Compact and refined in build, the Morgan has strong legs, an expressive head with a straight or slightly convex profile and broad forehead. The breed standard for height ranges from 14.1 to 15.2 hands (57 to 62 inches, 145 to 157 cm). Morgans were used as cavalry mounts by both sides in the American Civil War. The Morgan breed is known for its versatility, and is used for a number of English and Western events.
38. A mustang is the free-roaming horse of the North American west that first descended from horses brought to the Americas by the Spanish. Mustangs are often referred to as wild horses. As of 2015, free-roaming horses remain protected under United States law. Advocates for mustangs also express concerns that the animals may be sold for horsemeat.
39. The Oldenburg is a majestic warmblood horse. The modern Oldenburg can best be identified by the "O" and crown brand on the left hip. Oldenburg is known for producing among the most "modern" examples of riding horses: expressive heads and long legs. Ideally, they stand between 16.0 and 17.2 hands. Oldenburgs are selected to be sound, long-lived, and free of congenital disorders.
40. A part-Arabian, partbred Arabian or half-Arabian is an enthralling horse with documented amounts of Arabian horse breeding. In the modern era, crossbreeding has been popular to combine the best traits of two different breeds, such as color, size, or ability to specialize in a particular equestrian discipline.
41. The Paso Fino is a glamorous and naturally gaited light horse breed dating back to horses imported to the Caribbean from Spain. The Paso Fino has several different body types, from quite small and refined to very large and powerful. This is a lively horse that has a natural drive and willingness. These horses are versatile and can be used in many disciplines.
42. The Quarab is an alluring horse breed from the United States, developed from a part-Arabian cross of Arabian horses, American Quarter Horses and Paint horses. Quarabs are found that have characteristics of both Arabian and stock horse. Quarabs are found competing in many sports, including Western riding disciplines such as reining and roping and English riding sports such as dressage.
43. The Russian Heavy Draft is a tempting draft horse developed in the Soviet Union that was officially registered in 1952. The Russian Heavy Draft is usually short and muscular, with thick manes and tails and legs that are lightly feathered.  It is an easy keeper that is tolerant of the cold, and has been known to be able to pull more weight (relative to its body mass) than any of the other breeds developed during the Soviet period.
44. The Shagya Arabian was developed in the Austro-Hungarian Empire during the 19th century. While captivating Shagyas are not considered "pure" or asil Arabians, they have a closed stud book and have special status within the World Arabian Horse Organization (WAHO). This breed is recognized as a riding horse, and is also driven in harness. It was a hardy cavalry horse and is now popular in sport horse disciplines such as dressage, eventing and endurance riding.
45. The Shire horse is a fascinating breed of draught horse or draft horse. The breed comes in many colours, including black, bay and grey. They are a tall breed, with mares standing 16 hands (64 inches, 163 cm) and over and stallions standing 17 hands (68 inches, 173 cm) and over. The Shire horse was originally the staple breed used to draw carts to deliver ale from the brewery to the public houses. Today, the breed is also used for forestry work and leisure riding.
46. The Sorraia is a classy and rare breed of horse indigenous to the portion of the Iberian peninsula, in the Sorraia River basin, in Portugal. The Sorraia is known for its primitive features, including a convex profile and dun coloring with primitive markings. Members of the breed are small, but hardy and well-adapted to harsh conditions. The Sorraia breed stands between 14.1 and 14.3 hands (57 and 59 inches, 145 and 150 cm) high.
47. The Spanish-Norman horse is a flashy warmblood horse breed that is the result of crosses between two much older breeds – the Andalusian of Spain and the Percheron of France. The Spanish-Norman stands 15.3 to 17 hands (63 to 68 inches, 160 to 173 cm). The Spanish-Norman is well suited for the show ring in driving classes and eventing.
48. The Spotted Saddle horse is an elegant horse breed from the United States that was developed by crossing Spanish-American type gaited pinto ponies with gaited horse breeds, such as the Tennessee Walking Horse. They average 14.3 to 16 hands (59 to 64 inches, 150 to 163 cm) high.
49. The Standardbred is a smart horse breed best known for its ability in harness racing at a trot or pace. Developed in North America, the breed can trace its bloodlines to 18th-century England. Standardbreds tend to be more muscled and longer bodied than the Thoroughbred. Because of their speed, Standardbreds are often used to upgrade other breeds of harness racers around the world, such as the Orlov Trotter and French Trotter.
50. The Thoroughbred is a furious horse breed best known for its use in horse racing. Thoroughbreds are considered "hot-blooded" horses, known for their agility, speed and spirit. Thoroughbreds are used mainly for racing, but are also bred for other riding disciplines such as show jumping, combined training, dressage, polo and fox hunting. The typical Thoroughbred ranges from 15.2 to 17.0 hands (62 to 68 inches, 157 to 173 cm) high, averaging 16 hands (64 inches, 163 cm). Prices of Thoroughbreds vary greatly, depending on age, pedigree, conformation, and other market factors.
Also click to view: