Rice with meat dishes are popular throughout the Muslim countries.  In Pakistan, people are crazy about Biryani which is believed to be imported in the Indian sub-continent from Iran by the Mughals. Although some historians narrate that Biryani was brought to North India from Persia via Afghanistan.  Whatever the origin of Biryani is, it has become the never-ending food aspiration for the locals, particularly the Muslim community.
In this article, we'll concise ourselves to the exotic and aromatic Sindhi Biryani, which is a phenomenal choice for the Biryani lovers in Pakistan for it's awesome spicy taste, fragrant rice and delicate meat. Sindhi Biryani is no doubt one of the most beloved food menus in the Pakistani and Sindhi cuisine. Sindhi Biryani is prepared with almost all forms of Halal meat with the amalgamation of Basmati rice, vegetables and different tremendous kinds of spices. Sindhi Biryani is proudly served by Pakistan International Airlines (PIA) in almost all of their international flights.
Recipe of Sindhi Biryani
The main food ingredients of Sindhi Biryani include; Basmati rice, chopped meat, red chili, turmeric and coriander powders, Garm masala, potatoes and onions, tomato and garlic pastes, chopped mint leaves, yellow food color and cardamoms. The onions are fried golden brown in cooking oil and ¾ of them are taken out for the later use. The garlic, ginger and tomato pastes along with spices are added to the remaining fried onions and made tender until water is dried. Meat with yogurt are added and cooked on medium heat and waited for the water to be completely evaporated. Half boiled potatoes are then enumerated with green chillies, mint, coriander leaves and sfter 2-3 minutes the curry is ready.
Now it is time to boil the Basmati rice with salt, bay leaves, cinnamon sticks and black cardamom. Half-cooked rice are layered with curry one on one in a cooking pot and the yellow food color is also sprinkled along with fried onions and chopped mint leaves on top of the last layer. Whole stuff is then cooked on very low heat for 10 minutes making sure no steam passes out of the pot. Now it is the time to mix the stuff in a skillful manner so that the rice doesn't become so fluffy. Sindhi Biryani is normally served with Raita and Salad.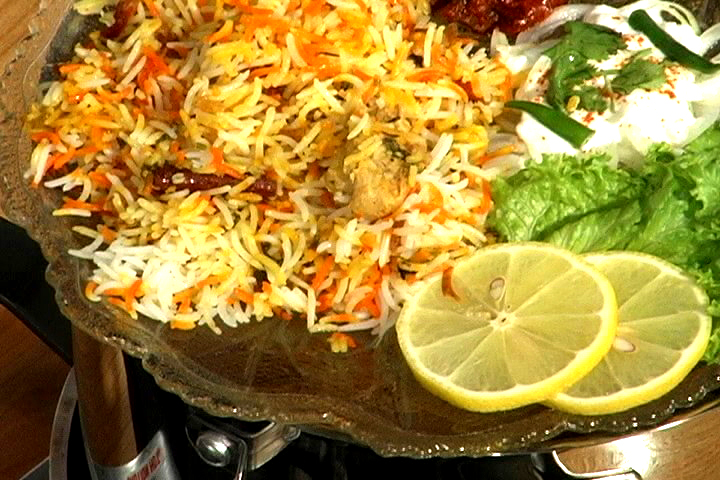 Sindhi Biryani which is so exotic and aromatic in taste is popular in the whole of Pakistani territories for its mouthwatering flavor and is often made as an elegant delicacy by housewives on special occasions.