Pink city of India, Jaipur is also famous for a monumental landmark built with pink sandstone which is known to the world as "Palace of Winds" or "Palace of the Breeze". In the local language it is called as Hawa Mahal which was built in 1799 by Maharaja Sawai Pratap Singh. This magnificent palace is actually a five-storey pyramidal shaped monument that rises to a height of 50 feet (15 m) from its high base. Hawa Mahal is believed to have been constructed in the form of the crown of Krishna, the Hindu god.
Hawa Mahal or the Palace of Winds is actually a benchmark of the Rajputana architecture. Its phenomenal pyramid structure and its 953 windows or 'Jharokhas' are decorated with intricate designs in illuminated patterns and styles. It is believed that Hawa Mahal was actually built to facilitate the royal women and provide them a view of everyday life through the windows, as they never appeared in public. The top three floors of the structure have a dimension of one room width while the first and second floors have patios in front of them, on the rear side of the structure. The front elevation, as seen from the street, is like a honeycomb web of a beehive built with small portholes.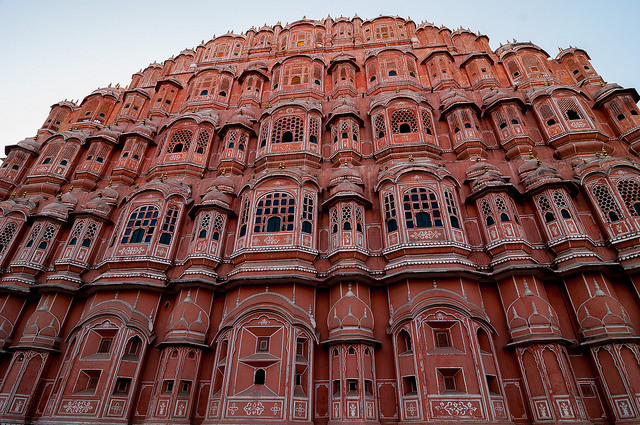 For the entrance of the tourists, the gateway is from the back of Hawa Mahal complex which also include Jantar Mantar, Govind Devji temple, Amer Fort, Nahargarh Fort, Ram Niwas Bagh, BM Birla Planetarium, Jain Temple, Statue Circle, Sisodia Rani Garden etc. Hawa Mahal or Palace of winds , the gem of Jaipir, India was also known as the chef-d'œuvre of Maharaja Jai Singh as it was his favorite resort because of the elegance and exotic interior. Another major attraction for the tourists is the adjacent museum having numerous magnificent artifacts, fabulous antiques and diminutive paintings.