The land of Euphrates and Tigris which was once known to the world as the center of knowledge and culture is today recognized as a land of warfare and bloodshed. It is also true that it remained under the domination of many invaders like Anatolian, Babylonians and Assyrians etc in the ancient history. During that period the region went through tremendous human development and made notable cultural progress. In 7th century AD, this territory was occupied by Islamic Arabs and it was become the prime center of the Muslim caliphate. The descending Abbasid caliphate established Baghdad as their capital city and they established it as the preeminent downtown of education and the greatest ancestry of the Islamic empire.
The same was ruined by the Mongols in the thirteenth century and then this land experienced a series of invasions and extermination of its people in the history. Ottomans, Mamluks and British took control of this country respectively in the later periods of history when finally it got freedom from the Great Britain in 1932. A pre-coup government of the Hashemite monarchy was established which was ultimately ended in 1958 by military adventurers and then it remained under different dictatorships. In 2003, the United States-organized coalition invaded it again and after the US withdrawal of its troops in 2011, it is again suffering from different insurgencies till present.
Yes, this is Iraq, officially known as the Republic of Iraq which is an Arab country located in the western Asia. A country of more than 32 million people having diverse ethnicities and religious followings is today mainly known for Arab and Kurd communities in the lovely planet. The predeceasing paragraph elaborates clearly that Iraq was once the hub of the oldest Mesopotamian culture and Islamic civilization and even today, it is a country of a wide and varied heritage. Without going into further details, let's keep our main focus upon the subject i-e, the traditional dress of Iraq & Kurdistan which is an offshoot of the ancient acculturation.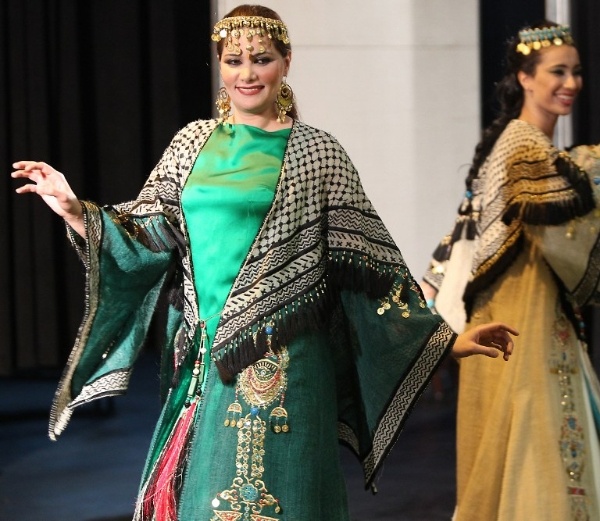 Many Iraqi men and women have started to adopt the clothing culture similar to America in present times. Iraqi men specially can be commonly seen in pants, shirts and also in T-shirts with jeans. But still if you go to the rural or country-side areas of Iraq, you'll see Iraqi men wearing a big turban on their heads along with long tunic-shaped traditional thobe on their body. Iraqi women also traditionally wear loose-fitting garments with covering of their heads with scarves and body with a big cloak known as abaya. In different parts of Iraqi territory, the Iraqis wear traditional dresses in accordance with their own distinctiveness.
Thobe which may also be spelled as Thawb is actually an ankle length garment usually with long sleeves in a tunic shape. During summer, white thobes usually made with cotton are commonly seen and during winter, the Iraqi men prefer to wear thobes usually in bright colors and made with wool. Sometimes this garment is known as dishdasha and it is also very useful to protect the skin from harsh sun-rays. A pair of loose trousers is worn under the dishdasha.
Iraqi men as mentioned earlier cover their heads normally with a diagonally folded square of cloth which is usually made with cotton and it is held around the head to be draped thoroughly. It is known as Kaffiyeh or Kufiyeh which sometimes also comes in linen, wool, or silk, either plain or patterned. Sometimes it is also supported by Igal or Agal which is necessary to keep the whole thing in place. Igal may be black cord or worn doubled.
Some wealthy Iraqis belonging to the rural community, especially the Bedouin men also wear a ceremonial dress which is woven with thin camel hair and it is known as Bisht. This dress is normally decorated with thread embroidery around the neck and usually on the front downwards. In the windy winters, Iraqi rural men also wear a typical woolen coat with a fleece lining which is known as farwa. Similarly in some regions, a small decorated jacket which is called damir is also popular which is usually made with velvet. In the footwear, leather sandals and boots are in common use of Iraqi men.
Iraqi women cover their bodies with Abayah which is a long black cloak that is worn as outerwear over a dress or trousers. Nowadays it comes in different styles and adorned with embellished patterns. Scarf is also generally used by the Iraqi women to cover their heads.
It is pertinent to mention here about Bedouin women of Iraq who use a head cloth called as Shambar which is worn over the head and around the neck tied by a decorative headband. Bedouin women also use Sash (belt) to be wrapped around the waist with the end folded into the wraps. For footwear, the traditional items include leather sandals and leather slippers.
Today, Abaya which is prepared with fine fabrics and comes in tremendous patterns has become a matter of honour and prestige for the Iraqi women. Synthetic fabrics are also being used for Abaya. Two important scarves which are also commonly in use of Iraqi women these days are; the asha which covers the hair, and the futa which covers the mouth and chin.
Traditional dresses for women in Iraq are made with cotton in summer and flannel in winter. The casual dresses worn during domestic jobs are not necessarily to be embroidered or decorated. In winter women also wear knitted sweaters or jackets to protect themselves from cold. Baggy trousers or sirwal which are bedecked with embroidery are worn underneath by women.When it comes to formal dress for women in Iraq, one dress which is known as Hashmiyah is very popular. This dress is normally adorned around the neck, around the waist with metal threads and sometimes with rhinestones as well. This dress is also a part of traditional dancing costumes in Iraq these days as the dancers usually wear it without scarves with free hair.
Unlike Iraqis, the people of Kurdistan have still continued their distinctive custom to wear the traditional dresses generally. Iraqi Kurdistan comprises of Northern parts of Iraq which is largely a mountainous zone. The mountainous nature of Iraqi Kurdistan has made a characteristic impact on the clothing behaviors of Iraqi Kurds. Iraqi Kurdistan has a diverse religious population. The dominant religion is Islam, adhered to by the majority of its inhabitants.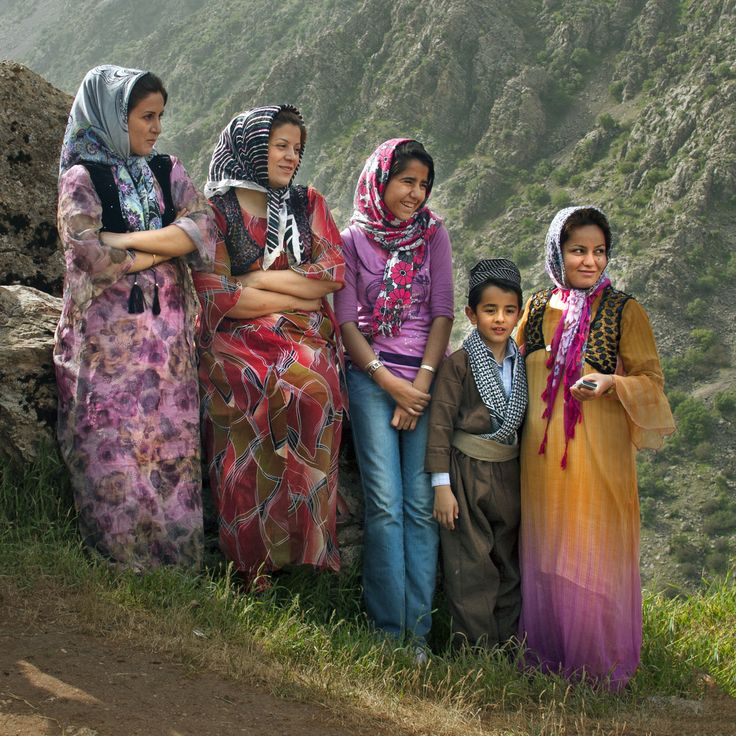 The Kurdish culture is a legacy from the various ancient peoples who shaped modern Kurds and their society, but primarily Iranian. Among their neighbors, the Kurdish culture is closest to Persian culture.
Traditional dress for men in Iraqi Kurdistan includes long baggy trousers or shalwar that fit tightly at the ankle, a short tight jacket over a striped silk shirt and a cummerbund of print or striped cloth wrapped around and around the waist. Some Kurd men also used embroidered jackets as their over garment as well. Kaffiyah is also in common use of the Kurd men and they use it with a long string-like tassel.
Traditional dress for Kurd women is very decorative, bright, voluminous and colorful which is normally bedecked with sequins, glass beads, coins and stone beads. Almost every accessory in the Kurd woman's garment is embellished with fancy materials. Brilliantly adorned metal belts are also favorite among Kurdish women especially in the formal attires.  The under dress and trousers are made of a plain satin fabric usually matching the colour of the gown.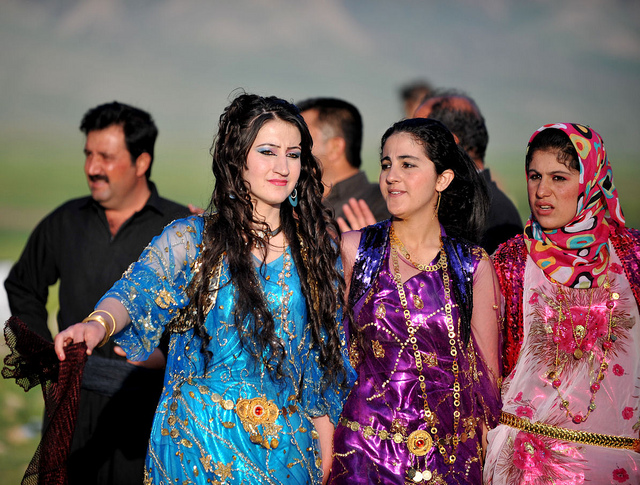 The traditional Kurdish hat for women is usually black velveteen ornamented with traditional amber and turquoise beads with gold or silver charms. Traditional Kurdish women's outfit includes either a vest or long-sleeved jacket or long overcoat worn over a gown.
Most Kurdish women and men have a large collection of Kurdish dresses and are always on the lookout for new designs and fabric.  They usually buy the fabrics of their choice and then have it tailors as such there are tailors who specialize in making Kurdish clothes.
Traditional dress of Iraq & Kurdistan which is an offshoot of the ancient acculturation, presently in its pure form has become a thing of the glorious past and history of this great nation. In the youth, you'll see a blend of the western clothing and traditional wear, however this confusion rather fusion makes the appearance of Iraqis more charming and graceful.
For more interesting posts with the same subject on the Lovely Planet Website, please click the following links;
1-    
Algerian Traditional Dress
2-    
Traditional Dress Of Serbia
3-    
Traditional Dress Of Kosovo
4-    
Traditional Dress Of Libya
5-    
Traditional Dress Of Morocco
6-    
Traditional Dress Of Albania
7-    
Traditional Dress Of Tunisia
8-    
Traditional Dress Of Lebanon
9-    
Traditional Dress Of Bosnia And Herzegovina
10-  
Traditional Dress Of Azerbaijan
11-  
Traditional Dress Of Turkmenistan
12-  
Traditional Dress Of Kazakhstan
13-  
Traditional Dress Of Kyrgyzstan
14-  
Traditional Dress Of Uzbekistan
15-  
Traditional Dress Of Tajikistan
16-  
The Traditional Dress Of Laos
17-  
The Traditional Dress Of Vietnam
18-  
Traditional Dresses Of The World – 1
19-  
Traditional Dress Of Jammu & Kashmir
20-  
Ottoman Dresses From Turkey
21-  
Colors Of Cholistan
22-  
Cultural Dresses Of Balochistan
23-  
Lehenga Choli Or Ghagra Choli
24-  
Sari Or Saree : Traditional Dress Of Women In South Asia
25-  
Ajrak , The Traditional Attire From Sindh , Pakistan
26-  
The Traditional Tais Of East Timor
27-  
Shalwar Kameez: The Popular Dress Of South Asia
28-  
Churidar Pajama: The Favorite South Asian Attire
29-  
Pakistani Bridal Dress
30-  
Rilli, Sindhi Quilt Art
31-  
Fantastic, Alluring Khussa Shoes
32-  
Customs And Traditions Of Kalash Tribe
33-  
Hanfu, The Classical Chinese Dress
34-  
London Fashion Week
35-  
Fashion Week Milan: The Glamorous Event Of Italy
36-  
New York Fashion Week
37-  
Paris Fashion Week
38- 
Traditional Dress Of Jordan
39- 
Traditional Dress Of Syria
40- 
Traditional Dress Of Afghanistan
41- 
Traditional Dress Of Palestine
42- 
Traditional Dress Of Oman
43-
Traditional Dress Of Nigeria
44- 
Traditional Dress Of Hungary
45-
Traditional Dress Of Ukraine
46- 
Malaysian Traditional Dress
47- 
Traditional Dress Of Kenya
48- 
Traditional Eastern Brides
49- 
Traditional Dress Of Bulgaria
50- 
Traditional dress of Uganda
51- 
Traditional Dress of Iceland
52- 
Traditional Dress of Croatia
53- 
traditional dress of Norway
54- 
Traditional dress of Finland
55- 
Traditional Dress of Philippines
56- 
Traditional dress of Denmark
57- 
Traditional dress of Belarus
58- 
Traditional Dress of Puerto Rico
59- 
Traditional Dress of Nicaragua: Marvelous and colorful
60 – 
Traditional Dress of Nepal: Whimsical but charming
61- 
Brilliant Colors of Dagestan: Really fanciful and imaginative
62- 
Kabuki: A classical and traditional Japanese theater
63- 
Boogie-woogie: A famous Swing Dance
64- 
Colors of Samba Dance from Brazil: So lively so amazing
65- 
Ho Jamalo: The favorite folk dance of Sindh
66- 
Odissi from the Eastern India: A historic ritual dance
67- 
Sattriya from Assam: A classical Indian dance
68- 
Fandango: A famous couple dance from Spain
69- 
Maypole from Europe: A fabulous circle folk dance
70- 
Cueca: The national dance of Chile
71- 
Traditional dress of Belgium: A charming European attire
72- 
Traditional dress of the Kingdom of Saudi Arabia
73- 
Colors of Kalash: 5 lovely images of beautiful Kalash girls
74- 
Traditional dress of Georgia: The fantastic Chokha
75- 
Traditional dress of Argentina: The warrior Gaucho costume
76- 
Traditional dress of Venezuela: Not complicated but decorated
77- 
Traditional dress of Latvia: Made with the Linen fabric
78- 
Traditional dress of Romania: So captivating and graceful
79- 
Traditional dress of Estonia: So classy and versatile
80- 
Traditional dress of Armenia: So colorful and diversified
81- 
Traditional dress of Angola: A symbol of the ethnic culture
82- 
Traditional dress of Austria: Dirndl, Lederhosen and Tracht
83-
Traditional dress of Namibia: Far from the modernizations
84- 
Traditional dress of Zambia: Rare but unique in nature
85- 
Traditional dress of Slovakia: Kroje , decorated and cultural
86. 
Traditional dress of Qatar: Pure Arabian endowment
87. 
Traditional dress of Brazil: So bright and colorful in nature
88. 
Traditional dress of Colombia: So iconic in Latin America
89. 
Traditional dress of Chile: So artistic and cultural
90. 
Traditional dress of Mexico: Blend of indigenous and imported cultures
91- 
Traditional dress of Panama: The exotic Mola and La Pollera
92- 
Traditional dress of Cuba: A product of multi-cultural effects
93- 
Traditional dress of Bangladesh: So awesome in its nature and kind
94- 
Traditional dress of Indonesia: Featured with unique patterns and designs
95- 
Traditional dress of Pakistan: Legacy of ancient civilizations
96- 
Traditional dress of Russia: A symbol of ethnic diversity in the Russian Federation
97- 
Traditional dress of England: Outcome of the local and European clothing repercussions
98- 
Traditional dress of Mauritania: Fusion of Berber and African cultures
99- 
Traditional dress of Egypt: Legacy of ancient Kings and Queens
100- 
Traditional dress of Iran: A product of the glorious Persian heritage