This country, who leads science and technology, owes a magnificent history and having one of the ideal places in the world to live, is the largest populous country of the European Union. It is located in the central Europe, the territory of which was first inhabited by Celts and then it became the land of the Germanic tribes. Today, it is known as the Federal Republic of Germany which has the area equal to Montana, US. The current German state was founded in 1949 after the end of the World War II.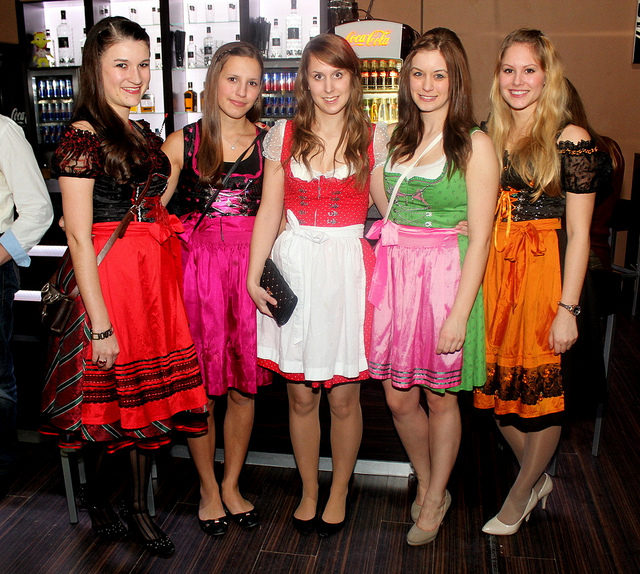 Germany is a fascinating land of literature, art and culture. There are hundreds of theaters and professional orchestras in the country and it has wonderful big cinema industry. The history of Germany is written on its walls and architecture. Obviously, in addition to the features of striking heritage of this land of thinkers and poets, Germany has also fantastic clothing culture and traditions. Germany is one of the leading countries in the fashion world and German fashion is popular all around the lovely planet in the ready-to-wear and custom-made creations.
Traditional dress of Germany is a well preserved item in the German cultural heritage which is fabulously exposed in the cultural festivals and traditional events held in the country. Millions of Germans participate in such events with pride and patriotism and make their appearance bright and colorful by wearing the traditional German costumes. Drindl, tracht, lederhosen, loden cape, gamsbart and many other outfit items are symbolic not only in the culture of Germany but also in all other German speaking nations, particularly Austria.
Altdeutsche Tracht, can be understood as the basic current in the German fashion clothing as the same was also once considered as the national dress of Germany. It was introduced in Germany in the start of the nineteenth century during the time of what is in German historiography known as the Befreiungskriege, the "liberation wars", the last years of the Napoleonic Wars. The popularity of this clothing fashion affected every walk of life as they accepted it as a symbol to reject the foreigner's domination upon themselves. Prominent features of this traditional fashion of Germany included the puffed and slashed sleeve, wide open collars, tight fittings long cut skirts, matching footwear along with large velvet berets. The dress played a vital role in the resistance movements in the country as it was an attempt to establish itself as an icon of national identity or identical emblem of Germanic peoples.
Leather is historically one of the materials commonly used for clothing. From the alpine areas of Germany and other surrounding countries, a popular traditional male dress is lederhosen which was basically known as the attire of the working class. Lederhosen were once widespread among men of the Alpine and surrounding regions, including Bavaria and Austria. Lederhosen have remained regionally popular and are commonly associated with virility and brawn. Typically, lederhosen are the leather shorts and usually those are having simpler cutting for the young boys. Men's Lederhosen are more heavily ornamented, and the straps of the suspenders used to secure the shorts may also have embroidery and other ornaments. Different regions have different traditional decorations.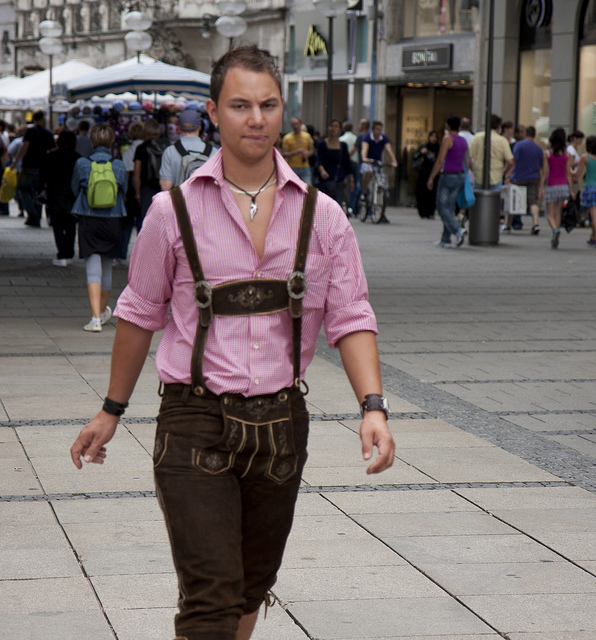 German boys used to wear lederhosen up to the age of about sixteen years. These lederhosens were not decorated with embroidery but had the typical attributes of suspenders/braces and drop-front flap.
The dirndl is the traditional dress especially for the women of Germany especially in the state of Bavaria which is used as an everyday dress primarily by older women in rural areas. Other women may wear it at formal occasions and during certain traditional events. Nowadays, dirndl is worn by the German women in the cultural programs and events like the most popular, the Oktoberfest. This superb event which takes place every year has grabbed the attention of the worldwide visitors who are coming to attend this tremendous event since last two centuries.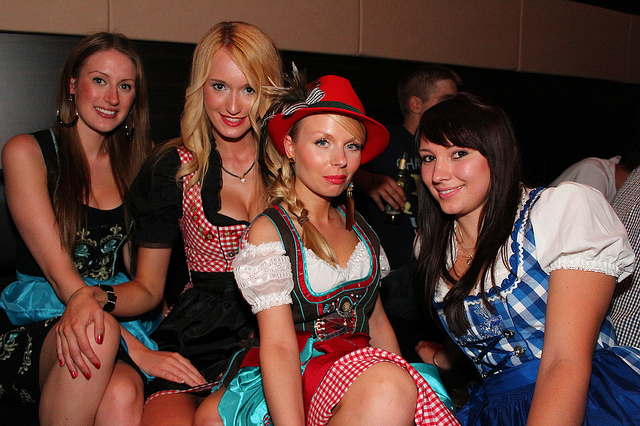 A dirndl skirt generally describes a light circular cut dress, gathered at the waist that falls below the knee. It is basically a ruffled apron dress worn by German women that consists of a bodice, or blouse, and a skirt. The winter style dirndl has heavy, warm skirts and aprons made of thick cotton, linen, velvet or wool, and long sleeves. The colors are usually rich and dark. The summer style is lighter and more frivolous, has short sleeves, and is often made of lightweight cotton.
Accessories may include a long apron tied round the waist, a waistcoat or a wool shawl. As far as jewelry is concerned, women often sport necklaces, earrings and brooches made of silver, the antlers of deer or even animals' teeth. For colder weather there are heavy dirndl coats in the same cut as the dresses, with a high neck and front buttons, thick mittens and wool hats. Along with the dirndl, German women prefer to wear traditionally a soft, felt shoe with clunky heels and decorative ideal for free movements and stepping during dance.
A typical fur coat of the Tyrolean origin was introduced by the peasants which is known as Lodencape. Traditionally it is made with thick and water resistant woolen material. The fabric is derived from the course, oily wool of mountain sheep and has a traditional bluish-green color. Today it is worn with modern variations in Germany and Austria.
Tracht is a pure traditional costume in Germany. These dresses were sewn with lots of skills by expert tailors who prepare them with fine linen and felt fabrics. Wool and silk were the other materials that were used in making more expensive trachts. Hand stitched embroidery was the additional beauty of this elegant dress that adorn it in spectacular style. Today, these traditional outfits are prepared with more artistic delicacy and adorable decorations for the tourists coming to Germany. The traditional Trachten vests and waistcoats are favorite among Germans during their folklore ceremonies and national events.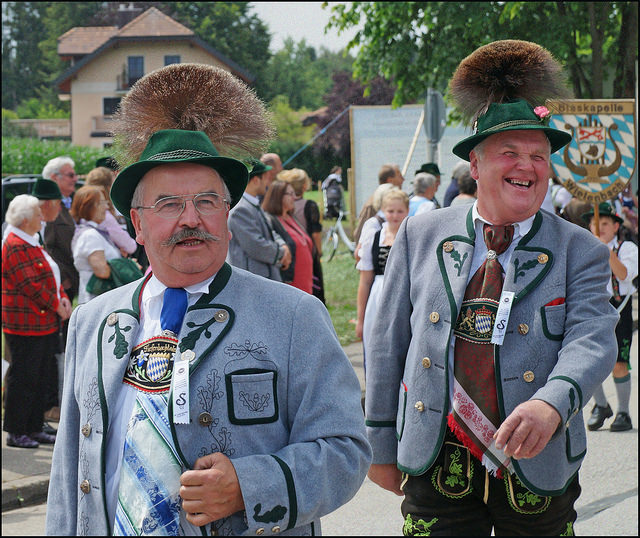 The Gamsbart is a tuft of hair traditionally worn as a decoration on trachten-hats in the alpine regions of Germany. A Gamsbart is usually constructed by enclosing the lower end of the tuft of hair in a setting of metal or horn that allows the upper end to spread in a brush-like fashion. Traditionally, hairs are selected for a dark color at the lower end with a very light tip. The size and diameter of the Gamsbart are important signs of the wearer's pride and manliness.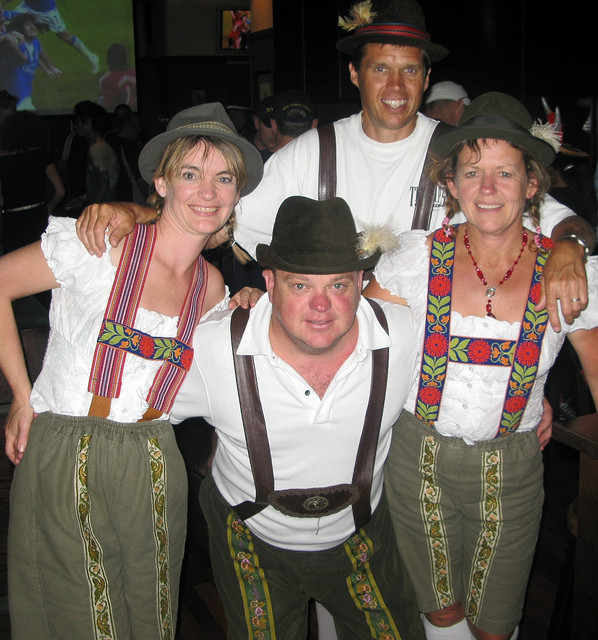 The Tyrolean hat or Alpine hat is a type of headwear that was originally a crown tapering to a point and was made of green felt with a brim roughly the width of a hand, something that was especially common in the Zillertal. There are various forms of Tyrolean hat. Frequently the hats are decorated with a colored, corded hatband and a spray of flowers, feathers or "brush" at the side of the crown. The traditional "brush" is made of the tail of the chamois goat. It takes a variety of forms, and may often be combined with feathers. Tyrolean hat has become the image bearer of "Tyrolean culture" as a tourist symbol, influenced also by folk music bands who wore fanciful "local" costumes.
Although, Germany is considered as a fashion hub presently which is having one of the largest textile industries in the world; traditional dress of Germany keeps its prevalence in the museums, books, history, folklore and performances during the native festivities. The German youth truly consider and regard it as the identical emblem of Germanic peoples, even in the current era of fashionable swinging. Even today, they owe it and accept it as a matter of pride and national loyalty.
For more interesting posts with the same subject on the Lovely Planet Website, please click the following links;
1-    
Algerian Traditional Dress
2-    
Traditional Dress Of Serbia
3-    
Traditional Dress Of Kosovo
4-    
Traditional Dress Of Libya
5-    
Traditional Dress Of Morocco
6-    
Traditional Dress Of Albania
7-    
Traditional Dress Of Tunisia
8-    
Traditional Dress Of Lebanon
9-    
Traditional Dress Of Bosnia And Herzegovina
10-  
Traditional Dress Of Azerbaijan
11-  
Traditional Dress Of Turkmenistan
12-  
Traditional Dress Of Kazakhstan
13-  
Traditional Dress Of Kyrgyzstan
14-  
Traditional Dress Of Uzbekistan
15-  
Traditional Dress Of Tajikistan
16-  
The Traditional Dress Of Laos
17-  
The Traditional Dress Of Vietnam
18-  
Traditional Dresses Of The World – 1
19-  
Traditional Dress Of Jammu & Kashmir
20-  
Ottoman Dresses From Turkey
21-  
Colors Of Cholistan
22-  
Cultural Dresses Of Balochistan
23-  
Lehenga Choli Or Ghagra Choli
24-  
Sari Or Saree : Traditional Dress Of Women In South Asia
25-  
Ajrak , The Traditional Attire From Sindh , Pakistan
26-  
The Traditional Tais Of East Timor
27-  
Shalwar Kameez: The Popular Dress Of South Asia
28-  
Churidar Pajama: The Favorite South Asian Attire
29-  
Pakistani Bridal Dress
30-  
Rilli, Sindhi Quilt Art
31-  
Fantastic, Alluring Khussa Shoes
32-  
Customs And Traditions Of Kalash Tribe
33-  
Hanfu, The Classical Chinese Dress
34-  
London Fashion Week
35-  
Fashion Week Milan: The Glamorous Event Of Italy
36-  
New York Fashion Week
37-  
Paris Fashion Week
38- 
Traditional Dress Of Jordan
39- 
Traditional Dress Of Syria
40- 
Traditional Dress Of Afghanistan
41- 
Traditional Dress Of Palestine
42- 
Traditional Dress Of Oman
43-
Traditional Dress Of Nigeria
44- 
Traditional Dress Of Hungary
45-
Traditional Dress Of Ukraine
46- 
Malaysian Traditional Dress
47- 
Traditional Dress Of Kenya
48- 
Traditional Eastern Brides
49- 
Traditional Dress Of Bulgaria
50- 
Traditional dress of Uganda
51- 
Traditional Dress of Iceland
52- 
Traditional Dress of Croatia
53- 
traditional dress of Norway
54- 
Traditional dress of Finland
55- 
Traditional Dress of Philippines
56- 
Traditional dress of Denmark
57- 
Traditional dress of Belarus
58- 
Traditional Dress of Puerto Rico
59- 
Traditional Dress of Nicaragua: Marvelous and colorful
60 – 
Traditional Dress of Nepal: Whimsical but charming
61- 
Brilliant Colors of Dagestan: Really fanciful and imaginative
62- 
Kabuki: A classical and traditional Japanese theater
63- 
Boogie-woogie: A famous Swing Dance
64- 
Colors of Samba Dance from Brazil: So lively so amazing
65- 
Ho Jamalo: The favorite folk dance of Sindh
66- 
Odissi from the Eastern India: A historic ritual dance
67- 
Sattriya from Assam: A classical Indian dance
68- 
Fandango: A famous couple dance from Spain
69- 
Maypole from Europe: A fabulous circle folk dance
70- 
Cueca: The national dance of Chile
71- 
Traditional dress of Belgium: A charming European attire
72- 
Traditional dress of the Kingdom of Saudi Arabia
73- 
Colors of Kalash: 5 lovely images of beautiful Kalash girls
74- 
Traditional dress of Georgia: The fantastic Chokha
75- 
Traditional dress of Argentina: The warrior Gaucho costume
76- 
Traditional dress of Venezuela: Not complicated but decorated
77- 
Traditional dress of Latvia: Made with the Linen fabric
78- 
Traditional dress of Romania: So captivating and graceful
79- 
Traditional dress of Estonia: So classy and versatile
80- 
Traditional dress of Armenia: So colorful and diversified
81- 
Traditional dress of Angola: A symbol of the ethnic culture
82- 
Traditional dress of Austria: Dirndl, Lederhosen and Tracht
83-
Traditional dress of Namibia: Far from the modernizations
84- 
Traditional dress of Zambia: Rare but unique in nature
85- 
Traditional dress of Slovakia: Kroje , decorated and cultural
86. 
Traditional dress of Qatar: Pure Arabian endowment
87. 
Traditional dress of Brazil: So bright and colorful in nature
88. 
Traditional dress of Colombia: So iconic in Latin America
89. 
Traditional dress of Chile: So artistic and cultural
90. 
Traditional dress of Mexico: Blend of indigenous and imported cultures
91- 
Traditional dress of Panama: The exotic Mola and La Pollera
92- 
Traditional dress of Cuba: A product of multi-cultural effects
93- 
Traditional dress of Bangladesh: So awesome in its nature and kind
94- 
Traditional dress of Indonesia: Featured with unique patterns and designs
95- 
Traditional dress of Pakistan: Legacy of ancient civilizations
96- 
Traditional dress of Russia: A symbol of ethnic diversity in the Russian Federation
97- 
Traditional dress of England: Outcome of the local and European clothing repercussions
98- 
Traditional dress of Mauritania: Fusion of Berber and African cultures
99- 
Traditional dress of Egypt: Legacy of ancient Kings and Queens
100- 
Traditional dress of Iran: A product of the glorious Persian heritage
101- 
Traditional dress of Iraq & Kurdistan: Offshoot of the ancient acculturation
102- 
Traditional dress of Costa Rica: A charming garb of Latin America
103- 
Traditional dress of Italy: A garnished garment with beauty and style
104- 
Traditional dress of Antigua and Barbuda
105- 
Traditional dress of Eritrea: Proudly worn by Eritreans
106- 
Traditional dress of Ethiopia: Colors of Ethiopian culture
107- 
Traditional dress of France: Found in many versions
108- 
Traditional dress of Spain: Colors and history of Spanish culture