They are the most secular and liberal people from Europe who strongly believe in freedom. They are inhabited in the northwestern part of European continent and possess multiple cultural influences in their society. They have uplifted the values of their low lands in such a way that they're now standing on the optimum of their history. Comprising of twelve small provinces, we're talking about the people of the Netherlands who are known as "Dutch" in the lovely planet.
The most densely populated country in Europe borders on Germany to the east and Belgium to the south. They speak the standard Dutch language in every walk of life. The most beautiful aspect of the Dutch society is; apart from the cultural diversities and demographical differences, they believe in behaving like one strong nation. They give space to each other and tolerance is the twinkling feature of their overall behavior. They are known for their passion in sport and whenever their country is involved in any international competition, they adorn their places with national flags, sing national anthems and dress up in orange everywhere. Carefully stating, the traditional dress of the Netherlands doesn't keep so deep roots as its neighboring Germany but certainly owes distinction. Like Belgium, the basic materials used traditionally in making the outfits were wool, linen and cotton. Traditional costumes for women were adorned with embroidery, floral patterns and divergent printings.
Women costumes from the Marken islands of Holland are considered the most fabulous and stunning in terms of designing and characteristics. It features a red and yellow bolero worn with red on the front and blue or burgundy on the back.  The black skirt, trimmed with orange, along with floral accents on the front and top of hat are integral parts of this dress. The size of skirt is not too big.
For men, traditional Dutch dress included blue and white or gray and white striped shirt with red patches, red button holes, and red stitching. They also wore a doubled breasted vest, normally red in color on top. On the edges of the dress, finishing was made with gold buttons along with a reddish cloth.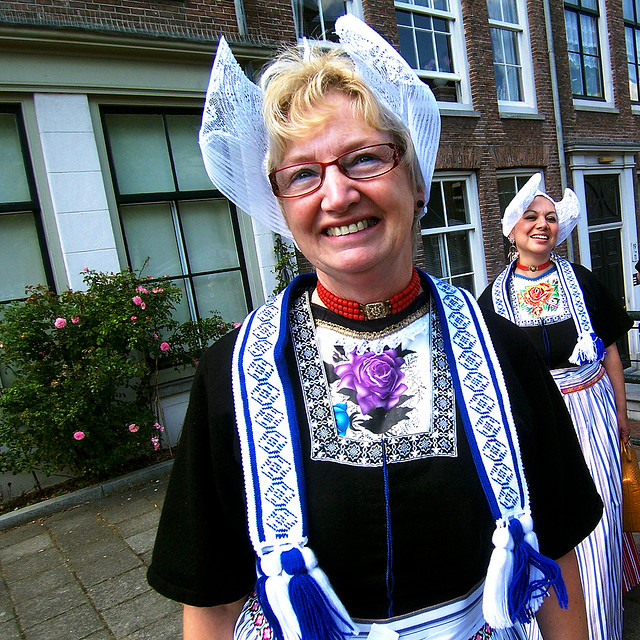 Volendam is deemed as the most cultured part of the Netherlands. It has a strong civilization in background. Marine influences are prominent on the clothing culture of the people of this small territory. The skirts of the women of Volendam are traditionally extending from the waistline to the ankle. Padded hip-rolls are also important credential for women's clothing. Women wore petticoat along with the white colored sleeveless under bodices. Women also fastened around their necks decorated bibs. These were known as kroplaps that were extended to just above the bust line. Aprons bedecked with floral motifs were also used.
The unique part for the traditional men's clothing of Volendam was wide-legged blue short trousers that were fastened with silver metal buttons in a fall-front fashion. Those were normally worn with white shirt and vest in either stripes or red. The main occupation of the men of Volendam and Marken was fishing or shipping so the baggy breeches provided right comfort during their working moves.
The people from Straphorst are comparatively conservative in their approaches and beliefs. Midnight blue or black trousers and a long sleeved shirt were the traditional wears of the men. There were seven rows of plain or ornamental buttons on the shirt. Most of the women believed in hand made and sewn dresses for themselves. Their dresses were embellished with floral pieces and gorgeous hand-made prints. The dark skirt and blouse was accented by a pretty red plaid scarf and a floral hat and dickey.
The women from Zeeland additionally wore brightly colored under bodice with a fitted low-cut jacket. Vertically striped shirts were covered with solid and dark-colored aprons.
Long overdress and starched bonnet with wings at the back made of checked fabric were the dominant factors in the traditional outfits for the Dutch women from Friesland, Holland. There were four hats worn with their costume, the top one a lovely lace hat tightly shirred in the neckline.  Beneath the lace, hat was a gold hat which originally was a thin gold metal helmet. Their dresses came in different varieties and designs. Their dresses were usually made with costly, imported and printed fabrics. Same was the case with the dresses for men of Friesland.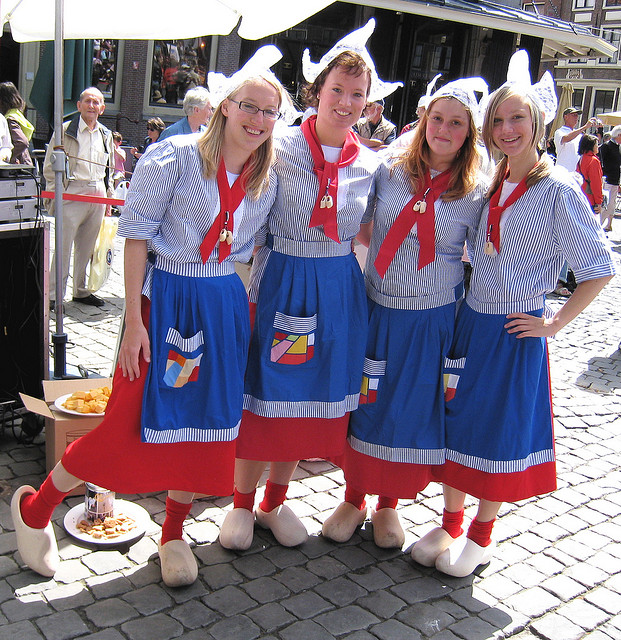 One thing which is common in all types of the traditional dresses for women in the Netherlands is a typical Dutch cap or Dutch bonnet which is usually made of white cotton or lace. This is sometimes characterized by triangular flaps or wings that turn up on either side. It can resemble some styles of nurse's hat.
Women of Holland loved to wear an antique 19th century fashioned jewel necklace made with blood corals. These necklaces were prepared with magnificent skills and complicated art with naturally dyed coral and with a coral cabochon center surrounded by a gold center medallion clasp. The central cabachon was surrounded by around 36 tiny prongs.
The Holland cloth is also simply known as Holland, which is actually a plain woven or dull-finish linen or a cotton cloth made more or less opaque by a glazed or unglazed finish used as furniture covering. Holland is used for window shades, insulation, labels and tags, sign cloth, etc.
The traditional Dutch clogs made with wood are iconic in the culture of the Netherlands. Once worn by the majority were popular for their qualities to keep the feet dry, safe and comfortable. These wooden clogs were usually worn with thick and heavy stockings. These splendid wooden shoes here have been crafted by artisans who have learnt this art from their forefathers.
Today, many factories are involved in the preparation of the typical Dutch clogs in striking colors and brilliant designs. Along with glorious paints, the shoes are also usually adorned with contemporary native prints of Holland. These clogs are specially associated with the Dutch farmers as it is most suited to them while working in the swampy lands of Holland.
Traditional dress of the Netherlands or Holland is bewitched with Dutch colors and is showcased today in the dance festivals held not only in the country but also on international level. The dancers represent their respective territory or province through their regional costumes.
For more interesting posts with the same subject on the Lovely Planet Website, please click the following links;
1-    
Algerian Traditional Dress
2-    
Traditional Dress Of Serbia
3-    
Traditional Dress Of Kosovo
4-    
Traditional Dress Of Libya
5-    
Traditional Dress Of Morocco
6-    
Traditional Dress Of Albania
7-    
Traditional Dress Of Tunisia
8-    
Traditional Dress Of Lebanon
9-    
Traditional Dress Of Bosnia And Herzegovina
10-  
Traditional Dress Of Azerbaijan
11-  
Traditional Dress Of Turkmenistan
12-  
Traditional Dress Of Kazakhstan
13-  
Traditional Dress Of Kyrgyzstan
14-  
Traditional Dress Of Uzbekistan
15-  
Traditional Dress Of Tajikistan
16-  
The Traditional Dress Of Laos
17-  
The Traditional Dress Of Vietnam
18-  
Traditional Dresses Of The World – 1
19-  
Traditional Dress Of Jammu & Kashmir
20-  
Ottoman Dresses From Turkey
21-  
Colors Of Cholistan
22-  
Cultural Dresses Of Balochistan
23-  
Lehenga Choli Or Ghagra Choli
24-  
Sari Or Saree : Traditional Dress Of Women In South Asia
25-  
Ajrak , The Traditional Attire From Sindh , Pakistan
26-  
The Traditional Tais Of East Timor
27-  
Shalwar Kameez: The Popular Dress Of South Asia
28-  
Churidar Pajama: The Favorite South Asian Attire
29-  
Pakistani Bridal Dress
30-  
Rilli, Sindhi Quilt Art
31-  
Fantastic, Alluring Khussa Shoes
32-  
Customs And Traditions Of Kalash Tribe
33-  
Hanfu, The Classical Chinese Dress
34-  
London Fashion Week
35-  
Fashion Week Milan: The Glamorous Event Of Italy
36-  
New York Fashion Week
37-  
Paris Fashion Week
38- 
Traditional Dress Of Jordan
39- 
Traditional Dress Of Syria
40- 
Traditional Dress Of Afghanistan
41- 
Traditional Dress Of Palestine
42- 
Traditional Dress Of Oman
43-
Traditional Dress Of Nigeria
44- 
Traditional Dress Of Hungary
45-
Traditional Dress Of Ukraine
46- 
Malaysian Traditional Dress
47- 
Traditional Dress Of Kenya
48- 
Traditional Eastern Brides
49- 
Traditional Dress Of Bulgaria
50- 
Traditional dress of Uganda
51- 
Traditional Dress of Iceland
52- 
Traditional Dress of Croatia
53- 
traditional dress of Norway
54- 
Traditional dress of Finland
55- 
Traditional Dress of Philippines
56- 
Traditional dress of Denmark
57- 
Traditional dress of Belarus
58- 
Traditional Dress of Puerto Rico
59- 
Traditional Dress of Nicaragua: Marvelous and colorful
60 – 
Traditional Dress of Nepal: Whimsical but charming
61- 
Brilliant Colors of Dagestan: Really fanciful and imaginative
62- 
Kabuki: A classical and traditional Japanese theater
63- 
Boogie-woogie: A famous Swing Dance
64- 
Colors of Samba Dance from Brazil: So lively so amazing
65- 
Ho Jamalo: The favorite folk dance of Sindh
66- 
Odissi from the Eastern India: A historic ritual dance
67- 
Sattriya from Assam: A classical Indian dance
68- 
Fandango: A famous couple dance from Spain
69- 
Maypole from Europe: A fabulous circle folk dance
70- 
Cueca: The national dance of Chile
71- 
Traditional dress of Belgium: A charming European attire
72- 
Traditional dress of the Kingdom of Saudi Arabia
73- 
Colors of Kalash: 5 lovely images of beautiful Kalash girls
74- 
Traditional dress of Georgia: The fantastic Chokha
75- 
Traditional dress of Argentina: The warrior Gaucho costume
76- 
Traditional dress of Venezuela: Not complicated but decorated
77- 
Traditional dress of Latvia: Made with the Linen fabric
78- 
Traditional dress of Romania: So captivating and graceful
79- 
Traditional dress of Estonia: So classy and versatile
80- 
Traditional dress of Armenia: So colorful and diversified
81- 
Traditional dress of Angola: A symbol of the ethnic culture
82- 
Traditional dress of Austria: Dirndl, Lederhosen and Tracht
83-
Traditional dress of Namibia: Far from the modernizations
84- 
Traditional dress of Zambia: Rare but unique in nature
85- 
Traditional dress of Slovakia: Kroje , decorated and cultural
86. 
Traditional dress of Qatar: Pure Arabian endowment
87. 
Traditional dress of Brazil: So bright and colorful in nature
88. 
Traditional dress of Colombia: So iconic in Latin America
89. 
Traditional dress of Chile: So artistic and cultural
90. 
Traditional dress of Mexico: Blend of indigenous and imported cultures
91- 
Traditional dress of Panama: The exotic Mola and La Pollera
92- 
Traditional dress of Cuba: A product of multi-cultural effects
93- 
Traditional dress of Bangladesh: So awesome in its nature and kind
94- 
Traditional dress of Indonesia: Featured with unique patterns and designs
95- 
Traditional dress of Pakistan: Legacy of ancient civilizations
96- 
Traditional dress of Russia: A symbol of ethnic diversity in the Russian Federation
97- 
Traditional dress of England: Outcome of the local and European clothing repercussions
98- 
Traditional dress of Mauritania: Fusion of Berber and African cultures
99- 
Traditional dress of Egypt: Legacy of ancient Kings and Queens
100- 
Traditional dress of Iran: A product of the glorious Persian heritage
101- 
Traditional dress of Iraq & Kurdistan: Offshoot of the ancient acculturation
102- 
Traditional dress of Costa Rica: A charming garb of Latin America
103- 
Traditional dress of Italy: A garnished garment with beauty and style
104- 
Traditional dress of Antigua and Barbuda
105- 
Traditional dress of Eritrea: Proudly worn by Eritreans
106- 
Traditional dress of Ethiopia: Colors of Ethiopian culture
107- 
Traditional dress of France: Found in many versions
108- 
Traditional dress of Spain: Colors and history of Spanish culture
109- 
Traditional dress of Germany: The identical emblem of Germanic peoples
110- 
Traditional dress of Japan: A fancy range of colors and designs
111- 
Traditional dress of Poland: Truly symbolic in the Polish culture