A country by taking the name of which, at once our thoughts begin to float on the ocean of culture, civilization and traditions; is known as Greece in the lovely planet. This fabulous European country is located on the southern part of Europe, which is mainly a peninsular country, possessing an archipelago of about 3,000 islands.  Most of us know that the Greek culture has been evolved over thousands of year and is adorned with the influences of the most ancient civilizations of the world.
There is enormous amount of material that can be produced on the Greek culture which has probably one of the longest histories on earth. But let us mainly focus upon the subject and i-e traditional dress of Greece which is the historic Greek garb having antiquity characteristics. The story of the traditional Greek outfits start with the homemade clothing known as chiton, peplos, himation and chlamys. These all ancient Greek clothing consisted of lengths of linen or wool fabric, which generally was rectangular. Men's robes went down to their knees, whereas women's went down to their ankles. Most of these garments were simply draped over the bodies.
During the Byzantine era, the designs of the outfits were changed and more colors and patterns were introduced in Greece. New trends for embroideries were adopted and the usage of the imported silk and other fabrics became common. Conservativeness and modesty were though the key features of these Byzantine traditional costumes. Heads were normally covered by a variety of head-cloths and veils and different types of shoes were in use as well. The Greek dancers of that time wore short sleeves or sleeveless dresses, which may or may not have a lighter sleeve from an undergarment below. They had tight wide belts, and their skirts had a flared and differently colored element.
From the mid of the 15th century, Greece was a part of the great Ottoman empire till its declaration of independence in 1821. During that era, fashion in clothing was greatly flourished and many regional costumes were developed. Due to strict legal regulations, different religious communities were bound to wear distinct types of clothes. The well to do Greeks also got inspired from the European style clothing and a fusion of east and west was developed in that era in clothing.
Today, if we see the traditional costume worn by Greeks in various national festivals and cultural events, that is the invention of King Otto and Queen Amalia, respectively, who arrived in Greece in the late 1830's. These dresses became the identical emblem of the Greek people. Queen Amalia gave the design of Amalia dress as the court dress. Amalia dress was having a loose-fitting, white cotton or silk shirt, often decorated with lace at the neck and handcuffs, over which a richly embroidered jacket or vest is worn, usually of dark blue or claret velvet. Today, Amalia Costume seems to have lost much of its symbolic content.
In different parts of Greece, women wore a variety of traditional dresses but the main features are almost same. They wore a simple cotton dress as a base, with a sleeveless wool vest over it. Different types of aprons, colorful sashes and large bright colored scarves were also integral accessories for the dresses of Greek women.
Another traditional outfit that was once worn as favorite attire was the karagouna. This dress was bedecked with tremendous embroidery and colorful elements and it included many layers, starting with a black-fringed white under dress. The Greek women also used some outer garment over this dress made with embroidered wool followed by a long white sleeveless coat and then another embroidered waistcoat. This was all topped by a red apron. Other magnificent accessories were a head kerchief and chains of gold coins across their foreheads and bosoms.
In the central parts of Greece, in some villages, the women traditionally wore a simple costume which is known as Desfina. It had two chemises one on top of the other, a short sleeveless white coat kept in position with a characteristic of the region dark blue striped belt, as well as the narrow long apron with yellow or gold cord embroidery. Finally, a white butter muslin kerchief ornamented with small pompoms or 'chenille' fringe was also worn. The costume is finished with strands of gold coins worn across the chest and a matching set of coin earring.
Well, when it comes to Greek men, their traditional dress which is also considered as the national dress for men in Greece is Tsolias or Foustanella. This dress is specially associated with soldier's costume and is mainly found in the mountainous areas of Greece. Foustanella skirt consists of 400 pleats symbolizing the years during which Greece was under the Ottoman rule. Foustanella is also spelled as Fustanella. Some scholars state that the fustanella was derived from a series of classical Greek garments such as the chiton (or tunic) and the chitonium (or short military tunic). Although some scholars have claimed that the fustanella was introduced into Greece by Albanians in the 15th century, archaeological evidence shows that the fustanella was already in common use in Greece as early as the 12th century, predating the arrival of Albanian-speakers on Greek lands by several centuries.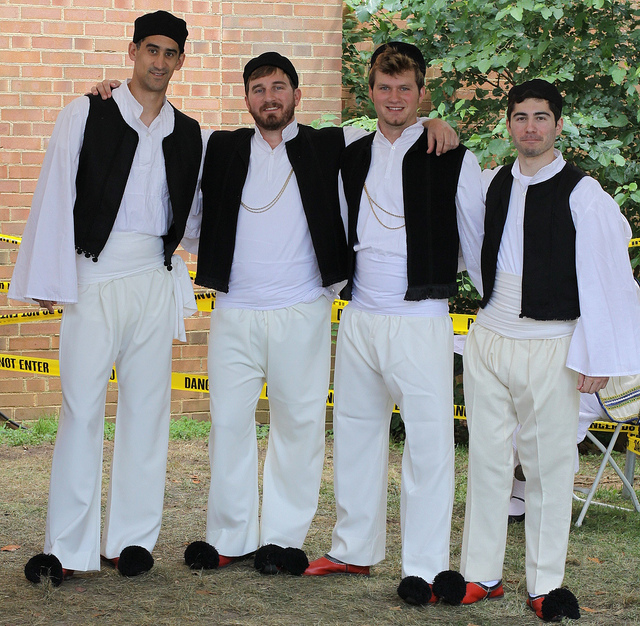 Vraka are Greek men's Baggy trousers worn with fullness between the legs, they were traditionally worn in Crete, Cyprus, Ionian and Aegean Islands and coastal regions of Greece. There is variation in the Vraka costume for men in different regions in Greece. It generally consists of a white undergarment, white shirt, baggy trousers, sleeveless crossed waistcoat, sash, outer jacket and tasseled cap.
There is a tremendous variety in the traditional dress of Greece which truly describes the colors of Greek culture. The Sarakatsani people of Greece were shepherds by occupation; they were particularly known for their lavish and heavily embroidered costumes. The women wore layered blouses and skirts. There are different regional versions of the Sarakatsan female costume. The traditional Sarakatsani settlements, dress and costumes make these people a distinct social and cultural group, as part of the collective Greek heritage.
There are also numerous different patterns available for the folk costumes in Macedonia. Every type of the traditional outfit from this part of Greece is recognized for its own distinct features, but commonly the geometric designs and presence of red, black and white colors in these Greek garbs are existed.
In Macedonia, the traditional costume of the Mariovo area is rated very high for its spectacular nature and stunning features. It is highly decorative and embellished costume especially abounding in metal and bead ornaments. The costume is a favorite bridal attire in Greece which generally includes golema smock, embroidered sleeves, heavily enriched borders around the skirt, horseshoes, knitted of multi-colored woolen thread and worn on the arms below the elbow cuffs, upper garment of broadcloth called "valanka", a phenomenal apron and many other accessories that may be optionally added to the dress.
Macedonian men wear vests, white linen shirts, pants resembling English riding breeches, and a pojas (a wide cloth belt).
Traditional dress of Greece which truly represents the fantastic colors of Greek culture is a graceful specialty adorned with captivating decorations and beguiling jewelry. This dress preserves the traces of ancient Greek cultural influences and nowadays, it is proudly showcased by Greek people and folk performers on national occasions, holidays and marriage ceremonies.
For more interesting posts with the same subject on the Lovely Planet Website, please click the following links;
1-    
Algerian Traditional Dress
2-    
Traditional Dress Of Serbia
3-    
Traditional Dress Of Kosovo
4-    
Traditional Dress Of Libya
5-    
Traditional Dress Of Morocco
6-    
Traditional Dress Of Albania
7-    
Traditional Dress Of Tunisia
8-    
Traditional Dress Of Lebanon
9-    
Traditional Dress Of Bosnia And Herzegovina
10-  
Traditional Dress Of Azerbaijan
11-  
Traditional Dress Of Turkmenistan
12-  
Traditional Dress Of Kazakhstan
13-  
Traditional Dress Of Kyrgyzstan
14-  
Traditional Dress Of Uzbekistan
15-  
Traditional Dress Of Tajikistan
16-  
The Traditional Dress Of Laos
17-  
The Traditional Dress Of Vietnam
18-  
Traditional Dresses Of The World – 1
19-  
Traditional Dress Of Jammu & Kashmir
20-  
Ottoman Dresses From Turkey
21-  
Colors Of Cholistan
22-  
Cultural Dresses Of Balochistan
23-  
Lehenga Choli Or Ghagra Choli
24-  
Sari Or Saree : Traditional Dress Of Women In South Asia
25-  
Ajrak , The Traditional Attire From Sindh , Pakistan
26-  
The Traditional Tais Of East Timor
27-  
Shalwar Kameez: The Popular Dress Of South Asia
28-  
Churidar Pajama: The Favorite South Asian Attire
29-  
Pakistani Bridal Dress
30-  
Rilli, Sindhi Quilt Art
31-  
Fantastic, Alluring Khussa Shoes
32-  
Customs And Traditions Of Kalash Tribe
33-  
Hanfu, The Classical Chinese Dress
34-  
London Fashion Week
35-  
Fashion Week Milan: The Glamorous Event Of Italy
36-  
New York Fashion Week
37-  
Paris Fashion Week
38- 
Traditional Dress Of Jordan
39- 
Traditional Dress Of Syria
40- 
Traditional Dress Of Afghanistan
41- 
Traditional Dress Of Palestine
42- 
Traditional Dress Of Oman
43-
Traditional Dress Of Nigeria
44- 
Traditional Dress Of Hungary
45-
Traditional Dress Of Ukraine
46- 
Malaysian Traditional Dress
47- 
Traditional Dress Of Kenya
48- 
Traditional Eastern Brides
49- 
Traditional Dress Of Bulgaria
50- 
Traditional dress of Uganda
51- 
Traditional Dress of Iceland
52- 
Traditional Dress of Croatia
53- 
traditional dress of Norway
54- 
Traditional dress of Finland
55- 
Traditional Dress of Philippines
56- 
Traditional dress of Denmark
57- 
Traditional dress of Belarus
58- 
Traditional Dress of Puerto Rico
59- 
Traditional Dress of Nicaragua: Marvelous and colorful
60 – 
Traditional Dress of Nepal: Whimsical but charming
61- 
Brilliant Colors of Dagestan: Really fanciful and imaginative
62- 
Kabuki: A classical and traditional Japanese theater
63- 
Boogie-woogie: A famous Swing Dance
64- 
Colors of Samba Dance from Brazil: So lively so amazing
65- 
Ho Jamalo: The favorite folk dance of Sindh
66- 
Odissi from the Eastern India: A historic ritual dance
67- 
Sattriya from Assam: A classical Indian dance
68- 
Fandango: A famous couple dance from Spain
69- 
Maypole from Europe: A fabulous circle folk dance
70- 
Cueca: The national dance of Chile
71- 
Traditional dress of Belgium: A charming European attire
72- 
Traditional dress of the Kingdom of Saudi Arabia
73- 
Colors of Kalash: 5 lovely images of beautiful Kalash girls
74- 
Traditional dress of Georgia: The fantastic Chokha
75- 
Traditional dress of Argentina: The warrior Gaucho costume
76- 
Traditional dress of Venezuela: Not complicated but decorated
77- 
Traditional dress of Latvia: Made with the Linen fabric
78- 
Traditional dress of Romania: So captivating and graceful
79- 
Traditional dress of Estonia: So classy and versatile
80- 
Traditional dress of Armenia: So colorful and diversified
81- 
Traditional dress of Angola: A symbol of the ethnic culture
82- 
Traditional dress of Austria: Dirndl, Lederhosen and Tracht
83-
Traditional dress of Namibia: Far from the modernizations
84- 
Traditional dress of Zambia: Rare but unique in nature
85- 
Traditional dress of Slovakia: Kroje , decorated and cultural
86. 
Traditional dress of Qatar: Pure Arabian endowment
87. 
Traditional dress of Brazil: So bright and colorful in nature
88. 
Traditional dress of Colombia: So iconic in Latin America
89. 
Traditional dress of Chile: So artistic and cultural
90. 
Traditional dress of Mexico: Blend of indigenous and imported cultures
91- 
Traditional dress of Panama: The exotic Mola and La Pollera
92- 
Traditional dress of Cuba: A product of multi-cultural effects
93- 
Traditional dress of Bangladesh: So awesome in its nature and kind
94- 
Traditional dress of Indonesia: Featured with unique patterns and designs
95- 
Traditional dress of Pakistan: Legacy of ancient civilizations
96- 
Traditional dress of Russia: A symbol of ethnic diversity in the Russian Federation
97- 
Traditional dress of England: Outcome of the local and European clothing repercussions
98- 
Traditional dress of Mauritania: Fusion of Berber and African cultures
99- 
Traditional dress of Egypt: Legacy of ancient Kings and Queens
100- 
Traditional dress of Iran: A product of the glorious Persian heritage
101- 
Traditional dress of Iraq & Kurdistan: Offshoot of the ancient acculturation
102- 
Traditional dress of Costa Rica: A charming garb of Latin America
103- 
Traditional dress of Italy: A garnished garment with beauty and style
104- 
Traditional dress of Antigua and Barbuda
105- 
Traditional dress of Eritrea: Proudly worn by Eritreans
106- 
Traditional dress of Ethiopia: Colors of Ethiopian culture
107- 
Traditional dress of France: Found in many versions
108- 
Traditional dress of Spain: Colors and history of Spanish culture
109- 
Traditional dress of Germany: The identical emblem of Germanic peoples
110- 
Traditional dress of Japan: A fancy range of colors and designs
111- 
Traditional dress of Poland: Truly symbolic in the Polish culture
112- 
Traditional dress of the Netherlands or Holland: Bewitched with Dutch colors