IRELAND is a small European country located in the north of Atlantic Ocean adjacent to the Great Britain in the west. This country is although less populated but has an ancient and significant history. It is basically an island which is officially known today to the world as "Republic of Ireland". Northern Ireland is a part of the United Kingdom. Ireland is a lush green country comprising of thick woodlands and it also includes numerous navigable inlands water bodies. This tiny but beautiful part of the lovely planet was probably inhabited by humans after 8000 BC and historically, the country sparkles with its magnificent Gaelic features.
Irish heritage is well-known for having its tremendous influences over many other European and British cultures. These days, Ireland has politically the parliamentary democracy and is a member of the European Union. The clothing fashions of Ireland varied with the passage of time that started with simplicity and gradually enriched with modern effects. Traditional dress of Ireland as mentioned above was quite uncomplicated but well made and elementary in nature.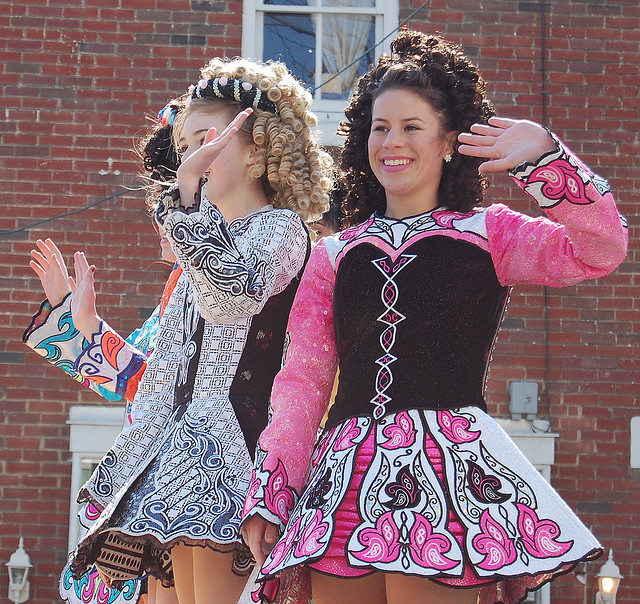 We although have no perfect knowledge about the ancient design of the Irish clothing but it is a strong belief that the Irish people, both men and women wore simple knee-length outfits made with wool. The countryside peasants used to wear liene which was the garment of the highlands of Scotland and Ireland. Liene was actually a long tunic shirt and its design was attested by the stone carvings found on the Cross of Muiredach. Men wore just the leine, while women often used these shirts as undergarments covered by open-sleeved dresses. Men also wore lene with a woolen jacket, breeches and a type of shaggy cloak called a mantle. The mantle was fastened at the front with a bodkin or brooch.
Kilt has definite origin from Scotland but it was also worn by the Irish people as formal attire as a symbol of Gaelic identity. Lein-croich was a long tunic traditional dress made with solid colour cloth and had a slight variation with the Scottish kilt. Generally Irish Kilt was preferred with saffron and green colors and sometimes with blackish background. The Irish Regiments who served the British Army also adopted this form of clothing as their official dress code. 
The early apparel for the Irish women was also quite simple and usually made with wool fabric. These dresses were also designed almost like the men's ones with a smaller distinctions. They were also wearing Leines with normally very wide sleeves. These skirts were comparatively longer to the men's leine. By the fifteenth century, women were wearing long dresses made from wool cloth, often decorated with ribbons and other accessories.
Ideally considered traditional dresses for Irish women were in fashion during the 19th century which are today parts of the cultural segments of the Irish society. Women dancers of Ireland showcase the simple but colorful outfits embellished with intricate embroidered patterns, and each school of dancing has its own unique designs. Lace collars became quite fashionable at this time, as did the green colour associated with Ireland today.
Officially, there is no declaration of any national costume by the Irish people but what is generally considered; the dresses worn by the step dancers and folklore presenters during different festivals and on national events.  There is a wide range of the traditional Irish dresses but commonly the ballerinas are seen in celtic knot work-covered dancing frocks and the males wearing the solid coloured kilts. 
Galway's shawl and the fishermen's sweater are also popular in the traditional Irish wear. The Galway shawl is a wide rectangle woven on jacquards loom and incorporating much symbolic design. These shawls are prepared on large scale today and the tourists take them as the souvenirs. The famous Aran sweaters are made from water-repelling wool and are very breathable. These are traditionally cream-colored and also made as cardigans or pullovers.
The Irish men are also commonly seen using the linen driving caps. These hats are normally enriched with attractive patchworks and are generally found in neutral colors.
Irish people are known for being a patriotic nation who strongly believe in preserving their nationalism. Although they don't have large population on earth but still; their culture particularly the ethnic dancing, have attracted immensely the people of different nationalities. In this way, the charm of the traditional dress of Ireland has also largely increased all over the world for its alluring colors, patterns and attractiveness.
For more interesting posts with the same subject on the Lovely Planet Website, please click the following links;
1-    
Algerian Traditional Dress
2-    
Traditional Dress Of Serbia
3-    
Traditional Dress Of Kosovo
4-    
Traditional Dress Of Libya
5-    
Traditional Dress Of Morocco
6-    
Traditional Dress Of Albania
7-    
Traditional Dress Of Tunisia
8-    
Traditional Dress Of Lebanon
9-    
Traditional Dress Of Bosnia And Herzegovina
10-  
Traditional Dress Of Azerbaijan
11-  
Traditional Dress Of Turkmenistan
12-  
Traditional Dress Of Kazakhstan
13-  
Traditional Dress Of Kyrgyzstan
14-  
Traditional Dress Of Uzbekistan
15-  
Traditional Dress Of Tajikistan
16-  
The Traditional Dress Of Laos
17-  
The Traditional Dress Of Vietnam
18-  
Traditional Dresses Of The World – 1
19-  
Traditional Dress Of Jammu & Kashmir
20-  
Ottoman Dresses From Turkey
21-  
Colors Of Cholistan
22-  
Cultural Dresses Of Balochistan
23-  
Lehenga Choli Or Ghagra Choli
24-  
Sari Or Saree : Traditional Dress Of Women In South Asia
25-  
Ajrak , The Traditional Attire From Sindh , Pakistan
26-  
The Traditional Tais Of East Timor
27-  
Shalwar Kameez: The Popular Dress Of South Asia
28-  
Churidar Pajama: The Favorite South Asian Attire
29-  
Pakistani Bridal Dress
30-  
Rilli, Sindhi Quilt Art
31-  
Fantastic, Alluring Khussa Shoes
32-  
Customs And Traditions Of Kalash Tribe
33-  
Hanfu, The Classical Chinese Dress
34-  
London Fashion Week
35-  
Fashion Week Milan: The Glamorous Event Of Italy
36-  
New York Fashion Week
37-  
Paris Fashion Week
38- 
Traditional Dress Of Jordan
39- 
Traditional Dress Of Syria
40- 
Traditional Dress Of Afghanistan
41- 
Traditional Dress Of Palestine
42- 
Traditional Dress Of Oman
43-
Traditional Dress Of Nigeria
44- 
Traditional Dress Of Hungary
45-
Traditional Dress Of Ukraine
46- 
Malaysian Traditional Dress
47- 
Traditional Dress Of Kenya
48- 
Traditional Eastern Brides
49- 
Traditional Dress Of Bulgaria
50- 
Traditional dress of Uganda
51- 
Traditional Dress of Iceland
52- 
Traditional Dress of Croatia
53- 
traditional dress of Norway
54- 
Traditional dress of Finland
55- 
Traditional Dress of Philippines
56- 
Traditional dress of Denmark
57- 
Traditional dress of Belarus
58- 
Traditional Dress of Puerto Rico
59- 
Traditional Dress of Nicaragua: Marvelous and colorful
60 – 
Traditional Dress of Nepal: Whimsical but charming
61- 
Brilliant Colors of Dagestan: Really fanciful and imaginative
62- 
Kabuki: A classical and traditional Japanese theater
63- 
Boogie-woogie: A famous Swing Dance
64- 
Colors of Samba Dance from Brazil: So lively so amazing
65- 
Ho Jamalo: The favorite folk dance of Sindh
66- 
Odissi from the Eastern India: A historic ritual dance
67- 
Sattriya from Assam: A classical Indian dance
68- 
Fandango: A famous couple dance from Spain
69- 
Maypole from Europe: A fabulous circle folk dance
70- 
Cueca: The national dance of Chile
71- 
Traditional dress of Belgium: A charming European attire
72- 
Traditional dress of the Kingdom of Saudi Arabia
73- 
Colors of Kalash: 5 lovely images of beautiful Kalash girls
74- 
Traditional dress of Georgia: The fantastic Chokha
75- 
Traditional dress of Argentina: The warrior Gaucho costume
76- 
Traditional dress of Venezuela: Not complicated but decorated
77- 
Traditional dress of Latvia: Made with the Linen fabric
78- 
Traditional dress of Romania: So captivating and graceful
79- 
Traditional dress of Estonia: So classy and versatile
80- 
Traditional dress of Armenia: So colorful and diversified
81- 
Traditional dress of Angola: A symbol of the ethnic culture
82- 
Traditional dress of Austria: Dirndl, Lederhosen and Tracht
83-
Traditional dress of Namibia: Far from the modernizations
84- 
Traditional dress of Zambia: Rare but unique in nature
85- 
Traditional dress of Slovakia: Kroje , decorated and cultural
86. 
Traditional dress of Qatar: Pure Arabian endowment
87. 
Traditional dress of Brazil: So bright and colorful in nature
88. 
Traditional dress of Colombia: So iconic in Latin America
89. 
Traditional dress of Chile: So artistic and cultural
90. 
Traditional dress of Mexico: Blend of indigenous and imported cultures
91- 
Traditional dress of Panama: The exotic Mola and La Pollera
92- 
Traditional dress of Cuba: A product of multi-cultural effects
93- 
Traditional dress of Bangladesh: So awesome in its nature and kind
94- 
Traditional dress of Indonesia: Featured with unique patterns and designs
95- 
Traditional dress of Pakistan: Legacy of ancient civilizations
96- 
Traditional dress of Russia: A symbol of ethnic diversity in the Russian Federation
97- 
Traditional dress of England: Outcome of the local and European clothing repercussions
98- 
Traditional dress of Mauritania: Fusion of Berber and African cultures
99- 
Traditional dress of Egypt: Legacy of ancient Kings and Queens
100- 
Traditional dress of Iran: A product of the glorious Persian heritage
101- 
Traditional dress of Iraq & Kurdistan: Offshoot of the ancient acculturation
102- 
Traditional dress of Costa Rica: A charming garb of Latin America
103- 
Traditional dress of Italy: A garnished garment with beauty and style
104- 
Traditional dress of Antigua and Barbuda
105- 
Traditional dress of Eritrea: Proudly worn by Eritreans
106- 
Traditional dress of Ethiopia: Colors of Ethiopian culture
107- 
Traditional dress of France: Found in many versions
108- 
Traditional dress of Spain: Colors and history of Spanish culture
109- 
Traditional dress of Germany: The identical emblem of Germanic peoples
110- 
Traditional dress of Japan: A fancy range of colors and designs
111- 
Traditional dress of Poland: Truly symbolic in the Polish culture
112- 
Traditional dress of the Netherlands or Holland: Bewitched with Dutch colors
113- 
Traditional dress of Greece: Colors of Greek culture
114- 
Traditional dress of the Czech Republic: Legacy of the Bohemian and Moravian cultures
115- 
Traditional dress of Benin
116- 
Traditional dress of Burkina Faso: Modest and fine in general