Vibrant and magnifying colored clothing is one of the most alluring segments of the great African heritage. We shall discuss in this article about the traditional outfits from the vast southern region of the African continent. Obviously the featured country will be the Republic of South Africa which is a large populous and multiethnic country mostly dominated by the people of Sub-Saharan ancestry. As the name describes itself, it is located on the southern tip of Africa. South Africa has the oldest human inhabitation background on the lovely planet as the traces of ancient archaeological and human fossils are discovered over there.
South Africa had the earliest settlers, the native herd people speaking the ancient Bantu language. Later the significant community is known as the Khosian people. But the most famous of all of them are the two substantial ethnic communities, who are living for centuries in this territory and are called as the Xhosa and Zulu peoples. Later history of South Africa tells about the white people domination who came from Europe and started their dwelling in this part of the world. Portuguese explorers attracted the other European nations and it remained the colony of the Netherlands and the Great Britain.
When we talk about the traditional dress of the Republic of South Africa, we'll be mostly covering the tribal outfits worn by the notable ethnic groups of the country. Historians are not dead sure about the exact clothing customs of the ancient South Africans. It is really hard to keep alive the custom of wearing the pure traditional outfits, but on special occasions, the locals feel proud to wear their respective ethnic clothing. Many designers in South Africa are today involved in making the traditional dresses and people love to wear these exciting stuffs.
Variety of cloth materials are used like Shweshwe, Siswati prints and other fabrics to prepare the traditional wears. It is also common to observe the South Africans wearing the awesome traditional costumes adorned with modern touches in the festive events.
Let's have a short background about the traditional South African costumes that were prepared mostly in the past with plants, animal skins and brayed hides. These were gradually replaced by the induction of imported woven fabrics and the changes occurred. There are easy distinctions in attires prevailing in this part of the lovely planet through which one can easily guess the status, age and ethnic association of a South African. Through dresses, the men and boys are also differentiated with women and girls and even married persons with the unmarried ones.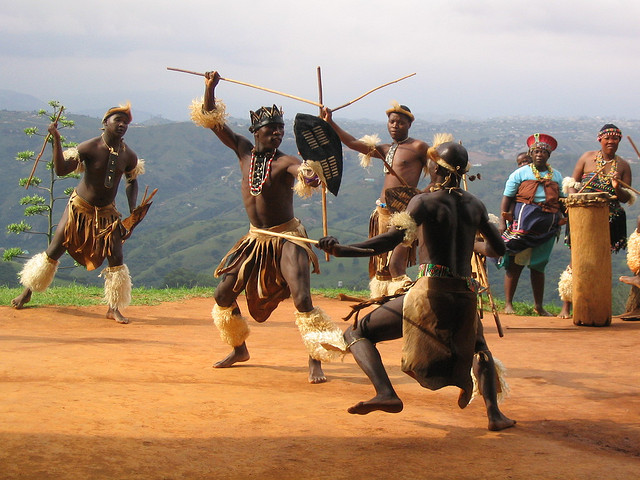 The largest ethnic groups of South Africa Zulu, who are actually considered the descendants of the Nguni tribes, live in the South African province, 'KwaZulu-Natal'. They speak Zulu language which is the most widely spoken language in South Africa. The young kids and infants in Zulu tribes are usually seen with naked bodies. Sometimes only a string of grass is wrapped around the private parts. When the youngster reaches puberty, the genital area is covered by a piece of beadwork. A pubescent Zulu girl only wears a white cloth wrapped around her body which is a taboo for a married Zulu woman. Black colour dresses are worn by Zulu people in the mourning events. Very precisely, the traditional clothing of Zulus consists of unique varieties which they wear in festive occasions and in cultural ceremonies.
Let's also highlight the feature of another prominent ethnic group, which are known as Swazi people. When Swazi boy becomes adult, he uses a traditional penile trip cover along with a kilt of animal tails or a calf skin hips coverings. The young girls wear white aprons like the Zulu girls during their childhood but when they become mature, they are further permitted to wear the red coloured garments and gradually are disallowed to wear the white ones. Spotted colored costumes are only for the married Swazi women.
In the nutshell, the women in South Africa have the traditional wear consisting of woven skirts, blankets, aprons and cloaks decorated with magnificent motifs. They also wear exotic jewelry which is prepared with stunning metal materials including copper, grasses and beads. In the past, there was no concept to hide the chest among the South African women but gradually with the encounters of European missionaries, the breasts were started to cover. The traditional breast covering of a South African woman is a wrap tucked under the arms, tied at back or around the neck.
The formal and ceremonial attire of traditional nature of almost all of the ethnic tribes are enormously refined and are usually embellished with leaves and other green plants. As mentioned earlier the women love to wear the ornaments made with grass garments including rings, wrist bands, anklets and bracelets. Women of some tribes also get ready in formal occasions with half naked bodies whitened with clay or powdered sandstones.
Western settlers introduced in their own dresses to the Afrikaans and the traditional European wear might be the tight bodice along with pointed fronts and lace behind for women. Other accessories were neckerchief, classic cap and linen collars. The different colored skirts were in run which were usually full and gathered or pleated around the waist. Military coats, pagoda hats, brightly colored kerchiefs, waistcoats and jackets were the classic accessories for men's wear. The woolen blankets were replaced by typical cloaks by men. These were immensely popular in the urban areas of the country.
A Madiba shirt is a batik silk shirt, usually adorned in a bright and colourful print. The Madiba shirt was designed by Desré Buirski and first worn by the then newly elected president at the dress rehearsal of the opening of South Africa's first democratic Parliament in May 1994. Mandela wore this style of shirt many times afterwards.
Traditional dress of the Republic of South Africa in it pure form is somehow existing in the remote ethnic colonies of the country. African block-patterned fabrics, wrapped around the body in artistic way are common in the tribe's people even today.
For more interesting posts with the same subject on the Lovely Planet Website, please click the following links;
1-    
Algerian Traditional Dress
2-    
Traditional Dress Of Serbia
3-    
Traditional Dress Of Kosovo
4-    
Traditional Dress Of Libya
5-    
Traditional Dress Of Morocco
6-    
Traditional Dress Of Albania
7-    
Traditional Dress Of Tunisia
8-    
Traditional Dress Of Lebanon
9-    
Traditional Dress Of Bosnia And Herzegovina
10-  
Traditional Dress Of Azerbaijan
11-  
Traditional Dress Of Turkmenistan
12-  
Traditional Dress Of Kazakhstan
13-  
Traditional Dress Of Kyrgyzstan
14-  
Traditional Dress Of Uzbekistan
15-  
Traditional Dress Of Tajikistan
16-  
The Traditional Dress Of Laos
17-  
The Traditional Dress Of Vietnam
18-  
Traditional Dresses Of The World – 1
19-  
Traditional Dress Of Jammu & Kashmir
20-  
Ottoman Dresses From Turkey
21-  
Colors Of Cholistan
22-  
Cultural Dresses Of Balochistan
23-  
Lehenga Choli Or Ghagra Choli
24-  
Sari Or Saree : Traditional Dress Of Women In South Asia
25-  
Ajrak , The Traditional Attire From Sindh , Pakistan
26-  
The Traditional Tais Of East Timor
27-  
Shalwar Kameez: The Popular Dress Of South Asia
28-  
Churidar Pajama: The Favorite South Asian Attire
29-  
Pakistani Bridal Dress
30-  
Rilli, Sindhi Quilt Art
31-  
Fantastic, Alluring Khussa Shoes
32-  
Customs And Traditions Of Kalash Tribe
33-  
Hanfu, The Classical Chinese Dress
34-  
London Fashion Week
35-  
Fashion Week Milan: The Glamorous Event Of Italy
36-  
New York Fashion Week
37-  
Paris Fashion Week
38- 
Traditional Dress Of Jordan
39- 
Traditional Dress Of Syria
40- 
Traditional Dress Of Afghanistan
41- 
Traditional Dress Of Palestine
42- 
Traditional Dress Of Oman
43-
Traditional Dress Of Nigeria
44- 
Traditional Dress Of Hungary
45-
Traditional Dress Of Ukraine
46- 
Malaysian Traditional Dress
47- 
Traditional Dress Of Kenya
48- 
Traditional Eastern Brides
49- 
Traditional Dress Of Bulgaria
50- 
Traditional dress of Uganda
51- 
Traditional Dress of Iceland
52- 
Traditional Dress of Croatia
53- 
traditional dress of Norway
54- 
Traditional dress of Finland
55- 
Traditional Dress of Philippines
56- 
Traditional dress of Denmark
57- 
Traditional dress of Belarus
58- 
Traditional Dress of Puerto Rico
59- 
Traditional Dress of Nicaragua: Marvelous and colorful
60 – 
Traditional Dress of Nepal: Whimsical but charming
61- 
Brilliant Colors of Dagestan: Really fanciful and imaginative
62- 
Kabuki: A classical and traditional Japanese theater
63- 
Boogie-woogie: A famous Swing Dance
64- 
Colors of Samba Dance from Brazil: So lively so amazing
65- 
Ho Jamalo: The favorite folk dance of Sindh
66- 
Odissi from the Eastern India: A historic ritual dance
67- 
Sattriya from Assam: A classical Indian dance
68- 
Fandango: A famous couple dance from Spain
69- 
Maypole from Europe: A fabulous circle folk dance
70- 
Cueca: The national dance of Chile
71- 
Traditional dress of Belgium: A charming European attire
72- 
Traditional dress of the Kingdom of Saudi Arabia
73- 
Colors of Kalash: 5 lovely images of beautiful Kalash girls
74- 
Traditional dress of Georgia: The fantastic Chokha
75- 
Traditional dress of Argentina: The warrior Gaucho costume
76- 
Traditional dress of Venezuela: Not complicated but decorated
77- 
Traditional dress of Latvia: Made with the Linen fabric
78- 
Traditional dress of Romania: So captivating and graceful
79- 
Traditional dress of Estonia: So classy and versatile
80- 
Traditional dress of Armenia: So colorful and diversified
81- 
Traditional dress of Angola: A symbol of the ethnic culture
82- 
Traditional dress of Austria: Dirndl, Lederhosen and Tracht
83-
Traditional dress of Namibia: Far from the modernizations
84- 
Traditional dress of Zambia: Rare but unique in nature
85- 
Traditional dress of Slovakia: Kroje , decorated and cultural
86. 
Traditional dress of Qatar: Pure Arabian endowment
87. 
Traditional dress of Brazil: So bright and colorful in nature
88. 
Traditional dress of Colombia: So iconic in Latin America
89. 
Traditional dress of Chile: So artistic and cultural
90. 
Traditional dress of Mexico: Blend of indigenous and imported cultures
91- 
Traditional dress of Panama: The exotic Mola and La Pollera
92- 
Traditional dress of Cuba: A product of multi-cultural effects
93- 
Traditional dress of Bangladesh: So awesome in its nature and kind
94- 
Traditional dress of Indonesia: Featured with unique patterns and designs
95- 
Traditional dress of Pakistan: Legacy of ancient civilizations
96- 
Traditional dress of Russia: A symbol of ethnic diversity in the Russian Federation
97- 
Traditional dress of England: Outcome of the local and European clothing repercussions
98- 
Traditional dress of Mauritania: Fusion of Berber and African cultures
99- 
Traditional dress of Egypt: Legacy of ancient Kings and Queens
100- 
Traditional dress of Iran: A product of the glorious Persian heritage
101- 
Traditional dress of Iraq & Kurdistan: Offshoot of the ancient acculturation
102- 
Traditional dress of Costa Rica: A charming garb of Latin America
103- 
Traditional dress of Italy: A garnished garment with beauty and style
104- 
Traditional dress of Antigua and Barbuda
105- 
Traditional dress of Eritrea: Proudly worn by Eritreans
106- 
Traditional dress of Ethiopia: Colors of Ethiopian culture
107- 
Traditional dress of France: Found in many versions
108- 
Traditional dress of Spain: Colors and history of Spanish culture
109- 
Traditional dress of Germany: The identical emblem of Germanic peoples
110- 
Traditional dress of Japan: A fancy range of colors and designs
111- 
Traditional dress of Poland: Truly symbolic in the Polish culture
112- 
Traditional dress of the Netherlands or Holland: Bewitched with Dutch colors
113- 
Traditional dress of Greece: Colors of Greek culture
114- 
Traditional dress of the Czech Republic: Legacy of the Bohemian and Moravian cultures
115- 
Traditional dress of Benin
116- 
Traditional dress of Burkina Faso: Modest and fine in general
117- 
Traditional dress of Ireland: Quite uncomplicated but well made